Will we march to different drummers this poll?
There is much that separates us: a rural-urban divide, regional divergence, a caste and community gulf and a breach between the haves and have-nots. Will India's heart beat as one in the General Election or will it be a fractured
Raj Chengappa

Poll punditry is a hazardous business. I learnt that lesson early in my career while covering the 1985 assembly elections in Karnataka, which saw the late Ramakrishna Hegde getting re-elected as Chief Minister. On the campaign trail 10 days before the polling day, Hegde confessed to me that he sensed the voters' lack of enthusiasm for his speeches and feared that he may lose. I was then working for a fortnightly magazine and filed my article for publication reflecting his views.
A week later Hegde called me excitedly and said the mood had changed and he was going to win. He wanted me to cut out what he had told me. By then it was too late as the edition had been printed. Both of us looked a bit foolish when the election results came out and his party won with a clear majority.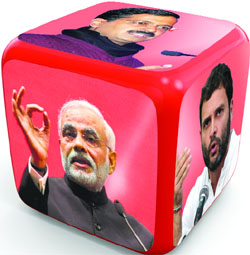 Since then I have been cautious of going to print or on record with my predictions. Particularly because I may have to eat my words, including the paper they are printed on, if they prove to be incorrect. So when the CII Northern Regional Council invited me last week to talk about the poll prospects I was more than cautious. At the end of my analysis one of the council members complained that he was "none the wiser" as to which party was going to win the election.
Nevertheless, one can discern certain trends. The key issues of concern, as in the previous polls, continue to be economic: inflation and unemployment. But this time there are two other major issues also dominating the discourse: the lack of governance and corruption.
Recent opinion polls indicate that there is an anti-incumbency swing against the Congress Party. Everyone is now talking about the margin of the Congress defeat. If the Congress' overall tally drops below 100 seats, then, as the polls indicate, the Bharatiya Janata Party (BJP) would gain the most from its fall. They also show that the support for the BJP's prime-ministerial candidate, Narendra Modi, may translate into a wave and swamp all calculations, pushing its individual tally well beyond the 200-220 mark.
While all this may be heartwarming news for the BJP and Modi supporters, there are still plenty of ifs and buts. The Aam Admi Party (AAP) is capable of throwing a spanner in the works. Though not yet a Black Swan, AAP has a growing following in metros and urban areas despite losing some credibility during its recent stint in power in Delhi. With corruption emerging as a major issue and the general disgust over the way Big Business has colluded with politicians, AAP could play the spoilsport.
Then there is the Teen Devian (three ladies) challenge: Mamata Banerjee in West Bengal, J. Jayalalithaa in Tamil Nadu and Mayawati in Uttar Pradesh. In Bengal and Tamil Nadu, Mamata and Jayalalithaa look well set to win a majority of the seats and Mayawati is expected to make some sort of a comeback in Uttar Pradesh. Most regional parties are against having a strong Centrist party in power as it diminishes their bargaining clout and this may see the rise of the Third Front. Also don't write-off the Congress so fast. All these factors could considerably stymie the BJP's mission 272 — the number needed to attain a simple majority in the Lok Sabha.
Back-of-the-envelope calculations show just how difficult the quest for a majority will be for the BJP. In the four southern states (Karnataka, Andhra Pradesh, Tamil Nadu and Kerala) that account for 129 seats, the best case scenario for the party is around 15 to 20 seats. In the East and the North-East, which account for 85 seats, the BJP may not cross 10 seats. And in the true North (Punjab, Himachal, Haryana, Jammu and Kashmir, Uttarakand and Delhi) which accounts for 46 seats it may get around 10. Out of a total of 260 seats in these states, the current trend shows that the BJP's tally would be between 30-40 seats.
So in the remaining 282 seats it has to have a strike rate of 90 per cent of the seats contested to reach a majority. It is certain to do well in Gujarat, Madhya Pradesh, Chhattisgarh and Rajasthan. But the key states that would determine the BJP's fortunes would be Maharashtra, Uttar Pradesh, Bihar and Jharkhand. Moreover, minority communities (Uttar Pradesh and Bihar have a sizeable number of them) may interpret Modi's call for a 'strong India' as one for a 'strong Hindu India', which they may not be comfortable with.
Whether India's heart beats as one when it comes to the next election (as we do when we watch the Indian cricket team playing) or voters are marching to different political drummers is to be seen. There is much that separates us: a rural-urban divide, regional divergence, a caste and community gulf and a breach between the haves and have-nots. But I am confident come election day, and the Indian voter will make a wise choice. I would prefer to wait for their verdict.