'Militant leadership hit hard in J&K'
Lt-Gen Sanjiv Chachra General Officer Commanding-in-Chief, Northern Command, talks to Raj Chengappa at his HQ in Udhampur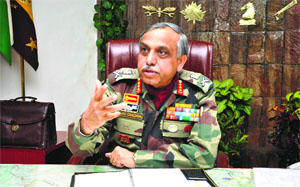 Despite the recent drop in ceasefire violations and militant attacks, the situation in J&Kremains fragile. The changes in the political set-up in Pakistan and the drawdown of NATO forces from Afghanistan this year have implications for the state. Lt-Gen Sanjiv Chachra spoke to The Tribune on various aspects concerning the Army's role in J&K and the insurgency in the state. Excerpts from the interview:
When you took over in July 2013, the overall security situation in J&K was pretty hot. What is the current position?
It was a challenging year. The spectrum in Northern Command is wide. You are dealing with two adversaries — China and Pakistan — besides proxy war; internal security situation; communal flare-ups; inhospitable terrain. So 2013 was very critical: there were a lot of efforts by both the Pakistan Army and militants. There were terrorist camps coming up, building infrastructure and numbers, training, and militants sitting in launch pads to reap dividends in 2014.
What was the Pakistan Army's game plan?
They wanted to move in people and put them in positions so they could create and calibrate violence when they wanted to; create a fear psychosis in the state to steer things in 2014 to their advantage. If you could curb their activities in 2013, you would have a peaceful winter and a comfortable 2014. That was the challenge. And with pride I can say we were able to stop it all, and we had a very peaceful winter.
How did the Indian Army achieve that?
We had a five-point strategy. One, put in a counter-infiltration strategy so firm that we do not allow them to come in. Two, get after them [militants] within the hinterland, starting with the leadership. So we had teams that only targeted the leadership. Three, reach out to the police and the civil administration for synergy, because they have the intelligence and we have the force level. Four, make sure the operations are people friendly, no human rights violation. I told the troops if a man escapes, we will find him another day, but do not harm the civilian population. Five, as we were going into the winter, we started a programme to reach out to the people. We called it "Imdad", to provide help to whoever needed it, without clearances. All these five initiatives have worked.
The Pathribal fake encounter case created a lot of consternation after the army closed it recently. Did the Army do justice in the case?
We are a professional army, please understand this. We will never condone any wrong action, whatever the compulsion. We did a very thorough investigation, but there was not even an iota of evidence that may have implicated the five people whom the CBI indicted. We are not hiding facts, we are open to scrutiny, and are as law abiding as anybody.
The Chief Judicial Magistrate has called for the files, would you have any issues with that?
No, there is a methodology of law that has to be followed, and we will follow it.
Does the Army have a credible method to check human rights violations or misuse of the AFSPA?
In 2013, only one or two allegations of excesses came in despite so many operations. We have zero tolerance for any human rights violation. We have very credible multiple human rights watch levels within the Army.
The Chief Minister is keen that AFSPA be relaxed in certain areas. Do you think it is time to do that?
The time is not right. We have taken the operational situation and the ground situation to a particular level. This is the time when we are consolidating. The militants' infrastructure and intent is still there. This year is going to be crucial with the drawdown taking place in Afghanistan. It may be premature to take any action at the moment. Let this year go by, let us stabilise and consolidate our successes, we can take a call then. AFSPA is an enabling Act, it does not give us any immunity from action.
In the Keran sector operations of October 2013 there was a controversy over whether the operation was a success as the bodies of militants claimed to be killed by your troops were not all recovered?
Our adversaries had been training and building up over the past three or four years to push in people. They were desperate to get in, but couldn't because of our multi-tier cordon. So they decided to make a multiple-point attempt with a large number of men so that at least a few could get in. After we repulsed the intrusion, my men saw so many bodies, we found eight. And we seized 59 weapons, besides ammunition, grenades, money, night vision devices, radio sets, etc. As for the number of intruders killed, we must believe our boys who saw the bodies, even if there may be some misreading. In fact, I had told them bodies are not important, what is important is the intruders should not get in. It is a huge and heavily forested area, which makes it difficult to go in and search for bodies, that too under fire. We were cautious, and had no casualty on our side, only three of our men were injured. I did not want to lose my boys to just retrieve the intruders' bodies. You may say I came under flak for not allowing them to pick up the bodies, but what was more important was to prevent them from coming in, which we had done.
There was the incident of beheading of our soldiers before you took over. The Army chief had later said we had given Pakistan an adequate response. What did it all mean?
First, no army in the world does this. I have a lot of respect for our men who died — they are martyrs — and for their families. I have made some changes to our response to ceasefire violations. Every incident need not be retaliated. We will retaliate at the time and place of our choosing, with the weapons and target that we want. I delegated the responsibility to my corps commanders, who have passed on the word down the chain. We will retaliate, but no speculative fire, fire only for effect, hit where it hurts the most. Actually this has now given our troops a sense of moral ascendancy. We have responded and retaliated appropriately. I am very satisfied. Today there are negligible ceasefire violations. Their guns have fallen silent because our retaliation was effective, timely and to the point. They also realised the futility of it, as attempts to push militants through under cover of fire were leading to damage to them because we were hitting back not only at the militants but even the source of fire. Now flag-level meetings are held and hot lines are working every time two shots are fired. We are talking from a position of ascendancy.
What have the DGMO-level talks resulted in?
The first and most important impact is that we have started talking to each other, understanding each other's capabilities. Now we have come down to talking at the ground level, at flag meetings whenever a situation arises. We may also agree on periodic talks. I don't want to raise hopes, but it is a very good start.
How much of the ceasefire is the result of political change in Pakistan?
I do not think there is any change in the military approach as yet. Yes, meetings have taken place, the DGMO meeting was a result of the two Prime Ministers' meeting. But on the border, except for the ceasefire violations coming down, things have not changed. For example, the terror infrastructure is still there, the camps are in place, the numbers are the same, the intent remains, [intrusion] attempts are being made. They [militants at launch pads] even equipped for the winter. So what has changed?
How are you controlling militant activity within the state?
We have started hitting at the leadership by forming joint tracking teams with the police. Between September and November we took away 90 per cent of their leaders. That hit them hard. They needed to push in people desperately to assume leadership.
What happened in Samba in September 2013 when four Indian army personnel were killed in a daring attack from militants? How did those men cross the border? Were there any lapses on our part?
Our grid may be very strong, but the terrain is such that a determined guy with a plan in mind may be able to get in. There are a number of nullahs in that area. This was a plan timed with the Prime Minister's scheduled visit to the US. Before such high-level visits they want to create trouble. But we have learnt a lot of lessons from this. I don't think it can happen again. There are now more BSF people on the border who have deployed more effectively, we have second and third tiers, more people on the roads and highways.
What is the level of involvement of Pakistan agencies like the army or the ISI now, is there any drop?
There is no change. How can the militants come close to the Line of Control or the International Border, where there are a multitude of Pakistan Rangers and troops, without their knowledge? They can't cross without help. Any movement, plan, camp, training or attempt is with the absolute support of the Pakistan Army, I am 100 per cent convinced of that.
There have been many incursions by China. Is the situation any better now?
There is peace right now, but we are not lowering our guard anywhere. There are some areas along the Line of Actual Control between India and China regarding which our perceptions differ. Any troop movement resulting from a major difference of perception is called a transgression. Yet there is a degree of respect for each other's lines. While maintaining peace, our focus this year and in the coming year will be infrastructure building and additional force levels so that we have the capability to handle a situation.
Has the recent border defence agreement with China made a difference?
It has defined the methodology by which we respond to a situation. For example, there is an agreement on how to respond when you come across each other; at the end of it you shake hands and both parties step back. Procedures for messaging and telephone calls and methods for holding more meetings are being worked out.