Ideas sown, Punjab awaits harvest
The challenges of farming in Punjab were discussed at the recent Progressive Agri-Summit. The state, however, has a history of doing little on solutions suggested earlier. Will it be different this time?
By Ruchika M. Khanna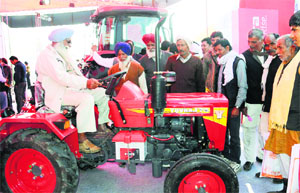 TEMPTATION: Even as mechanisation is the way to go, farmers often acquire equipment they can ill afford. Tribune Photos: Vicky Gharu
The four-day Progressive Punjab Agriculture Summit organised by the state government recently saw top agriculture experts, rural economists and farmers from various states coming forward to deliberate on the current agrarian crisis and suggest practical solutions to manage it.
Agricultural production and crop yields in Punjab are stagnating; the crucial resources of soil and water are depleting because of the wheat-paddy cycle. Diversifying into other food crops is difficult because of poor marketing outlets for those. Among the solutions suggested are crop diversification; land reforms to enable share croppers and oral lessees to have credit from financial institutions; reducing the role of middlemen in the food commodities chain to give farmers a larger share of the profit; assuring a certain profit margin to farmers by taking into consideration the rise in input costs.
The real challenge for Punjab, however, lies in implementing the suggestions that have emerged from of the summit. Over the past 15 years, several committees, commissions and studies set up by the state government have highlighted these very issues with similar solutions, but little change happened on ground.
The state's political leadership was advised by leading agriculture experts during the summit that it should do away with recurrent subsidies and instead go in for capital investment in agriculture. It was also told that FDI in retail was the way to provide farmers a ready market for horticulture produce and bring in intermediary market infrastructure. However, the Punjab Government has refused to accept these.
The hope now is that other suggestions will get a boost. These include better marketing of horticulture produce; access to bank credit for small farmers and landless labourers; promoting allied activities like dairying, horse breeding and poultry; and a skill development initiative in agriculture-related activities for rural youth. Implementation, of course, will require cooperation as much from the government as farmers, scientists, industry and financial institutions.
Farm credit


Ensure credit for farmers from banks
T. Haque, former Chairman of the Commission of Agricultural Costs and Prices
CASH CRUNCH

Most farmers have no access to credit from financial institutions.

Private money lenders charge them high rates.

Farmers need to be educated against high personal expenditure.
The biggest problem faced by farmers in the country today is poor credit availability from financial institutions. This has led to an increased dependence on 'arhtiyas', or private money lenders, who charge them very high rates of interest. On the other hand, the input costs in agriculture are increasing steadily but the farmers are not getting remunerative prices for their produce.
What compounds their problem is the poor availability of short-term credit from banks and financial institutions. Though the budget allocations for agriculture are increasing, it has not translated into increase in credit available to individual farmers. The credit ratio in rural areas across the country is just 30 per cent, which means that farmers get just 30 per cent of their deposits as loans, while the remaining 70 per cent is financed to industry or retail customers. Even in a progressive state like Punjab, farmers in small villages, especially those in the border areas, do not have Kisan credit cards or access to any other short-term credit loan from banks.
Personal consumption expenditure in Punjab is very high. In view of this committees should be formed at the village level to create awareness regarding such unnecessary expenditure, which contributes to rural indebtedness. These committees can also help farmers in taking credit support from banks and helping farmers save and invest in financial institutions. I have been working with farmers in the border areas of Amritsar district, and found that in some villages none of the farmers had kisan credit cards or credit linkage with banks. This is the immediate step towards improving the economic condition of farmers. By making credit available, we will ensure farmers get quality seeds and equipment.
WATER RESOURCES


Diversification must to avoid drying up
Dr G.S. Kalkat, Chairman of the Punjab State Farmers Commission
Paddy alternatives

The alternatives to the water guzzling paddy are soyabean and maize.

India imports oilseed worth more than Rs 55,000 crore every year, so soyabean should have a sure market.

Cargill is setting up an agro-processing plant in Bathinda, which will require maize.
Punjab will soon be rendered a desert in case people do not realise the stark reality of the fast depleting ground water resources in the 'food bowl of India'. We have to strive, in fact pledge, to not let our future generations curse us over what we stole from them.
In 1949, only 38 per cent of the total land under agriculture in Punjab was irrigated by canal water. Paddy was not being grown at any significant scale and farmers were growing wheat, groundnut and gram, mostly dependant on rain. But over the subsequent six decades extensive irrigation facilities created using canals and tubewells led to the wheat-paddy cycle that paid high dividends. The total produce multiplied, but it came at the cost of ground reserves sinking drastically.
Barring Muktsar district, the water level in the majority of the state has plunged to critical levels, particularly in central Punjab. An indicator of the situation is that most hand pumps bring up no water in most areas of Punjab and old tubewells have dried up too. Farmers are now going in for very deep-bore tubewells at a huge cost.
Today paddy in Punjab has an average yield of more than 50 quintal per acre, which is among the highest in the world. The prize, however, has come at a very big price of depleting ground water resources. The water levels have plunged more than 10 metres during the past six decades. What is more disturbing is that there has been no meaningful effort to recharge the groundwater.
Abundant availability of irrigation means led to a situation of farmers not breaking from the wheat-rice cycle. This also means that land does not get rest for recovering its vitality, nor does the groundwater level recover.
The only way out of this situation is crop diversification. One of the options of a low-water-consuming crop is soyabean. Given that we imported oilseed worth more than Rs 55,000 crore every year, farmers could have a guarantee of their crop being lifted from the market easily.
Farmers can also benefit from hybrid seeds available for maize, which give not only a higher yield but also consume far less water. Maize will also soon have a very major market in Punjab. The state government during the Investment Summit in December 2013 signed a Rs-70-crore MoU with Cargill, a leading global agro-processing company, to set up a plant at Bathinda, which will primarily process maize, providing a sure market for the crop.
FARMER DEVELOPMENT


'Teach rural youth farming skills'
Sompal Shastri, former Union Agriculture Minister
FARMING FOR PROFIT

ITIs need to teach farming and allied skills.

Make horticulture and dairying more remunerative with support prices based on changing input costs.

Remove middlemen from horticultural crops to attract farmers. Model
available in Andhra.
To improve its agrarian economy and get the stagnant crop yield moving Punjab has to provide skill development opportunities to its rural youth and create an efficient and profit-yielding marketing system for all crops. That will also help find a way out of the wheat-paddy cycle.
There is large-scale unemployment in rural areas and there are hardly any efforts to train the youth in specialised skills related to agriculture and allied activities. While the Industrial Training Institutes in India impart training in just 40 skills, in China the rural youth have an option of learning 6,000 different skills, most of them related to agriculture. Punjab with its huge potential in agriculture can emulate this model.
With its emphasis on diversification from the wheat-paddy cycle, the other major initiative Punjab needs to take is to make horticulture and dairying more remunerative. Farmers will opt only for the crops that give them good returns. Since horticulture and dairying are well suited for Punjab, the state should set up a standing committee to review the change in input costs and work on ensuring that farmers get a remunerative price on the sale of horticulture produce as well as milk. This committee should meet every six months and review the prices to be paid to farmers.
Another way to draw more farmers take to growing fruits and vegetables is to remove middlemen from the trade of these products. Bring in legislation that allows vegetable and fruit growers to sell their produce directly to consumers. This has been successfully done in Andhra Pradesh, and Punjab could pick up that model and adapt it for the state it.
DAIRYING


Pays when done with knowledge
Sukharpreet Singh Rode, a progressive farmer of Gurupura village in Moga
AWARENESS THE KEY

Youth not opting for dairying because of the false myth that it is not paying.

GADVASU has to make more efforts to educate farmers, who also need subsidy to start ventures.

Need to check quality of cattle feed produced in Punjab's factories.
In view of the dwindling land holdings and poor returns as compared to input costs, farmers should seriously consider dairying as an option. There is a notion that dairying does not give sufficient returns, but I can invite farmers to see many successful ventures in the state, including my farm, to show them the satisfying ground reality.
Yes, dairying does require intensive work and unfailing dedication. We have 300 cows, and the number is continuously increasing. Expansion is not possible without knowledge about the latest developments and concerns in the field. Dairy farmers are not making use of the workshops, training sessions and consultations organised by Guru Angad Dev Veterinary and Animal Sciences University (GADVASU), Ludhiana. At the same time, the university also is not delivering enough through its extension centres to reach out to potential beneficiaries.
Owing to lack of awareness, many farmers are wary of switching to dairying. It will not be a waste of effort if GADVASU launches a series of camps to educate rural youth on this. These youth need to be given 50 per cent subsidy in their ventures, which may be covered under any scheme of employment or agriculture.
The sector has not been paid adequate attention by successive governments. This has led to milk shortage, and in turn adulteration.
An area of particularly concern for dairying is substandard quality of cattle feed. The state has a very large number of feed factories that are supplying poor quality products. There has been no meaningful government action in this regard. This leads to malnutrition and diseases in animals.
Many big companies buy our milk at low rates, change its constitution in terms of fat and solid contents and sell various products at much higher prices. The state also does not have an effective mechanism for pricing of milk. In western and southern parts of Punjab private companies procuring milk from farmers pay Rs 7 less than in other areas. This puts those farmers at a disadvantage.
SUBSIDIES


Use incentives to promote trends
Dr Baldev Singh Dhillon, Vice-Chancellor, Punjab Agricultural University
SUBSIDISE ALTERNATIVES

Bring subsidies in areas which could motivate farmers to look for alternatives to the wheat-paddy cycle.

Government in view of the overburdened soil should also compensate farmers for leaving fields idle for occasional seasons.

Subsidies are available for water-saving measures, such as drip irrigation, but most farmers are not aware of these.
Even as the Punjab Government continues to provide subsidies on power and water to farmers, there is a need to bring subsidies in areas which could motivate farmers to look for alternatives to the wheat-paddy cycle. If used rationally, subsidies are the best option available for promoting natural resource management for a secure future.
I do not understand why such a hue and cry is made about agricultural subsidies in Punjab. Farmers in the US, Japan, Canada and South Korea also receive huge subsidies. Even the Centre provides subsidy worth Rs 7,403 per acre in different forms, while Haryana provides subsidy of Rs 8,871 per acre, against Rs 8,675 in Punjab.
Like certain other countries, the Punjab government in view of the overburdened soil in the state should also compensate farmers for leaving their fields idle for one season after a specified number of seasons. At the moment farmers wait for one crop to be harvested to immediately sow the next. This has a direct impact on the nutritional value of the soil. If this is not addressed immediately, the soil will start showing signs of depletion.
There are several subsidies available for water-saving measures, such as drip irrigation, but most farmers are not aware of these. In certain cases up to 70 per cent subsidy is available for these technologies, but are not being taken by farmers.
Farmers often tend to buy heavy farm machinery for show-off, particularly tractors, even when they have small landholdings. They should instead avail of the 1,200 tractors made available by the government across Punjab for common use. Similarly ground-levelling machines are also available, which help save water through optimal irrigation.
I agree with the issue raised by several farmers at the summit that there is a need for greater interaction with farmers through the agricultural extension programme. Farmers also talked about the need for subsidies on green fertilisers.
The experts' views are as told to Ruchika M Khanna & Sanjeev Bariana
FDI IN RETAIL


Big chains, contract farming the need
Dr Gurdev Singh Khush, international rice breeder
GO HI-TECH

Punjab topography and weather suited to horticulture.

Post-harvest losses in fresh foods 30%.
Punjab needs to make concerted efforts for crop diversification. We have formed enough policies but now it is time to act and ensure that it happens. The incessant wheat-paddy cycle has hit the bio-diversity of Punjab. The groundwater level is decreasing; rampant use of fertilisers is affecting soil health and we are overexploiting the nutrients in the soil.
Horticulture is the best bet for Punjab because of its topography and weather conditions. But there are impediments to promoting horticulture. There is no cold chain infrastructure, post-harvest losses are high because of poor handling of fruits and vegetables; and almost 30 per cent of these foods are wasted because of poor handling and storage.
FDI in retail, if allowed, would create not just a ready market for horticulturists but also help in creating intermediary market infrastructure like climate-controlled storage, sorting and grading centres and perishable goods centres. Farmers will also get better prices for their produce and a ready market to sell their produce.
Big retail chains like Walmart do a much better job of helping farmers grow high-yielding varieties by contract farming with them and making fresh produce available to consumers by grading and sorting it. Allowing FDI will thus give a big push to agriculture and crop diversification.