It's easy to make eco-friendly colours by using spices
Amritsar, March 15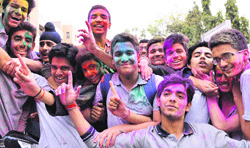 As harmful effects of chemical colours are well known and even though a few brands are claiming to be selling eco-friendly colours, it is not difficult to make organic colours at home using every-day kitchen ingredients. A wide array of colours can be prepared at home using araroot, hena, rattanjot and turmeric powders and annato seeds.

Students play Holi in Amraitsar on Saturday. Photo: Vishal Kumar

Resentment among Home Guards
Amritsar, March 15
Resentment brews among Punjab Home Guards (PHG) jawans as most of them are being deputed outside the state on election duty. They said no insurance cover or social welfare scheme had been extended to them and any mishap could spell trouble for their families.
1 kg of heroin seized from youth
Amritsar, March 15
A day after the formation of a special cell to keep an eye on history-sheeters in view of the parliamentary elections, the police have recovered 1kg of heroin
186 penalised for violation of smoking ban
Amritsar, March 15
The Health Department has penalised 186 persons for violating the ban on smoking at public places in February. The department has collected Rs 12,380 in fine from the violators.
Over 100 fishes perish for want of oxygen
Amritsar, March 15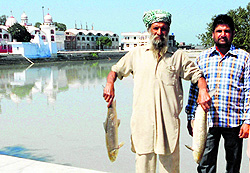 The delay in repairing the electric motor releasing fresh water into the holy pond of the Ram Tirath temple has resulted in the death of a large number of fishes for want of oxygen. Representatives of various shrines in the Ram Tirath area said over 100 fishes had perished for want of oxygen in the pond. They alleged that the motor had turned dysfunctional a month ago but the department concerned did not take note of it.

Devotees at the Valmiki Ashram in Ram Tirath show dead fish that died for want of oxygen on Saturday. A Tribune photograph

For reunion with roots, Raza Murad leaves for Pak
Amritsar, March 15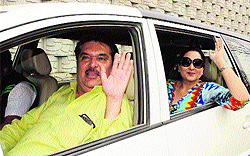 Fulfilling a childhood dream and reconnecting with his family's roots across the border, actor Raza Murad along with his wife Samina crossed over the Wagah border. Travelling to Pakistan, the actor was overwhelmed at the prospect of meeting with his aunt after 53 years.


Veteran actor Raza Murad and his wife wave to fans before leaving for Pakistan through the Attari-Wagha Joint Checkpost in Amritsar on Saturday. Photo: Vishal Kumar

GNDU Professor joins UGC as Secretary


Amritsar, March 14
Prof Jaspal Singh Sandhu of Guru Nanak Dev University has joined the University Grants Commission as Secretary. He will review the working of all universities in the country. Dr Sandhu, who also held the post of the Director, Academic Staff College, GNDU, visited the university today and interacted with the faculty members.
Dr Jaspal Singh Sandhu
GNDU holds lecture on Punjabi language
Amritsar, March 15
The Centre on Studies in Sri Guru Granth Sahib, GNDU, organised a special lecture on the teaching of Punjabi language in Canada. Eminent educationist Prof Balwant Singh Sangera, recipient of the Order of British Columbia and Queens's Golden Jubilee Medal, delivered the lecture.
Tarn Taran resident duped of Rs 4.25 lakh
Amritsar, March 15
A Tarn Taran resident, Salwant Singh, claimed on Friday that he was allegedly duped of Rs 4.25 lakh by a Coimbatore (Tamil Nadu)-based travel agent on the pretext of sending him to Singapore after providing him a job in a private company.
Sports, cultural fest begins
Amritsar, March 15
The all-India sports and cultural festival, "Resonance", is being organised at Sri Guru Ram Dass Institute of Medical Education and Research. Students from various medical, nursing and dental colleges in the region are participating in the festival.
'Sohni Mahiwal' staged at theatre fest
Amritsar, March 15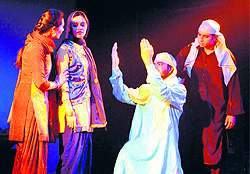 The Faith in Theatre group from Haryana staged the play, "Sohni Mshiwal", during the National Theatre Festival at Virsa Vihar today. Bringing on stage the story of two young lovers who immortalised the true love, the play had all essential elements such as love, passion, agony, despair, rejection and finally death.

Artistes stage the play, "Sohni Mahiwal", during the National Theatre Festival at Virsa Vihar in Amritsar on Saturday. Photo: Vishal Kumar