Enter, harbingers of social change
A look at innovative entrepreneurs who use technology
to effect social engineering
Kavita Kanan Chandra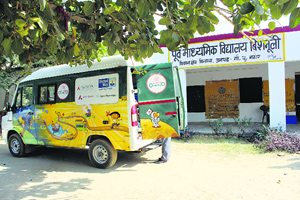 Mobile vans help to bring education at the doorstep of the disadvantaged sections

If technology is used in a prudent manner it can impact the lower strata of the society in a positive way. A few social entrepreneurs are doing yeoman service to the nation by bringing about a remarkable change in the quality of life of farmers, villagers and children of the disadvantaged sections of society. By bringing technology to the doorstep, they provide hands-on solutions. Their organisations have won numerous awards and accolades for their efforts but their greatest triumph is to bring smiles on the faces of the beneficiaries. RamjiRaghavan of Agastya, Rikin Gandhi of Digital Green and Sanchaita Gajapati Raju of SANA speak about their work.
---
ARTS
'Art & Soul
Armour for the Samurai
B. N. Goswamy
One may know them from a distance, a long distance, but one is certainly aware of them: samurai, those legendary warriors and swordsmen of Japan. Who, for instance, can ever forget Akira Kurosawa's great epic, perhaps the greatest action film ever made: The Seven Samurai? Sixty years have gone by, and yet one can recall the electricity with which the screen got charged each time Toshiro Mifune appeared on it;

Broad brush
---
Fitness
good health
For women on the go
Dr Anjali Mukerjee
Women usually give priority to their family's nutrition and health needs but hardly take care of themselves
Working women generally do not find time to look after themselves. Here are a few tips for working women to help them stay healthy and fit.
Start the day with a healthy breakfast: A good breakfast will not only help you to pull along the day without the afternoon slump but also prevent you from feeling famished, overeating and weight gain. If you are away on a holiday or business trip and find a little choice, opt for a glass of cold milk with cornflakes or fruits (any amount) or a sandwich without butter with cucumber and tomato or egg and toast with no butter or steamed idlis or dhoklas, or khakra and buttermilk.
Listen to your heartbeat
Dr Vanita Arora
If your heart beats at irregular pace often, it is important to take note of it rather than ignore it as it can be a warning sign for a heart ailment called arrhythmia
Heartbeats get abnormal after exercising, running, or after doing some strenuous work. There is nothing to worry about. But if your heart beats at irregular pace often, it is important to take note of it rather than ignore it as it can be a warning sign for a heart ailment called arrhythmia.
'Love hormone' may protect against addiction
Addictive behaviour such as drug and alcohol abuse may be associated with poor development of the so-called "love hormone" system in our bodies during early childhood, Australian scientists say. The groundbreaking idea has resulted from a review of worldwide research into oxytocin, known as the "love hormone" because of its important role in enhancing social interactions, maternal behaviour and partnership, said researchers at the University of Adelaide.
---
Society
Towards Greener Pastures
Deepak Rikhye
Many of us are, as PG Wodehouse lamented, "chained to the city". For children to understand the importance of environmental studies, a few visits to natural environs would help
Implementing a policy to transform a subject into what a child will respond to with enthusiasm, is within the realms of possibility. If children are unable to connect with the environment, the result is unfortunate. A disconnect implies that decision makers of the future would be unable to enforce recommendations for the benefit of the environment. The "clear stream of reason," defined by Tagore, is only possible with knowledge.
consumers beware!
Railways liable for poor catering
Pushpa Girimaji
Recently, during my travel from Bangalore to Delhi by Rajdhani Express, I and my friends were harassed by the catering staff who serve food and the attendants who supply blankets. They wanted a big fat tip at the end of the journey, but being students, we could only give what we could afford. They were unwilling to accept it and humiliated us in front of other passengers. Considering that we pay the Railways for the food and the service, why should we be forced to pay more? What action can be take in such a situation?
---
Travel
Cat's own country
Kuching in Malaysia's forested state of Sarawak is a contented little riverine town basking in its history
Hugh & Colleen Gantzer
It's a purrrrr-fect setting for its furry, iconic, animal. In this snug, warm, Malaysian town, there are statues of cats at a traffic roundabout, others gracing an impressive column and also a museum dedicated to cats. All because a creative PR-minded official realised that if the name of the town is mispronounced, slightly, it could refer to the furry feline that has charmed people from before the Pharaohs to long after Andrew Lloyd Webber.
---
Entertainment
Name game a la Bollywood
Film titles have never been as innovative or controversial as in the present times
Nirupama Dutt
Catchy and crazy are the two adjectives that can best describe the titles today of Bollywood films with filmmakers in a race to come out with names that will act as teasers and embed themselves in the memory of the people. What is interesting is that these titles are working and working out very well. The mood of the masses is for smart titles and the wackier the better.
Hit machine
Jasmine Singh
Anurag Singh, whose Jatt & Juliet has become a cult film in Punjabi cinema, is all set to recreate the magic with his latest release Disco Singh
There is just about thing that he can never bring himself to do- to get a portfolio shoot done. "It gives me creeps, this is something that will never happen," says Punjabi film director, Anurag Singh who has made Jatt & Juliet, the most-talked-about film in Pollywood and Bollywood. The good-looking director does not talk nineteen to dozen, rather he carefully selects his words, measures these before laying these in front of anyone.


---