Raphael Cheshire celebrates 56th Founder's Day
Dehradun, April 6
Raphael Ryder Cheshire International Centre celebrated its 56th Founder's Day here yesterday. The old inmates, who had been part of Raphael since its inception, were felicitated on the occasion.

Oldest members of Raphael home Bhaglu, Kisni and Ramrati (from right) during the foundation day programme in Dehradun on Saturday. A Tribune photograph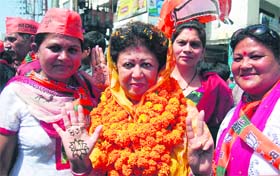 Lotus hand: Mala Raj Luxmi Shah, BJP candidate from the Tehri Lok Sabha seat, shows the party symbol made with mehndi during an election campaign in Dehradun on Sunday. A Tribune photograph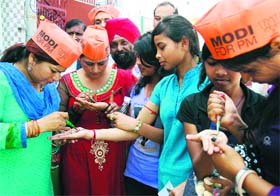 Campaign trail: BJP workers apply henna on the hands of local residents during the Lok Sabha election campaign at Karanpur Chowk in Dehradun on Sunday. A Tribune photograph
Meeting on voter awareness drive held
Dehradun, April 6
Election Commission of India observer Reena Sonowal held a meeting with state election officials to assess the progress of the voter awareness drive in the state today.
POLITICAL DIARY
Infighting delays decision on Cong candidates on three seats
Dehradun, April 6
With only a month left for the Lok Sabha elections in the state, the ruling Congress is yet to announce its candidate for all five seats. After much delay, the party high command yesterday named Congress sitting MPs Pradeep Tamta and KC Singh Baba as the party candidates from the Almora (reserve) and Nainital seats, respectively.
Undecided voters to tilt scales in LS elections
Dehradun, April 6
A large number of voters in the state are still undecided about their choice of candidate and the electioneering in the upcoming days would prove to be instrumental in tilting the scales.


CM accuses BJP of hindering relief works
Dehradun, April 6
Chief Minister Harish Rawat has accused the BJP of putting hurdles in the relief works for natural disaster victims. The Chief Minister said this while addressing a gathering at Kotdwar in Pauri Garhwal district yesterday.

Chief Minister Harish Rawat and state Congress chief Yashpal Arya during a roadshow at Kotdwar. Photo: Kamal Joshi

Cong workers canvass in Dharampur areas
Dehradun, April 6
Congress workers led by Chowdhary Lal Singh, Congress co-in charge of the party affairs in the state, and Cabinet minister Dinesh Agarwal today campaigned door to door in the Dharampur Assembly segment that forms part of the Haridwar Lok Sabha constituency.
Chowdhary Lal Singh, Congress co-in charge of the party affairs in the state, addresses party workers in Dehradun on Sunday. A Tribune photograph


SC lawyer to contest from Tehri as Independent
Dehradun, April 6
Supreme Court lawyer and Dehradun resident BD Jha today announced to contest the LS polls from Tehri Garhwal as an Independent candidate.


AAP workers campaign in Doon
Dehradun, April 6
Aam Aadmi Party workers today campaigned for Anoop Nautiyal, AAP candidate from the Tehri Lok Sabha seat, in Raipur, Tunwala and Nehru Gram areas of Dehradun today.


AAP workers during a roadshow in Dehradun on Sunday. A Tribune photograph
Candidates to get only 5 days for filing nomination papers
Dehradun, April 6
The Lok Sabha candidates in Uttarakhand will get only five days to file their nomination papers due to gazetted holidays on April 13, 14 and 18. The nomination papers can be filed on April 12, 15, 16, 17 and 19.
BJP announces poll committee
Dehradun, April 6
Teerath Singh Rawat, president of the state BJP, announced the state election committee today. Leader of the Opposition Ajay Bhatt has been made the convener of the committee.
Almora villagers threaten to boycott Lok Sabha poll
Pithoragarh, April 6
Villagers in several areas of the Almora parliamentary constituency have threatend to boycott the Lok Sabha elections if their long pending demands are not fulfilled immediately. They say they will ask the candidates seeking votes about what they have done till now to solve their problems.


State BJP celebrates foundation day
Dehradun, April 6
The Uttarakhand BJP celebrated its 35th foundation day as 'Vijay Sankalp Diwas' at the party's headquarters in Dehradun here today. The leaders gathered at the party office on Balbir Road and distributed sweets to mark the day.
Women activists of the BJP celebrate the party's foundation day in Haridwar on Sunday. Tribune photo: Rameshwar Gaur
Tamta for strengthening of road, rail network in Almora
Pithoragarh, April 6
Pradeep Tamta, Congress candidate from the Almora Lok Sabha seat, said today that he would take ahead the development projects initiated in his constituency in the past five years. He would also persuade the Centre to release more funds for infrastructure development in his constituency and the state.


Cong leaders discuss strategy for LS polls
Dehradun, April 6
Chaudhary Lal Singh, newly appointed AICC co-in charge of the party affairs in the state, yesterday held a meeting with party leaders at the Congress Bhavan to discuss the party's strategy for the ensuing Lok Sabha elections. State Congress president Yashpal Arya was also present.

Chaudhary Lal Singh ( in red jacket) with senior Congress leaders at the Congress Bhavan in Dehradun on Saturday. A Tribune photograph
127 to cover five km to exercise their franchise
Pithoragarh, April 6
The Bongling polling station in Dharchula subdivision of Pithoragarh district has only 127 voters. The voters and the staff on election duty will have to travel more than five km to reach the booth, District Election Officer HC Semwal said here today.
DM tells gas agencies to check sale of cylinders on black market
Haridwar, April 6
The District Magistrate, D Senthyl Pendiyan, yesterday directed LPG gas agency owners to maintain transparency in the supply of gas and ensure that cylinders were not sold on the black market.
Sikh body activists to march to Har-ki-Pauri on Baisakhi
Haridwar, April 6
The All-India Sikh Conference has started preparations to lead a march to Har-ki-Pauri on Baisakhi to press for the construction of Gyan Godri Gurdwara adjacent to Subhash Ghat.


Protest against transfer of gas connections
Dehradun, April 6
The residents of Deepnagar ward yesterday held a protest against the transfer of 2,500 gas connections to another gas agency which was located far away from their locality.

Local residents protest outside a gas agency on the Haridwar bypass in Dehradun on Saturday. A Tribune photograph
Documents for unemployment allowance
Dehradun, April 6
The senior employment officer has instructed registered educated unemployed candidates to submit the requisite documents for claiming the unemployment allowance or else the same would be revoked.


Encroachment removed from Clock Tower, Rajpur Road
Dehradun, April 6
District Magistrate BVRC Purushottam held a meeting with senior officials of the district here today to chalk out a detailed plan to implement the Nainital High Court's order regarding the removal of roadside encroachment in Dehradun.

Policemen challan a shopkeeper near Clock Tower in Dehradun on Sunday. A Tribune photograph
Man held for snatching purse
Dehradun, April 6
The police have arrested a man who allegedly snatched a woman's purse in broad daylight here yesterday. The accused has been identified as Himanshu, a resident of MDDA Colony in Patel Nagar.
Medicine counters' timings extended
Dehradun, April 6
The extension of timings of medicine counters at Doon Hospital till 2.30 pm evoked a good response on the first day yesterday. Dr RS Aswal, PMS, Doon Hospital, has extended the timings on the request of patients.


Kathak exponent: Indian classical dances have spiritual element
Haridwar, April 6
The classical dance is a complete dance and the Indian classical dance forms, which are nine in number, are perfect as they have a spiritual element in them.

Kathak exponents Madhavi Bhattacharya and Sukanya inform mediapersons about a kathak dance workshop in Haridwar on Sunday. A Tribune photograph

Actor Raj Pal pays obeisance at Mata Kali temple
Haridwar, April 6
Bollywood actor Raj Pal Yadav today paid obeisance at the ancient shrine of Mata Kali at Chandi Ghat on the banks of the Ganga.



Noted Bollywood actor Raj Pal Yadav shares a light moment with Kali Peethadeeshwar Kailashanand Brahamchari at Mata Kali temple at Chandi Ghat in Haridwar on Sunday. A Tribune photograph



Mussoorie residents demand waiver of Mall Road entry fee
Mussoorie, April 6
Social activists have opposed the Mussoorie Municipal Council decision to collect annual fee for entering Mall Road. Terming it gross violation of human rights, social activists have appealed to the State Human Rights Commission to direct the MC to waive the fee.
Lecture organised
Dehradun, April 6
Sardar Bhagwan Singh PG Institute organised a lecture on 'Development of Commercial Kits in Immuno-Diagnostics and prediction of infectious diseases' here yesterday. Prof DN Rao from the All India Institute of Medical Sciences (AIIMS), New Delhi, delivered the lecture.
Volunteers of MAD clean up Sahastradhara
Dehradun, April 6
Making a Difference (MAD), an NGO, carried out a cleanliness drive at Sahastradhara and its adjoining areas here today. As many as 79 volunteers, who were divided into groups and sub-groups, were assigned particular areas.


DIT shines on day 2 of sports fest
Dehradun, April 6
Cricket, badminton and football matches were played on the second day of 'Sphurti 2014', a sports festival, at the Dehradun Institute of Technology (DIT) here today.

Players vie for the ball in a soccer match during the sports meet of DIT University at Pavillion Ground in Dehradun on Sunday. A tribune photograph