Code of Conduct
GNDU staff resent stalling of promotional avenues
Amritsar, April 7
Going by the code of conduct ahead of the General Election, the promotional avenues of government employees and other government undertakings are stalled, yet several employees of the GNDU resented that they, too, have been denied their promotion dues despite the fact that the GNDU, being an autonomous boddy did not come under the ambit of this electoral norm.
Woman booked for occupying house
Amritsar, April 7
The Maqboolpura police have booked a woman for the alleged illegal occupation of a house, where she used to live as a tenant. In his complaint to the police, the owner of the house alleged that the woman poured acid in his mouth with an intention to kill him.
Vision for amritsar
Pardeep Singh Walia : BSP (Punjab) candidate for the Amritsar LS seat shares his vision for the city with Amritsar Tribune
BSP wants to give fillip to cottage industry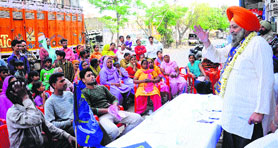 Amritsar, April 7
Bahujan Samaj Party (BSP) candidate from the Amritsar constituency, Pardeep Singh Walia, wants to encourage setting up of small and cottage industries for creating employment opportunities, initiate a social campaign against drugs, better education in rural areas and wants a heritage status for the holy city.

BSP candidate Pardeep Singh Walia addresses a public meeting during his election campaign in Amritsar on Monday. A Tribune photograph

Youth want election ink on their fingers
Amritsar, April 7
With every trick in the hat being tried and implemented to woo the first-time voters to exercise the right in the democratic process, the administration is joined in by several NGOs to target maximum vote percentage from the city.
Campus notes
Storytelling workshop at DAV School
Amritsar: A workshop on storytelling was organised by Primary Plus at DAV Public School. As many as 70 teachers participated in the workshop, which was conducted by Shalini Tayal, a professional storyteller.
City hoteliers meet Arun Jaitley
Amritsar, April 7

Members of the Amritsar Hotel and Restaurant Association (AHARA) today met BJP Lok Sabha candidate Arun Jaitley from the Amritsar constituency and apprised him with problems being faced by the hospitality industry and their demands.

BJP candidate Arun Jaitley addresses members of the Amritsar Hotel and Restaurant Association in Amritsar on Monday. A Tribune Photograph

IT Dept to review penalty on gaushala
Amritsar, April 7
Members of the 109-year old Pinjrapol Gaushala claimed that the Income Tax Chief Commissioner, Gurpreet Singh, has given directions to review Rs 9 lakh tax penalty levied on the gaushala. It was for the first time in the past 40 years that the gaushala was asked to pay income tax.
US delegation visits Fateh Academy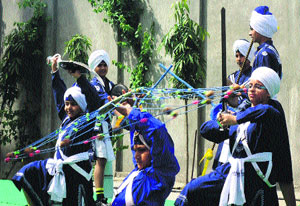 Amritsar, April 7
A 15-member delegation of Northfield Mount Hermon School, USA, today visited the campus of International Fateh Academy (IFA) as a part of their educational tour of India. The purpose of the visit was to study the religious pluralism in Indian society with a special focus on the Sikh religion.

Students perform gatka during the visit of delegation from Northfield Mount Hermon School on the campus of International Fateh Academy in Amritsar on Monday. A Tribune Photograph

DAV College felicitates winners of Bhagat Singh trophy
Amritsar, April 7
BBK DAV College for Women today felicitated the winners of Shaheed-e-Azam Bhagat Singh Overall General (men and women) Sports Championship Trophy 2012-13. The college was awarded cash prize of Rs 49,000 along with the trophy. Students of the college also won General Sports Championship Trophy in A- division (women category).
City-based engineer redesigns car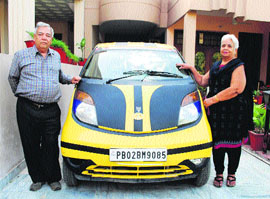 Amritsar, April 7
While most people add zing to their life by going for a personal makeover, city based ex-civil engineer BM Singh did so by giving his car a makeover. At 77, Singh unlike most of his age looks for some adventure in life. His latest being his newly refurbished Nano car, which he says is a piece of art now.

BM Singh and his wife with the redesigned Nano car at their residence in Amritsar. A Tribune Photograph

Asal files papers
Amritsar, April 7
Amarjit Singh Asal, a joint candidate of CPI and CPM, filed his nomination papers for the upcoming Lok Sabha elections today. Unlike his rivals from other political parties, he has assets, including moveable and immovable worth Rs 62,000 while his wife has a total assets of Rs 3.04 lakh, including gold jewellery and saving policies.
80 per cent administered polio drops
Amritsar, April 7
The Health Department claims to have completed 80 per cent target of polio immunisation drive (migratory round) on its second day today. "Health teams are focusing on migratory workers' families residing mostly on factory premises, in brick-kilns, farm houses, on the railway station and bus stands, besides slums," said Civil Surgeon Usha Bansal.
Two held with 250 gm heroin
Amritsar, April 7
The police today arrested two persons identified as Sarabjit Singh of Attari and Roshan Singh of Rorawala Khurd village and confiscated 250 grams of heroin worth Rs 1.25 crore from their possession. The CIA staff nabbed the two accused from the Sher Shah Suri road following specific information. The police said the accused were brought on a police remand and further investigations were under progress to know the source and the potential buyer of the drugs. — TNS