Ladakhis vote for UT status, year-round road connectivity
Leh, May 7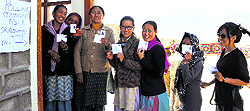 Undeterred by adverse and unfavourable weather conditions, enthusiastic voters, clad in traditional Ladakhi dresses, today made their way to polling booths in the largest parliamentary constituency of the country, Ladakh, with a hope for change in their living standard.
Women wait in a queue to cast their votes at the Skalzangling poll booth in Leh on Wednesday. Tribune photo: Anand Sharma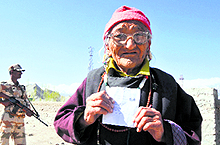 Ladakh region votes for development
Jammu, May 7
The workaholic and hardworking people of Ladakh have unflinching faith in the country's democratic process and don't want to miss the opportunity to vote for a right candidate.


An old woman shows her voter ID card before exercising her franchise at the Housing Colony polling station in Leh on Wednesday. Tribune photo: Anand Sharma

People in rural areas of Baramulla defy separatists' poll boycott call
Uri (Baramulla), May 7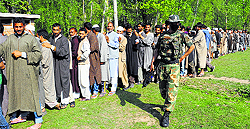 People from various villages in Baramulla district today defied the poll boycott call given by separatists and came out in large numbers to cast their votes for the Baramulla Lok Sabha seat.


A CRPF jawan stands guard as people wait outside a polling station to cast their vote at Bakihakar Rajwar in Kupwara district on Wednesday.
Tribune photos: Amin War

Low turnout in urban areas of Baramulla
Srinagar, May 7
The parliamentary polls in the Valley ended today with 39.6 per cent turnout in the north Kashmir's Baramulla constituency.



CRPF jawan injured in blast near poll booth
Pandits fail to vote in Baramulla
Baramulla, May 7
Over hundred Pandit migrant voters were unable to vote in Baramulla today as they claimed the authorities had failed to provide a designated polling station for them.
Large turnout of Kashmiri Pandit voters in Jammu
Jammu, May 7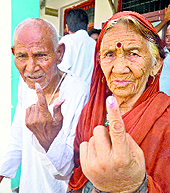 Displaced Kashmiri Pandits today came out in large numbers to cast their votes for the Baramulla parliamentary constituency at special polling booths set up at various places in Jammu, despite names of scores of community members missing from the electoral rolls. The first time voters were particularly excited to exercise their right to franchise.



Displaced Kashmiri Pandits show their ink-marked finger after casting their vote for the Baramulla seat in Jammu on Wednesday. Tribune photo: Inderjeet Singh

NC, PDP confident of victory in LS elections
Srinagar, May 7
As curtains fall on the Lok Sabha polls today, the two main parties of the state, National Conference (NC) and Peoples Democratic Party (PDP), seem confident of their victory in all three constituencies of the Valley.
In Kupwara, first-timers vote for jobs
Kupwara, May 7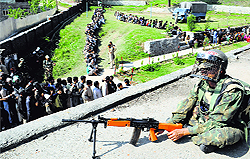 Pir Adil Ahmad (21), an unemployed science graduate, was among the first few voters who exercised his franchise for the first time with the hope that problems like unemployment, inflation and under-development would be addressed.


A paramilitary personnel takes position atop a polling station as voters queue up outside a polling station in Kupwara district on Wednesday. Tribune photo: Amin War

State may face fiscal crisis
Jammu, May 7
With Jammu and Kashmir anticipating a delay in the approval of the annual plan (2014-15) by the Planning Commission of India (PCI) in view of Lok Sabha elections, the state is all set to face a financial crunch in the coming weeks hitting the completion of development projects and several welfare schemes introduced during the National Conference-Congress coalition government in J&K.
Two revenue officials arrested for taking bribe
Srinagar, May 7
Two revenue officials, including a tehsildar, were today arrested for accepting bribe from a truck driver in connection with the release of seized documents of his vehicle in Pulwama district of south Kashmir, a vigilance official said.
Valley residents rue supply of contaminated water
Srinagar, May 7
Residents of Old City, Nowhatta and adjoining areas have alleged that they are forced to drink contaminated water, which was being supplied to the area for the past few days.
Meet development targets this summer: CS to secretaries
Srinagar, May 7
Chief Secretary Muhammad Iqbal Khandey today asked the administrative secretaries to gear up for the summer season to ensure that all developmental and welfare targets were met.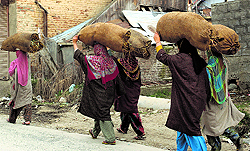 Reeling under load:

Women carry sacks of grass on their head as they walk towards their home at Damhal in Anantnag, south of Srinagar, on Wednesday. Tribune photo: Yawar Kabli

Minor girl handed over to family
Srinagar, May 7
The police today sought help from the public to identify a minor girl who was found roaming in the city.
'Assault' by police
Demanding impartial probe, lawyers hold protest in Reasi
Katra, May 7
Lawyers at Reasi today held a protest march and demanded an impartial probe into the alleged assault on their counterpart by some policemen at Jammu a fortnight ago.
Health dept employees hold protest, demand salary
Doda, May 7
The Jammu and Kashmir Medical Federation today held a protest outside the office of the chief medical officer in Doda for not fulfilling their long-pending demands.
Students rue use of educational institutions as polling booths
Srinagar, May 7
The Kashmir University Students Union (KUSU), a banned students' group, expressed dismay over the use of educational institutions in Kashmir as polling booths for the Lok Sabha elections.
Absentee school staff suspended
Srinagar, May 7
Director, School Education, Kashmir, Mir Tariq Ali today conducted a surprise inspection of various schools and offices of Srinagar district and ordered immediate suspension of more than 10 absentee school staff.
ABVP starts hunger strike against fee hike by JU
Jammu, May 7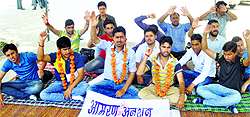 Continuing their agitation, stared 56 days ago, Akhil Bharatiya Vidyarathi Parishad (ABVP) activists today sat on a fast unto death against the alleged unjust 85 per cent hike in hostel fees by the University of Jammu (JU) authorities.

Akhil Bharatiya Vidyarthi Parishad activists sit on a hunger strike at the University of Jammu on Wednesday. Tribune photo: Inderjeet Singh

Rules flouted for appointing JU official as auditorium in charge, says NSUI
Jammu, May 7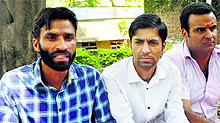 Choudhary Naseeb Ali, national delegate of the National Students Union of India (NSUI), today claimed that the administrative machinery of the University of Jammu (JU) was not working properly as per the expectations of students.


Choudhary Naseeb Ali, national delegate of the NSUI, addresses the media at Jammu University. A Tribune photograph

Kendriya Vidyalayas celebrate annual day
Jammu, May 7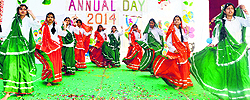 Kendriya Vidyalaya (KV), Bantalab, celebrated annual day with fervour and gaiety. The DIG, CRPF, and chairman of the Vidyalaya Management Committee (VMC), KV, Bantalab, was the chief guest and Tanu Arun Kumar was the guest of honour.
Students of Kendriya Vidyalaya No 2 perform a dance during the annual day function at Udhampur. A Tribune photograph

DPS organises workshop on traffic rules
Jammu, May 7
Delhi Public School (DPS), Jammu, in collaboration with the Regional Transport Office (RTO), organised a workshop on the school premises to make students aware of the traffic rules.
Pak militant probably injured in Tral gunfight
Srinagar, May 7
A Pakistani militant is believed to have been injured in a gunfight last night in south Kashmir's Pulwama district.
Meditation camp concludes
Reasi, May 7
The Art of Living conducted a day-long meditation camp at the Deputy Commissioner Office, Reasi.