A cut above rest: No charges on Modi's oath-taking day
Aparna Banerji
Tribune News Service
Jalandhar, May 26
"A myth prevails that Modi is anti-Muslim. Through this gesture, we want to convey the message that he is not, and the community backs him," said Kaleem Salmani, a local barber, as his deft hands cruised through the hair of a child enjoying a free haircut.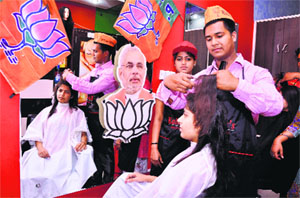 Kaleem Salmani at his saloon in Jalandhar on Monday. Photo: Sarbjit Singh
An independent entrepreneur at the age of 23 and a staunch Modi supporter, Kaleem Salmani, today did not charge any money for haircut from his saloon. This, he said, was a goodwill gesture from the Muslim community, to express its gratitude and support for Narendra Modi on the day he took oath as the Prime Minister of the country.
A local barber and a member of the over 1,000-family strong Salmani community (most of whom are barbers) in the district, he decided to do this over a week ago, "On Modi's big day we wanted to convey the community's age-old loyalty to the BJP and the hope in Modi as a leader who would bring change."
People of the Salmani community first started coming to Jalandhar (from Saharanpur, Dehradun, Roorkee and other cities) about 70 years ago, and are primarily settled in areas like New Sant Nagar, Avtar Nagar, Tej Mohan Nagar and Ashok Nagar.
A third-generation Salmani, Kaleem's family moved into the district when his grandfather came to Jalandhar over 50 years ago, "My grandfather spent over 50 years in Jalandhar and my father over 30. Over 80 per cent of the barber shops in the city belong to the Salmanis. While we have traditionally been supporters of the Akali-BJP government, almost all members of the community saw this election as a means of change and voted for the 'takdi' (election symbol of Akalis) to extend their support for a BJP government at the Centre. But I noticed that though the community silently backed Modi all through, a formal expression of support was required. On the leader's oath-taking ceremony, I wanted to convey this message of solidarity for him. We see change in him and are sure Muslims will witness great support from him."
He says the Akali government has also backed the community and provided help with land for masjids and maintenance money for the upkeep of religious places to them.
With his little saloon in Guru Gobind Singh Avenue dressed in the Modi fervour, customers sat amidst Modi banners and BJP flags all through the day. Kaleem's support staff sported BJP caps and customers were also offered saffron caps, BJP flags and banners for free.
Kaleem says while he decided to offer free haircut to people much before the oath-taking ceremony was declared to be a "grand and international" affair that it presently is, he got full backing of his family for the occasion.
"Though all arrangements have been made by me and my saloon independently, I have received wholehearted support from residents here. I got calls from relatives and friends in Punjab and outside and people from across the city came in to get a haircut. All members of the community have backed me and expressed delight at the initiative. Many also came in to get a haircut."
Over 100 people from various communities received haircuts from Kaleem. His Salmani relatives and neigbours like Noor Hassan, Ashraf and Nadeem thronged his salon all though the day and whole-heartedly celebrated the occasion.
Goodwill gesture
* Kaleem Salmani, a Muslim barber, did not charge any money from his clients on the occasion
* Representatives of the over 1,000-strong Salmani community in Jalandhar also expressed their support for Prime Minister Narendra Modi