Mayor in line of fire for Lok Sabha seat debacle
Deepkamal Kaur
Tribune News Service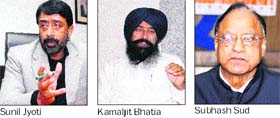 Jalandhar, May 31
These are dicey days for Mayor Sunil Jyoti. Voices of dissent against him have been emerging from various quarters, holding him responsibile in the debacle of the SAD candidate Pawan Tinu from the Lok Sabha seat, especially from the assembly segments of the city.
Leaders have blamed him for not managing proper recovery, not getting any pending works started and, above all, for the extremely bad condition of city roads.
Jyoti, however, has been saying that there were many factors, including lack of funds, owing to which THE pace of development had slowed down and that he alone was not responsible for it.
There have been open differences cropping between him and Senior Deputy Mayor Kamaljit Bhatia since Jyoti's 20-month tenure on the post. Bhatia, who had stopped playing an active role, has started coming to the office post Lok Sabha polls. Bhatia, Deputy Mayor Arvinder Kaur Oberoi and SAD councillor Parminder Pannu have entered into a direct confrontation with the Mayor by levelling charges of unchecked corruption prevailing in the MC office, especially in the Rs 14-crore patchwork expenses for which they have decided to get the Vigilance probe ordered against the officials.
Two days ago, Bhatia had openly confronted the Mayor in his office saying, "There is no point in going ahead with another Finance and Contracts Committee meeting when the works cleared in the last meeting had not been accomplished. We first need to seek a report on officials of the previous works before sanctioning more projects."
He had also pointed out that the poll result had given a clear indication regarding an urgent need to take up reforms for more recovery and putting an end to "under-the-table income made by some people". Bhatia, who has already faced problems from safai karamcharis, advocated an immediate need to start work in the execution of the solid waste management project. "How is it that we have 2,200 safai employees and still dumps of filth in all corners of the city? Why is it that residents do not receive water bills for two years and then one fine day, a poor man is told that his outstanding bill has come to Rs 40,000." He said that there was an urgent need to solve the problems.
Mayor's take
On the issue of yesterday's meeting, the Mayor said he wondered if Bhatia and Oberoi had especially come for meeting, they should have come to his meeting hall instead of quietly moving to their rooms. Regarding no invite for the minister's meet, he said the messages were sent across by the Commissioner to the MLAs and the district president. "I was not involved," he said. On the Lok Sabha seat loss, he said the councillors had a collective responsibility.
SAD, BJP take
Gurcharan Singh Channi, who had earlier helped sort out equations between Bhatia and Jyoti, said he would bring the matter to the notice of his party leaders who would take a decision in the matter. BJP president Subhash Sud, too, said that he would involve senior party leaders to handle the situation.
Fixing responsibility
Leaders blame Mayor Sunil Jyoti for not managing proper recovery, getting pending works started and, above all, for the extremely bad condition of city roads