Shopkeepers destroy trees on roadsides for better view of shops
Amritsar, June 4
Dozens of trees on roadsides, especially outside shops, have dried up during the past few years even as tree plantation drives are organised every year to increase the green cover.
Woman commits suicide
Amritsar, June 4
A local resident, Sunaina, committed suicide by setting herself ablaze as she was perturbed allegedly over her husband's illicit relations with a woman. The police have booked her husband, identified as Amandeep Mehta, a resident of New Adarash Nagar, Kot Khalsa, and his alleged paramour, Sunita (name changed). No arrest has been made so far.
fire incident
Demolition drive at vegetable market
Amritsar, June 4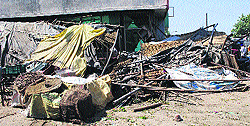 A day after a fire broke out at the wholesale vegetable and fruit market in Vallah, the market committee demolished several illegal kiosks encroaching upon the land, near the main entrance gate of the bazaar.


The demolished kiosks at the wholesale vegetable market at Vallah in Amritsar on Wednesday. Photo: RK Soni

One more held in Vaneet Mahajan assault case
Amritsar, June 4
The special investigating team (SIT) conducting a probe into advocate Vaneet Mahajan murderous assault case today arrested another person, Tarsem Singh, alias Pardhan, a resident of the Sanjay Gandhi Colony, allegedly involved in the attack.
drug abuse

Police organise awareness rally
Amritsar, June 4
Continuing its drive against drug abuse, the city police today held an awareness rally in the Islamabad area which is one of the major drug- affected localities in the city.


The Police Department held a de-addiction rally in the Dam Ganj area of Amritsar as part of its drive against drug abuse on Wednesday. A Tribune photograph

18 arrested for possessing narcotics, illicit liquor
Amritsar, May 4
The city police have arrested 18 persons in the past 24 hours for allegedly possessing narcotic substances and indulging in bootlegging. Separate cases under the Narcotic Drugs and Psychotropic Substances (NDPS) Act and the Excise Act have been registered against them.
DC orders survey on termite problem
Amritsar, June 4
With the growing problem of termite in agricultural sector, the district administration has taken the initiative to get a survey conducted to assess the problem and its impact. The survey will help the local authorities to formulate measures to check the menace.
Admn, cops plan joint action to check begging in city
Amritsar, June 4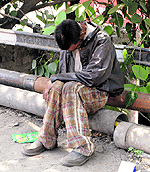 Begging in the holy city continues to flourish and has not been checked due to multi-dimensional problems. The local administration has devised an intensive programme to tackle the menace, but the desired results cannot be achieved until the police, the NGOs and de-addiction centres are taken into confidence, as a large number of beggars are drug addicts.



A beggar spotted at the Bhandari Bridge in Amritsar on Wednesday. Photo: Vishal Kumar

Lok Sabha poll candidate booked for rape
Amritsar, June 4
The city police have booked a dhaba owner, BK Dutt, for allegedly raping a woman on the pretext of providing her a job at his food joint. Dutt had unsuccessfully contested the recent parliamentary elections as an independent candidate.
DAV International gets CBSE-i accreditation
Amritsar, June 4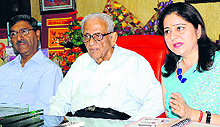 The local DAV International School (DAVIS) now holds the much sought after Central Board of Secondary Education-international (CBSE-i) accreditation, thus adding another feather to its cap and rising toward attaining a global vision.


DAV International School principal Anjana Gupta addresses a press conference in Amritsar on Wednesday. Photo: Vishal Kumar

Release of stipend
Interns' protest enters second day
Amritsar, June 4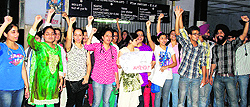 Students doing MBBS internship at the local Government Medical College (GMC) continued their protest for the second day today to press for the release of their stipend.


Interns of Government Medical College hold a protest outside the OPD at Guru Nanak Dev Hospital in Amritsar on Wednesday. Photo: RK Soni

Culinary experts cook recipes, this time with words
Amritsar, June 4
Adding to the city's status as the food capital of Punjab and a global food destination, city-based specialised chefs and bakers are taking things forward with elan. After preparing succesful flavours with celebrated chefs, they are cooking a different recipe, with words.
Pure Sciences
Refresher course concludes at GNDU
Amritsar, June 4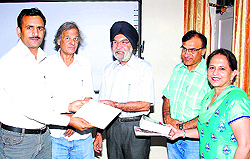 A 21-day refresher course in pure sciences (physics, chemistry and mathematics), organised by Guru Nanak Dev University (GNDU), concluded at Academic Staff College, here today. As many as 36 university and college teachers from various parts of the country participated in the course.


Participants at the 21-day refresher course in pure sciences organised by Guru Nanak Dev University at Academic Staff College in Amritsar on Wednesday. A Tribune Photograph