Young brigade contributes its bit towards green drive
Neha Saini
Tribune News Service
Amritsar, June 5
Planting saplings, taking out green marches and creating awareness on our flora and fauna by several NGOs, schools and institutions, were some of the activities seen to celebrate World Environment Day.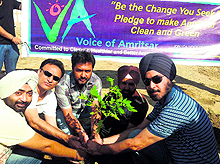 Volunteers of the NGO Voice of Amritsar plant a sapling on the occasion of World Environment Day; (below) burning of dried leaves adversely affects trees in front of ESI Hospital at Majitha Road in Amritsar on Thursday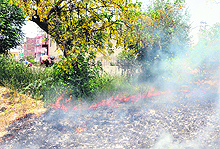 After the city being given the status of one of the most polluted cities of the world, the day was also a reason to promote green living and take serious note of the deteriorating ecology in and around the city.
With this year's theme being 'Raise your voice, not sea level', residents seemed quite involved in the celebrations.
Starting the day early, Voice of Amritsar (VOA) and several other NGOs carried out activities like planting saplings and taking out green marches.
VOA involved local residents for planting 200 saplings of shady trees at Baba Buddha Colony near New Amritsar.
"It was good to know that the residents were aware about the problems that we are going to face because of deforestation. They also pledged to protest the proposed axing of trees on Mall Road near Commissioner House,' said Dr Rakesh Sharma, president, Voice of Amritsar.
Mayor Bakshi Ram Arora also joined the tree plantation drive organised at Trillium.
Based on United Nation's overarching theme of climate change for World Environment Day 2014, the awareness programme to encourage and educate the citizens about the significance of conserving the environment held an open discussion on various eco-problems.
Arvind Verma, project head at Trilium Mall, said, "Caring for the environment is no longer a choice, but a necessity. It is a message we want to drive in the hearts and minds of our employees, their families and local communities."
Adopting several green aspects of living, Amritsar still fares poorly in terms of air, water and ground pollution.
Some healthy changes such as battery-operated vehicles for transportation around the Golden Temple premises, several hotels using solar power and halogen-free energy have been welcomed. But there is still lack of a consistent approach to deal with the problem.
The young brigade contributed their bit to initiate a drive towards sustainable development and growth of eco-resources.
The students of Spring Dale Senior School, in keeping with the directives of the Central Board of Secondary Education (CBSE), resorted to tree plantation, besides conducting a host of other activities to save the environment and curb pollution.
Braving the scorching heat, the students stepped out on the road to distribute paper bags among shopkeepers and fruit and vegetable vendors in the vicinity, urging them to avoid the use of polythene bags while also planting saplings in and around the school.
Rajiv Sharma, principal, Spring Dale School, informed about the various activities, including slogan writing, essay writing, poster making and holding discussions on environment related issues.
Making eco-education a part of the curriculum, the CBSE has taken some initiatives this year.
"The school has an eco club, which plans out and executes programmes related to environmental conservation. Our activities are not just confined to the school and the areas around, we also believe in involving families of the students and the general public to ensure that everyone gets an opportunity to take part in the noble cause of environmental conservation," he said.
DAV International School also hosted activities related to environment. From planting new saplings to maintaining the existing ones, students gave their message through the power paint trough art and craft to point out that natural resources should be preserved.
Principal Anjana Gupta addressed the students and urged to make a promise to take responsibility of treating surroundings with respect. The students will also be participating in a road show to spread the message.
On a different note
While the city made most of the green day, there were some who chose to stay away from the noble cause. An incident of burning dry leaves was seen in front of ESI Hospital at Majitha Road. Several healthy trees were harmed due it and there was no one to pay heed.