One arrested for hoax bomb call
Amritsar, June 26
Cracking the hoax bomb call case, the police today nabbed Shamsher Singh, alias Sunny, a resident of Nanagal Dyal village in Jandiala Guru. The accused is the son of a head constable of the Indian Reserve Battalion in Amritsar.
State government not serious in bringing back Punjabis from Iraq: AAP
Amritsar, June 26
Expressing anguish over the dismal attitude of the state government in bringing back the Punjabis stranded in strife-torn Iraq, Ashok Talwar, district convener, Aam Aadmi Party, said the Chief Minister should their their safe return at the earliest.
SDO placed under suspension for graft
Amritsar, June 26
An additional SDO of Punjab State Power Corporation Limited (PowerCom), urban circle, has been suspended on graft charges.
SHO, ASI suspended for negligence
Amritsar, June 26


An SHO and an ASI were suspended for falsely implicating a local doctor in two cases, which landed him in the jail. The action was taken following an inquiry conducted by Parampal Singh, ADCP (City-I). Police Commissioner Jatinder Singh Aulakh confirmed it and said he had directed to release the victim.
Sushil Kumar, SHO
Admn fails to streamline traffic
Amritsar, June 26
Traffic chaos rules the holy city's roads. We can call it lacunae in the system or lack of integrity of the district and police authorities. The city traffic police have time and again come out with a plan to streamline traffic on city roads. But they have failed to penalise those driving without helmet, jumping red light at traffic points and driving on the wrong side.
Miscreants fire at bike owner
Amritsar, June 26
A minor dispute of taking a ride on Hardley Davidson bike turned ugly last night. The incident lead to firing in which a youth and owner of the bike were injured. They were rushed to a private hospital, where their condition is stated to be out of danger. One of the victims was identified as Navkaran Singh Gill, a coloniser residing at Vrindavan Garden here. The incident occurred around 12.30 am at C-block of the Ranjit Avenue area.
Wheat rotting in the open
Amritsar, June 26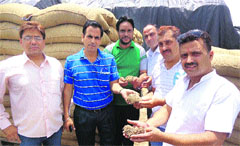 Hundreds of tonnes of wheat stored in open godowns is rotting in absence of proper care. It seems that the authorities concerned have turned a blind towards it. The incident came to the light during a visit by volunteers of Aam Aadmi Party (AAP) to the godown of the Punjab Agro Food and Grain Corporation Limited, located at Jandiala Guru, near here, today.

Volunteers of Aam Aadmi Party show the rotten wheat at the godown of Punjab Agro Food Grain Corporation, located at Jandiala Guru, near Amritsar on Thursday. A Tribune photograph
A chef in love with rustic Punjabi cuisine
Amritsar, June 26
We all know him for his punchline 'Namak shamak', but Harpal Singh Sokhi, the affable master chef from 'Turban Tadka' is as sweet as his popular dessert recipes. One of the most top-rated chef's from India, and the most energetic ones on the television, Sokhi's love for Punjabi cuisine brought him to Amritsar, for professional and personal reasons.
Town Hall parking fetches Rs 16.22 lakh
Amritsar, June 26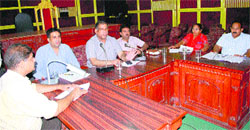 Officials of the Municipal Corporation (MC) today successfully conducted the auctioning of the Town Hall parking lot, but Gole Bagh, the other site, could not find any takers due to the higher reserve price.


SE PK Goyal and other MC officials conduct the parking lot auction at Town Hall complex in Amritsar on Thursday. PHOTO:RK SONI
Foundation day celebrations begin
Amritsar, June 26
A host of activities marked the beginning of the Amritsar Foundation day celebrations. The aim of these activities was to spread awareness about the foundation day. Discussing the programme itinerary for the day, Eco Amritsar volunteers briefed about the day's highlights. The focus of the themes this year will be on saving water, conserving energy, shunning plastic, substituting pesticides and chemicals in food and planting trees. NGO's and residents are being encouraged to preserve the ecology and the balance of the nature in their surroundings. Religious discourses are also being held.
Cops book two for attempt to murder
Amritsar, June 26
The Civil lines police have booked four persons on charges of attempt to murder after they attacked Paramjit Singh, a resident of Jora Phatak area. Among those booked, include Romi, a resident of Rose Avenue, his relative Honey and some unidentified persons.