Dowry case: Fresh probe finds official's allegations false
Amritsar, June 19
Months after a local Child Development Project Officer (CDPO) lodged an FIR against her husband and in-laws for allegedly demanding dowry, physically assaulting and mentally harassing her, a police inquiry found her allegations false.

A painstaking mime and movement artiste
Amritsar, June 19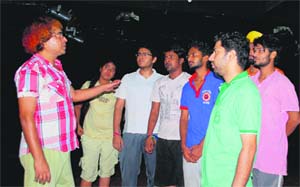 Conducting a class of 35 theatre amateurs and enthusiasts, Kolkata-based theatre director and choreographer, Partha Banerjee, is critical of the slightest gaze, raising an eyebrow or a gesture by hand. The noted theatre director and expert on theatrical body movements is in Amritsar for a month-long workshop at Virsa Vihar.
Kolkata-based theatre personality Partha Banerjee at a one-month workshop at Virsa Vihar in Amritsar on Thursday. Photo: RK Soni

Future of Sehat Bima Yojna in doldrums
Amritsar, June 19
The below poverty line families are confused over the future of the ambitious Bhagat Puran Singh Sehat Bima Yojna, launched in November last year, as instead of distributing smart cards to the beneficiaries, the government has asked respective deputy medical commissioners to take them back from health centres.
City lad placed138th in JEE (Advanced)
Amritsar, June 19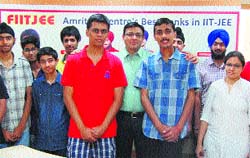 A student of FIIT-JEE, Amritsar centre, Saksham Sharma, has bagged All-India rank of 138 in the JEE (Advanced). The result of the joint entrance examination (JEE) for entry to the country's top engineering colleges was announced today.


Saksham Sharma (centre) of FIIT-JEE centre in Amritsar on Thursday. A Tribune Photograph

Health Department collects food samples from shops, factories
Amritsar, June 19
The food safety wing of the Health Department collected 15 food samples from various ice cream factories and dairy shops in view of the increased demand of the products during the summer season.
Kairon lays stress on setting up consumer awareness groups
Amritsar, June 19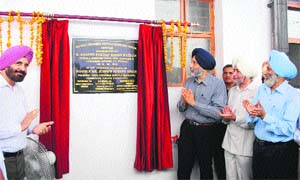 While inaugurating the new office of the District Consumer Disputes Redressal Forum, Cabinet Minister for Food and Civil Supplies, Consumer Affairs and Information Technology, Adesh Pratap Singh Kairon, stressed on the need to set up consumer awareness groups.
Food and Civil Supplies Minister Adesh Pratap Singh Kairon (black turban) at the inauguration of the new building of the consumer court at Ranjit Avenue in Amritsar on Thursday. Photo: RK Soni

620 cadets participate in NCC camp
Amritsar, June 19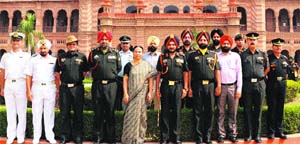 As many as 620 cadets drawn from various educational institutes across the country are participating in the 11-day NCC All-India National Integration Camp, which was inaugurated by Maj Gen PS Sandhu, GOC, 15 Infantary Division, at Khalsa College, here today.


Officials of the First Punjab Battalion of the NCC at the venue of the All-India National Integration Camp, which started at Khalsa College in Amritsar, on Thursday. A Tribune Photograph

Students excel in GNDU exams
Amritsar, June 19
Two students of Sri Guru Angad Dev College, Khadoor Sahib, running under Baba Sewa Singh Kar Sewa Wale, have won merit positions in the BA and BSc (economics) final year examinations, the results for which were declared recently by Guru Nanak Dev University (GNDU).
Dealers seek abolition of NoCs
align="left">Amritsar, June 19
A delegation of the Punjab Property Dealers Association (Majha Zone) submitted a memorandum to Naib Tehsildar Parveen Chibber at the court complex here today. The memorandum was addressed to Chief Minister Parkash Singh Badal seeking reforms in the property transactions to revive the real estate business in the state.
Gang of vehicle lifters busted
Amritsar, June 19
With the arrest of three persons, the city police today claimed to have busted a gang of vehicle lifters, which used to sell these stolen vehicles after forging documents. Among the three accused include a 'helper' of a junior assistant clerk, posted in the local District Transport Office (DTO).