Regularised Colonies
Registries at revenue office declines from 200 per day to 30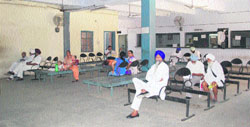 Amritsar, June 10
The residents of colonies that have been regularised recently are unable to get the registries done as the Amritsar Development Authority (ADA) is not issuing them the mandatory NoCs. PUDA accepted the applications for regularisation of plots with fine till April 16.
The Revenue Department wears a deserted look in Amritsar on Tuesday. Photo: RK Soni



Heat and dust: A foreigner covers herself on a hot summer afternoon to save herself from the scorching sun in Amritsar on Tuesday. Photo: RK Soni

Traditional cooking allures young: Experts
Amritsar, June 10
A well-known name from the city famous for its cuisine, Tarvinder Kaur, opened the doors of her 'Kitchen' in 1973 to a handful of aspirants opting for traditional cooking classes. Today, she has over 40 years of culinary expertise behind her along with many satisfied and skilled professional students.
Crackdown on sale of drugs
Chemists oppose move to allow cops to raid their shops
Amritsar, June 10
The Punjab Chemists Association has stated that it will oppose any move by the state government to give the Police Department the power to conduct raids at chemist shops.
Nadira Babbar's play focuses on life in a metro city
Amritsar, June 10
A seasoned actor, theatre person and critically acclaimed theatre director, Nadira Babbar, was quite at ease in Amritsar. She travelled here from Dehradun to stage her play, "Yeh Hai Mumbai Meri Jaan" on the opening day of the Art Summer Camp and Festival at the Art Gallery.

Theatre person Nadira Babbar; and (right) Nadira's theatre group performs, 'Yeh Hai Mumbai Meri Jaan' at the Art Gallery in Amritsar on Tuesday. Photo: RK Soni

Dry bed of UBDC littered with waste
Amritsar, June 10
The network of the UBDC (upper bari doab canal) passing along the bypasses of the city is in a deplorable condition as people throw garbage, offerings of temples and plastic in it. Environmentalists rue that these actions not only pollute the environment, but also disturb the current of canal water. Without water, the network of canals offers an ugly look as garbage can be seen littered on its dry bed.
Civil Hospital to get 24-hour power supply
Amritsar, June 10
The local Health Department has initiated proceedings to procure an uninterrupted electricity supply line for the Civil Hospital, Ajnala, which will help in improving the services for general public. This line will make it possible for the Civil Hospital to maintain its blood bank, which is not possible at present because of the frequent power cuts. The hospital has a small blood bank facility, which can preserve 50 units of blood for emergency use if the power supply is available uninterrupted.
28-day orientation course concludes at GNDU
Amritsar, June 10
A "28-day General Orientation Course-95" concluded at the Academic Staff College of Guru Nanak Dev University (GNDU), here today. As many as 33 university and college teachers from various institutions from across the country attended the course.
7 held for possessing narcotics, illicit liquor
Amritsar, June 10
The Amritsar police have arrested seven persons for possessing narcotics and illicit liquor in separate instances under the Narcotic Drugs and Psychotropic Substances Act (NDPS) and Excise Act during the past 24 hours.
Lal pleads for execution of GST
Amritsar, June 10
Former Punjab Deputy Speaker, Prof Darbari Lal, here today stated that he gave suggestions to revive the Indian economy to Finance Minister Arun Jaitely.
One booked for bid to rape
Amritsar, June 10
One person has been booked for allegedly trying to rape a 13-year-old girl living in his neighbourhood. The accused has been identified as Goldy, a resident of Bhai Veer Singh Colony. Sub Inspector Harjeet Kaur of Women Cell said a case under Sections 366-A, 376, 511 and 506 of the IPC has been registered at Gate Hakima police station.
Mobiles recovered from jail inmates
Amritsar, June 10
The Amritsar jail authorities recovered mobiles phones from undertrials during a routine checking. Six prisoners were booked under Section 420 of the IPC and 42/52-A of the Prisoners Act in this regard. The jail authorities recovered three mobiles from five undertrials identified as Sonu, resident of 1910, Himatpura, Gilwali Gate, Surinder Singh, resident of Pattar Khurd, Maqsoodan, Jalandhar, Jatinder Kumar, resident of Lahori Gate, Harpreet Singh, resident of Thatial village, Shahpurkandi, Gurdaspur and Gurpreet Singh, a resident of Jabbowal village. TNS