Durgiana committee to restore historical shrine
Amritsar, June 7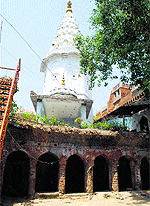 Shri Durgiana Committee (SDC) has eventually decided to restore the historical building of Teja Singh Thakur Dwara, located at Jamadar di Haveli, in the arterial lanes of the walled city. Built during the reign of the legendary Maharaja Ranjit Singh, the shrine has been neglected for a long time. Its various parts have fallen apart due to lack of care. The SDC has earmarked Rs 1 crore for its restoration in this financial year. Being a caretaker of the shrine, the SDC has been spending measly amounts for some years. It has resulted in the physical condition of the temple deteriorating.


A view of the Teja Singh Thakur Dwara inside the walled city. Photo: RK Soni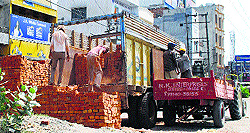 Brick-kiln workers resume work
Amritsar, June 7
The supply of bricks to construction sites resumed today with around 80 per cent of brick kiln workers reporting for work despite the tiff between brick kiln owners and workers, which is yet to be resolved.

Labourers unload bricks at a construction site in Amritsar on Saturday. Photo: RK Soni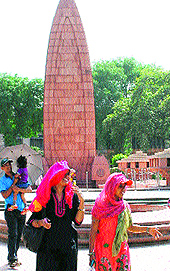 lure of history:

Visitors to Jallianwala Bagh protect themselves from the sun on a hot summer afternoon in Amritsar on Saturday. Photo: RK Soni

Youth Expedition Project
Singapore students break language barrier, impart education to children
Amritsar, June 7
Seek, strive and excel. With this motto and determination to put words into action, a team of 23 students from National University, Singapore, came to Amritsar to hold a workshop and an educational programme for the students of Citizen's Forum Vidya Mandir School. Headed by their mentor and teacher, Professor Kuldip, the team interacted with children on various activities over a span of two weeks.
Six-member gang of robbers busted, narcotics seized
Amritsar, June 7
With the arrest of four persons, the city police today claimed to have busted a gang of robbers, including dismissed cops.
'Kambhdi Deori' explores family relationship, structure
Amritsar, June 7
Questioning the very basis of human relationship, the family structure and the social ethics, 'Kambhdi Deori', a short film by Navtej Sandhu, was screened at Holy Heart Presidency School on Loharka Road.
Fine arts academy to hold month-long summer camp
Amritsar, June 7
Come summer vacations and children can let their creativity flow freely with over a million things to do. For honing their skills and imagination constructively, the Indian Academy of Fine Arts (IAFA) is organising its annual month-long summer art camp and festival, which features several city-based artists.
BBK DAV student tops BCom-III examination
Amritsar, June 7
A student of BBK DAV College for Women, Snigdha Arora, bagged first position in the university by scoring 1602/2050 marks in BCom (regular-III) examinations conducted by Guru Nanak Dev University. Another student Geetika stood third by scoring 1531/2050 marks.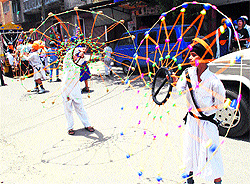 MARTIAL ART: Students display their Gatka skills during Fateh Divas celebrations in Amritsar on Saturday. Photo: RK Soni

Police yet to arrest rape accused
Amritsar, June 7
Even after three days have elapsed, the city police are yet to make any arrests of the accused Gatka teachers, who are wanted in the rape case of two minor girls.
Workers' strike hikes brick prices
Amritsar, June 7
A strike call given by brick kiln labourers' organisation has hiked the price of bricks in the retail market, but the sand price has gone down.
Kisan sabha delegation meets power corpn official
Amritsar, June 7
A state-level delegation of Jamhoori Kisan Sabha today met chief engineer of the Punjab State Power Corporation Limited (PSPCL) in connection with their demands and possible solution for electricity-related problems. The delegation was headed by Satnam Singh Ajnala, state president of the union.
feedback
Start women's bus service
The administration launched city bus service a few months ago. Now more vehicles have been inducted into the fleet. I will request the administration to earmark a few buses as women's special in the morning slot, running between 6 am to 9 pm, exclusively for women commuters, especially girl students.