Finally after six months, repair work underway
Neeraj Bagga
Tribune News Service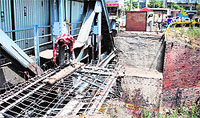 A worker repairs the damaged side of the Bhandari railway overbridge in Amritsar on Saturday. PHOTO: RK Soni
Amritsar, June 14
After a long wait, the repair of the Bhandari railway over- bridge has commenced. A portion of the bridge had caved in as a heavy sand-laden truck passed on it. The key bridge is the lifeline of the city as it connects the old city with the rest of the areas.
Head of the engineering wing of the railway in Amritsar Jasbir Singh said a team from the bridge workshop at Jalandhar collected the measurement of the beams of the cantilever bridge. He said after preparing the same at the workshop, it would be transported and installed.
After a wait of over five months, the railway authorities have eventually moved to take stock of the condition of the vital Bhandari railway over bridge (ROB), which had partially collapsed.
The slack approach of the government and the district administration came to the fore as no attempt was made to repair the portion all these six months. The state government's tall claim of providing world-class infrastructure in the holy city also fell flat.
A senior citizen, Naresh Johar, said keeping in view the significance of the bridge and the high-volume traffic commuting over there daily, residents expected a quick response to its repair. However, the bridge, unattended for nearly five and a half months, reflected badly on the part of the government.
Commuters are facing a tough time as the bridge often witnesses traffic snarls during the day and no government agency has bothered to repair a part of the bridge that had collapsed on December 6, 2013.
Bhandari Bridge, popularly known as 'Uccha Pul', was built in 1955. According to the RITES company which had studied the immense load being borne by the bridge, around 1.64 lakh vehicles pass through this bridge in 24 hours. This led to frequent traffic jams. Due to this, pollution level also increases manifold in the area around the bridge.
The attempt to widen the Bhandari Bridge, as the traffic flow on the key link increased manifold following the construction of the elevated road, came to a naught.
A three-member technical team of the railways had visited the bridge in February 2011 to study the feasibility of widening it but later rejected the proposal on the ground that the iron angles which separated the main bridge from the pedestrian path on both sides could not be removed as it was a cantilever bridge.
Instead, they had mooted the idea of construction of a new bridge by demolishing it. However, the government handed over the responsibility to the Amritsar Improvement Trust to identify an alternate site for a parallel bridge.