Global Meeting for environmental action in Japan
EcoAmritsar strives for global assistance to increase green cover in holy city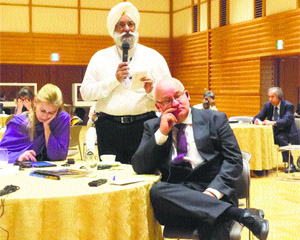 Amritsar, June 12
The meeting of Global Faith Leaders for Environmental Action at Ise, Japan, ended on a positive note this weekend. The meeting, organised by the Jinjo Honcho-Association of 80,000 Shinto Shrines, was keenly watched by observers from the United Nations, the International Council for Local Environmental Initiatives (ICLEI), R2 (a venture with patronage by Arnold Schwarzenegger), and the governments worldwide.

EcoSikh's Gunbir Singh at the Green Pilgrim Network summit at Shinto, Japan.

Forest Department set for a massive tree plantation drive this season
Amritsar, June 12
The Forest Department is all set to take a massive tree-plantation drive during the current plantation season.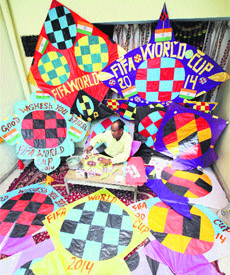 soaring high:

Kite-maker Jagmohan Kanojia works on making soccer FIFA World Cup 2014 kites at his workshop in Amritsar on Thursday. Photo: Vishal Kumar
13 held for possessing narcotics, illicit liquor
Amritsar, June 12
Continuing its drive against drug abuse, the city police has arrested at least 13 persons, including a woman, on the charges of possessing heroin, proscribed drugs, narcotic powder and illicit liquor during the past 24 hours.
2 students suspended on charge of ragging
Amritsar, June 12
The authorities of the Government Medical College have suspended two students following a complaint against them regarding ragging by a junior student. The hostel authorities stated that the rooms of the suspended students were sealed and they have been debarred from entry until the completion of the inquiry proceedings.
Pensioners' assn for IT exemption
Amritsar, June 12
The Punjab Employees Rights and Welfare Association has demanded that the government should exempt residents above 75 years from paying income tax. Association general secretary BR Preenja said Union Finance Minister should announce this exemption for senior citizens in the coming Budget.
Only 20 firefighters for 15 lakh residents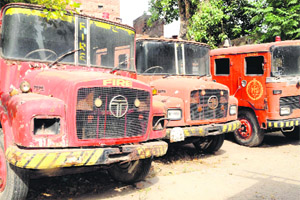 Amritsar, June 12
The local Fire Department is grappling with outdated equipment, acute manpower shortage and inadequate fire stations. Astonishingly, for a population of around 15 lakh in Amritsar, there are only four fire stations with 20 firefighters and seven fire engines. The jurisdiction of this scant fire-fighting force also covers Tarn Taran, Khem Karan, Baba Bakala, Patti, Ajnala Mehta and Beas too, thus adding another 10 lakh residents.
The dysfunctional fire tenders stationed at Gilwali Gate fire station speak volumes about the authorities' dismal attitude towards the department in Amritsar. Photo: Vishal Kumar

Placement drive at Guru Nanak varsity
Amritsar, June 12
As many as 27 students of MBA have been selected by Axis Bank through a campus placement held at Guru Nanak Dev University (GNDU) at a salary package of Rs 3.17 lakh per annum. The bank hired the students for the post of assistant manager.
campus notes
21-day special summer school at GNDU
Amritsar, June 12
A 21-day special summer school started at the UGC Academic Staff College of Guru Nanak Dev University (GNDU) here today. As many as 29 teachers from various universities and colleges from across India are attending the school. Prof ADN Bajpai, Vice-Chancellor, Himachal Pradesh University, Shimla, was the chief guest on the occasion.
Panel recommends traffic park for city
Amritsar, June 12
The first meeting of the Traffic Advisory Committee headed by district community police officer Baljit Singh Randhawa has proposed the setting up of Traffic Education Park on the premises of historic Ram Bagh garden.
Ramayana recitation to conclude on June 22
Amritsar, June 12
A month-long recitation of Ramayana at Shivala Ganga Ram will conclude on June 22. Devotees together recite the holy book for an hour in the morning. Shivala management president Hans Raj said religious preacher, Kahan Chand, would oversee the conclusion of the holy book's recitation. — TNS
Woman robbed of jewellery
Amritsar, June 12
An elderly woman,Rama Rani, was robbed of jewellery in Kot Baba Deep Singh area here. She was alone at home when the robbery took place .
2 booked for kidnapping
Amritsar, June 12
The police have registered a case of kidnapping after the family members of a youth employed at a jewellery shop lodged a complaint in this regard.


Braving hot temperature

| | | |
| --- | --- | --- |
| A pot vendor checks the taps on the pots while he awaits customers. Extreme heat has increased the demand for pots to keep drinking water cool in Amritsar. Photos: Vishal Kumar | A woman carries a pot filled with water in one hand and a hand-held fan in the other as she walks down a park on a hot afternoon in Amritsar. | A child helps his disabled father cross the road in scorching hot conditions prevailing in Amritsar. |