Gangster attacks youth after release on bail
Amritsar, June 17
A day after his release on bail, notorious gangster Prince Kapoor, along with his uncle Vicky Kapoor, a former councillor and several others, attacked a local youth, identified as Roshan, a resident of Dhapai area.
Truck loaded with cement overturns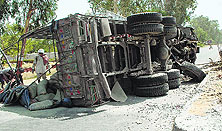 Amritsar, June 17
A truck loaded with cement turned turtle at GT road near Khasa here late last night as the driver failed to see the divider on the road allegedly due to the absence of light reflectors at the place. The GT road is a prominent route for transporting goods coming from Pakistan.

A truck turned turtle after it hit the divider on the GT road near Amritsar on Tuesday. Photo: Vishal Kumar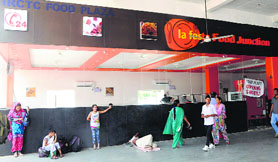 Food plaza at rly station to
open shortly
Amritsar, June 17
The much awaited food plaza at the Amritsar railway station will shortly be thrown open for the public as it received its power connection today. The plaza had come up about a month back but its opening was stuck in the rigmarole of formality and documentation.

A view of the food plaza at Amritsar railway station. Photo: Vishal Kumar

Despite limited resources, de-addiction centre providing laudable service to help seekers
Amritsar, June 17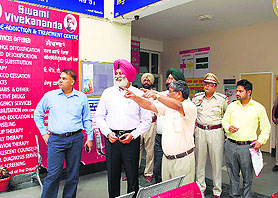 Despite all odds, Swami Vivekanand De-addiction Centre at Government Medical College is doing yeoman's service to society by de-toxifying youths thronging the centre. The centre has been witnessing a huge rush of drug addicts for the last few weeks as the police have tightened the noose around the drug peddlers, thereby cutting the supply line.

Director, Swami Vivekanand De-addiction Centre, Dr PD Garg, highlights the facilities provided at the centre to Police Commissioner Jatinder Singh Aulakh in Amritsar. PHOTO: RK SONI

NGO accuses govt of mindless felling of trees
Amritsar, June 17
City-based NGO Mission Aagaaz has accused the government authorities of "unnecessarily chopping off" 58 trees on the stretch between Khalsa College and Guru Nanak Dev University to pave the way for the Bus Rapid Transport System (BRTS), also called the metro bus project. Earlier, the NGO alleged that even the trees that didn't fall in the project areas were also being chopped off.
Summer camp instills love for art among kids
Amritsar, June 17
With its focus on creating the need for art in the lives of children, who probably would have the time for everything but arts, the art gallery's annual creative affair, Summer at Camp and Festival, is drawing a full house.

Summer camp underway at the art gallery in Amritsar on Tuesday. Photo: RK Soni

Bikramjit murder case: Accused policemen yet to be arrested
Amritsar, June 17
Even after a month, six persons, including five policemen, allegedly involved in the murder of Bikramjit, a jail inmate, are yet to be arrested by the police. The police had even released the pictures of the accused policemen, including inspector Narang Singh, in the media. But, there is no trace of the absconders.
Panel formed to probe ragging case
Amritsar, June 17
Reacting to the statements and complaint about the ragging incident, Government Medical College authorities have said that an inquiry would be conducted into the complaint submitted by a first year student.
Mobile phone seized from jail inmate
Amritsar, June 17
The Amritsar Central Jail authorities have seized a mobile from a jail inmate currently facing a trial in a murder case. The accused has been identified as Mandeep Singh, a resident of Varana Sarhali village, Tarn Taran.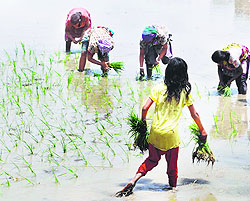 Helping hand: A girl helps her mother as she transplants paddy along with other women at a field near Amritsar on Tuesday. Photo: RK Soni

Computer teachers threaten to go on strike
Amritsar, June 17
Members of the Computer Teachers Union have threatened to go on a strike complaining that they have not received salaries for the past three months, let alone other service benefits available to the regular employees.
Feedback
Amritsar Tribune invites feedback from its readers on issues of public concern relating to Amritsar and the nearby areas. Readers can email their views to feedback.asr@gmail.com
They can also send their views to: Feedback, Amritsar Tribune, Sector 29, Chandigarh - 160029. Letters sent by post must mention 'Feedback for Amritsar Tribune' on the envelope and it should be signed and must contain the address and telephone number of the sender. It should not be more than 150 words.