Snake-bite incidents on the rise; 7 cases reported at Civil Hospital in a week
Manav Mander
Tribune News Service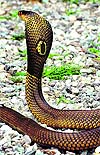 Ludhiana, August 3
With the onset of the monsoon, the incidents of snake bite in and around the city are on the rise. Seven cases of snake bite have been reported at the Civil Hospital while other hospitals are also receiving such cases daily. The staff of Ambulance 108 said they had ferried many victims of snake bite to the hospital.
"Seven snake-bite cases were received last week. The hospital is fully equipped to deal with such cases," said a Senior Medical Officer, Civil Hospital, Dr RK Karkara.
Snake-bite cases need immediate attention. The right anti-venom can save a person's life. Bites by non-venomous snakes can be exceptionally painful and can become infected, said Dr Karkara.
In July, August and September, snake-bite incidents are reported after rain. Reptiles get displaced from their natural habitat following heavy rain. They try to take shelter in airy and dry places like thick wild shrubs, trees, flower pots, garden hedges and buildings where they also find insects to feed on. Moreover, the monsoon is also the breeding season for reptiles and during this period they become very aggressive.
"The symptoms of a venomous bite are the puncture wounds, swelling and pain, and possibly nausea followed by vomiting. Other symptoms include difficulty in breathing and swallowing. If the victim turns out to be especially allergic or if too much venom gets into the system, symptoms could also include weakness and discoloration of the face and the area around the wound," said Dr RS Sidhu.
Dos and don'ts
Immobilise the bitten arm or leg, and stay as quiet as possible.
Remove jewellery before swelling starts
Position yourself so that the bite is at or below the level of heart
Cleanse wound but don't flush it with water. Cover it with dry dressing
Apply a splint to reduce movement of the affected area but keep it loose enough so as not to restrict the blood flow
Don't use a tourniquet or apply ice on the wound
Don't cut the wound or attempt to remove the venom
Don't drink caffeine or alcohol
Don't try to capture the snake but try to remember its colour and shape, which will help in your treatment
Seek immediate medical attention, especially if the area changes colour, begins to swell or is painful
Patients can claim treatment expenses
One can claim expenses on the entire treatment of a snake-bite victim from the Forest Department. "One has to submit an application to the department with medical bills. Bills are reimbursed after verification," said District Forest Officer DS Brar. The department has received three applications so far. If somebody spots a snake, he can contact the department, which will send volunteers to catch it.
Not all snakes are venomous
Most of the snakes found in the city are non-poisonous. Four venomous species found here are Russel's viper, common cobra, saw-scaled viper and common krait.