G R O U N D Z E R O
Both Pakistan and India overplayed their hand
While Pakistan made a huge miscalculation on meeting the Hurriyat, reviving concerns about its sincerity, there is a perception that India too has overreached in cancelling the talks.
Raj Chengappa

It may be a perverse view of India's decision to call off foreign secretary level talks with Pakistan, but Nawaz Sharif should be feeling a trifle relieved. For if the talks were held as scheduled, Indian Foreign Secretary Sujatha Singh would have been in Islamabad tomorrow and with the Pakistan capital remaining shut down because of Opposition protests, she would have faced great difficulty in reaching the venue. Instead of such embarrassment, Sharif can now conveniently blame India for walking away.
The big regret though is that a great opportunity has been missed to build good relations between the two countries. For there was promise in the air when Narendra Modi invited Nawaz Sharif for his swearing-in ceremony in Delhi in May and the Pakistan Prime Minister gracefully accepted it. When they met, the two leaders agreed that the foreign secretaries should be in touch to see how best to resume the formal dialogue process that had been stalled since January 2013.
When the Indian Foreign Secretary phoned her counterpart Aizaz Ahmad Chaudhry last month to follow up, he invited her to visit Islamabad and August 25 was fixed as the date. The main agenda was to talk about talks — whether a composite dialogue of the past that included several major subjects or a whole new architecture. All was good till then.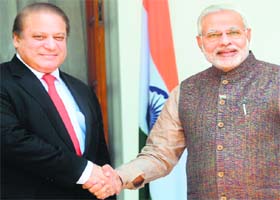 A false start?
By the second week of August though there were clear signs that the talks had begun heading downhill. Former Pakistan cricketer-turned-politician Imran Khan and cleric Tahir-ul-Qadri had decided to lay siege to Islamabad till Sharif stepped down, forcing the Prime Minister to march to a different drummer: the Pakistan Army.
When Sharif came to power in May last year with a landslide win, he had talked of restoring civilian supremacy over the army. He got over the first hurdle of replacing General Ashfaq Parvez Kayani with an army chief of his choice — Raheel Sharif. But differences soon cropped up on several issues. Nawaz Sharif pushed hard for his bête noir and former Pakistan President Pervez Musharraf's prosecution, obstinately turning down pleas to allow him to go abroad. Also while Sharif was keen on having a dialogue with the Pakistan Taliban and other militant elements, the Army pushed for military action against them, finally succeeded in doing so. Meanwhile, there were allegations that the Pakistan Army had lent tacit support to Khan and Qadri in a bid to weaken Sharif's democratic standing.
By mid-August it was apparent that far from asserting his supremacy over the army, Sharif was on the back-foot in his relations with them. The balance had shifted and it was clear that a weakened Pakistan Prime Minister would now have to share power with the army especially when it came to dealing with India. Sharif had already roundly been criticised by his opponents for not meeting with Hurriyat Conference leaders when he came for Modi's inaugural ceremony.
Sharif began to play hardball. He upped the ante on Kashmir and pulled back on making any forward movement on bilateral trade. The Pakistan Army stepped up its firing on the LoC and International Border in Jammu and Kashmir. Pakistani diplomats began adopting maximalist positions on Kashmir and other outstanding issues in their informal interactions, raising concern among Indian circles. The final straw was when Pakistan High Commissioner Abdul Basit sent out invitations to Hurriyat leaders to meet him in New Delhi prior to the talks.
For the Modi government, this was a red rag. Particularly after the Congress began criticising the High Commissioner and taunting the Prime Minister about the absence of a "muscular approach" that he had advocated when on the stump. Pakistan claim of it being routine for the High Commissioner to meet the Hurriyat was only partially true. While Pakistan leaders and foreign secretaries have earlier met the Hurriyat on their visits to India, there was no recent precedent of the Pakistan High Commissioner having met Kashmir separatists prior to either an Indian foreign secretary's visit to Islamabad or even that of the External Affairs Minister. Realising the futility of having talks and that he was in danger of losing political capital, Modi had the talks called off.
In retrospect, Sharif has made a huge miscalculation by his actions. Instead of banishing the ghosts of Kargil he has revived concerns about his sincerity and ability to deliver. While the Modi government may have set tough terms for a future dialogue, there is a perception that India too has overreached. Instead of making the Hurriyat invitation the main cause, the Modi government should have cited a range of other concerns, including firing on the border and the internal security situation in Pakistan for calling off the talks.
Focusing on the Hurriyat has again given the separatists and the Kashmir issue prominence, inviting international concern. This may limit the Modi government's options in future. There is no doubt a need to engage with Pakistan. But the best course now is to wait for the political situation in Pakistan to settle down before both countries make any fresh moves to do so.