Loan flaws breaking banks
The recent arrest of the Syndicate Bank chairman by the CBI exposes how non-performing assets, poor loan recovery and laundering are draining the Indian banking system. Finance Minister Arun Jaitley and the RBI Governor have devised ways to check it, but there is a long way to go.
By Sanjeev Sharma
Stressed loans in the banking system in India make up for a Rs 5.5 lakh crore gaping hole by some estimates and poses a grave risk to the economy and the financial sector. The alleged corrupt practices in public sector banks and their burgeoning bad loans have come under dubious spotlight in the last few days with the CBI arresting Sudhir Kumar Jain, chairman and managing director of Syndicate Bank, on bribery charges for extending credit to defaulting companies, Bhushan Steel and Prakash Industries.
Neeraj Singhal, managing director, Bhushan Steel, has also been arrested by the CBI in what has become a high-profile case involving a major PSU bank and large corporate, bringing into focus the scourge of bad loans or non-performing assets (NPAs) and detection of underhand dealings in allocating loans.
RBI Governor Raghuram Rajan has sounded a note of caution, saying the Syndicate Bank case does not reflect the banking system. "I think the balance has to be maintained, and we have to be careful that while we do a thorough investigation and culprits are brought to book, it doesn't become a witch-hunt which then stalls the entire credit process. We have to be careful," he said.
The CBI has also begun investigations against IDBI Bank for extending a Rs 950-crore loan to Vijay Mallya's Kingfisher Airlines, a debt-stricken company, even when the bank's internal report had warned against it.
There was another major incident in February when Kolkata-based United Bank of India had to suspend lending after reporting a massive loss of Rs 1,200 crore. The RBI conducted a special audit and its chairman and managing director Archana Bhargava stepped down later.
The extent of the NPA problem is massive. A report by Kotak Institutional Equities says the RBI puts the total quantum of impaired assets at 9.8 per cent loans or Rs 5.5 lakh crore at the end of financial year 2014.
In May, the All India Bank Employees Association issued a list of top 406 defaulters against whom banks have initiated legal actions.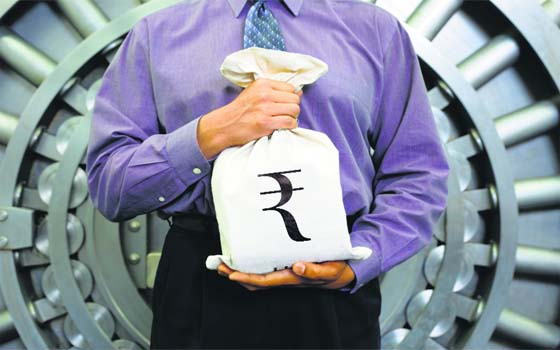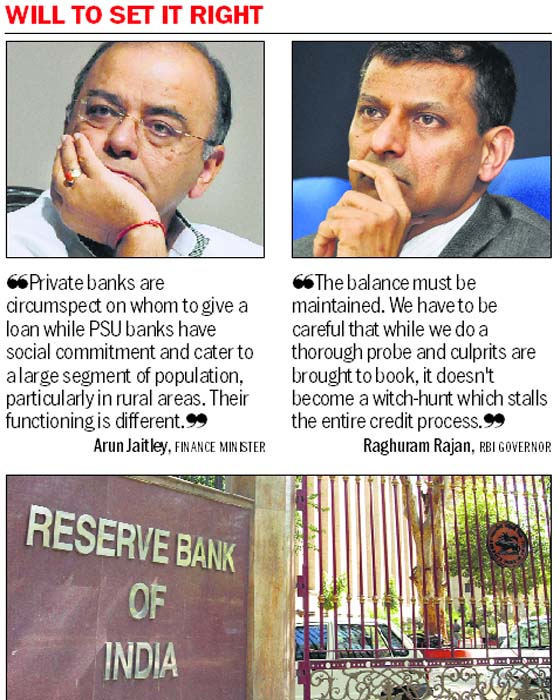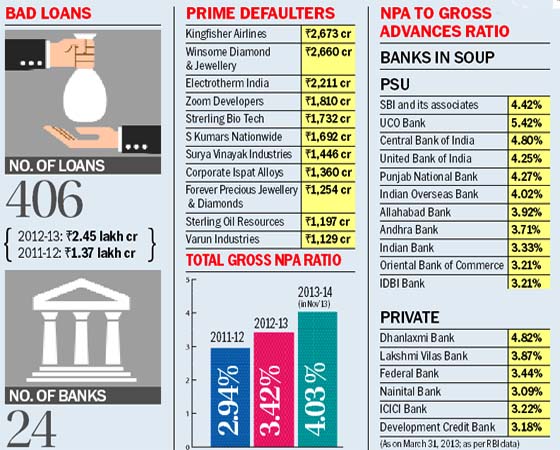 The challenges
The NPA problem is more pronounced in public sector banks. Apart from large macro issues like economic slowdown leading to increase in bad loans, PSU banks have intrinsic issues like government ownership, implementation of welfare schemes, management, culture and remuneration.
The issue is staring the government in the face. The government has said NPAs of PSU banks have mounted due to slowdown even as the recovery increased to Rs 33,486 crore in 2014. "NPAs have increased as the economy has slowed down in the last two years," Finance Minister Arun Jaitley said during Question Hour in the Lok Sabha. The top 30 NPAs of PSBs account for 40.2 per cent of their gross non-performing assets (GNPAs). The top 30 accounts comprising large corporate houses have been identified where banks must place emphasis on recovery and take action.
Delivering a lecture recently at Assocham, RBI deputy governor R Gandhi said the total stressed assets in the banking system (including NPAs and restructured standard assets) as on December 2013 was 10.13 per cent of the gross advances of banks. "A slowing economy is bound to see an increase in NPAs. Notwithstanding economic weakness, the NPAs have registered increases since financial year 2012 which is a cause of concern. The NPA increases have been more pronounced in public sector banks," he said.
There are various factors affecting the asset quality of scheduled commercial banks (SCBs) adversely, such as slowdown, policy logjams, delayed clearances, aggressive expansion by corporate during the high-growth phase.
However, Gandhi said shortcomings in credit appraisal, disbursal and recovery mechanism, besides the slowdown, were responsible for high NPAs. Lack of robust verification and screening of application, absence of supervision following credit disbursal and shortfalls in recovery have led to the deterioration of asset quality, he added.
Sector push
Some sectors contribute to the bulk of NPAs. Sanjay Doshi, partner, transaction and restructuring, KPMG in India, says sectors like infrastructure, iron and steel and textile industries are the largest contributors to the NPAs. Stalled projects, delayed policy decisions, slowdown, macro factors relating to supply and demand and mismanagement are the reasons for the stress in these sectors.
The GNPAs, with restructured advances, contribute to over 10 per cent of the total advances of the banks, he adds.
The NPAs are measured by the GNPAs to gross advances ratio in percentage terms. Higher the ratio, bigger is the NPA problem. Banks with lower NPAs tend to get higher valuations in the stock market.
While the NPA to gross advances ratio for public sector banks was 3.61 per cent, it was 1.79 per cent for private sector banks. Apart from the economic cycle, there are intrinsic issues with public sector banks that lend to more NPAs. Echoing this, Jaitley said in Parliament that bad loan amounts of PSU banks were much higher than private sector banks and there was no comparison between the two as their functioning was different. He said private banks were circumspect on whom to give a loan while PSU banks have social commitment and cater to a large segment of population, particularly in rural areas.
Finding a way out is going to be more than just balancing the books.