good news
A nondescript village that is football nursery
With help from NRIs, the Youth Football Club of Rurka Kalan, a village near Phagwara, is producing pros.
By Sarbjit Dhaliwal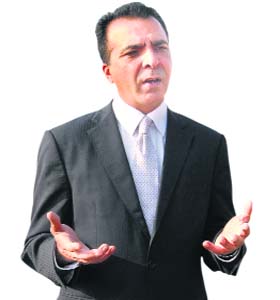 Canadian MP Jasbir Sandhu is associated with the football club.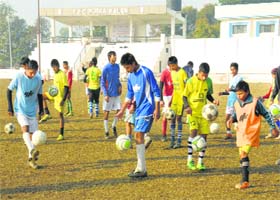 Players of the Youth Football Club, Rurka Kalan, during a practice session. Tribune photos: Malkiat Singh
Some years ago, few enterprising youths formed a Youth Football Club (YFC) at Rurka Kalan village, near Phagwara, which became popular in the country owing to its association with the JCT football team. Steadily, the club, which was set up in 2000, has worked its way to international forums.
Recently, the UN invited club representatives Prateek Chawla and Ramanjot Sandhu to take part in the United Nationals Camp for Sports Development in Sweden and South Korea, respectively.
For a rural club, this is no mean feat.
"The purpose of these camps is to bring together youth who are working in disadvantaged areas in sports for development projects and who have the potential to be community leaders. The opportunity to attend these camps presents an enlightening proposition for the participants to learn from some of the best minds in sports.
The camp offers a chance to learn practical leadership skills to inspire and bring about changes in society," says Gurmangal Dass, founder of the club. He has done BTech in electronics and also has an MBA degree.
Club mission
While the club's sole mission is to provide ample opportunities to talented youths to hone their football skills, it has also expanded its area of work to wean away youths from drugs. It has opened its centres in about 15 villages, including Bundala, Shankar, Jandiala, Bilga, Chak Muglai, Kahna Desian and Attari, to involve the youth to bring about the all-round development of rural underprivileged youngsters. As of now, the centres are working with 2,000 children.
Rurka Kalan was earlier known for its freedom fighters and footballers. The village youth worked hard to prepare football grounds by filling huge depressions in the land given to develop the sport.
The club has touched the lives of thousands of rural children. Starting with just Rs 1 lakh, the club now spends Rs 1 crore in a year on its activities. The money comes through donations from NRIs. It has 40 paid staff members and volunteers. The state government contributes about Rs 12 lakh for the board and lodging of 26 promising boys who are provided with kits, exposure trips and education by the Football Academy being run by the club.
"We have about 500 regular donors, mostly NRIs. They send us money every year. That helps us to run the club operations smoothly on scientific lines. We have a youth mentor, operations manager and other staff to handle the club's programmes in a planned manner. The club has built a youth and sports complex having two football grounds. The stadium has floodlights, a seating capacity of 5,000 and CCTV surveillance," says Dass.
The glory
It is the first club in India to win the Street Child World Cup Soccer Tournament held in Durban, South Africa, in 2010. It was runners up in All-India Manchester United Premier Cup (under-16) organised by the All-India Football Federation in Gurgaon in 2011.
The club won the Punjab State Sub-Junior Championship in Patiala and the Punjab State Inter School Football Championship 2008, held in Muktsar. In 2010, its six players played for Punjab in the National Inter School Championship. More than 100 trainees have represented Punjab at the national level in various age categories. Around 15 have been placed with different professional teams, including the prestigious professional football league in the country — I-league.
YFC players who have represented India in international tournaments are Anwar Ali, Prem Kumar, Sukhwinder, Ramanjot, Sukhdeep Singh, Taranjit Singh, Amritpal Singh, Kamalpreet Singh, Jaspreet Singh and Karandeep Singh.
Its players are now on the rolls of leading football clubs such as JK Bank Professional Football Club (Prem Kumar), Churchill Brothers, Goa (Amritpal Singh), Sporting, Goa (Papai biswas), Punjab Police (Harjaap Singh), Conscient Football, New Delhi (Sukhwinder Kumar), Tata Football Academy (Ramandeep Kumar), All India Football Federation's Pro Academy (Karandeep) and Pune FC Academy (Kaushal Singh).
Backing up
The academy supports 1,200 players of U-12, U-14 and U-16 age groups in 11 football centres of excellence. Sports kits, coaching, competition and refreshments are provided. It is also working towards gender equality and elimination of drug menace in areas under its wings. The club has tied up at the national and international level with organisations such as Magicbus to inspire the youth to excel in sports and other social spheres.
"Our target is to reach out to 50,000 children pan-Punjab within three years. This will be achieved through fundraising efforts," says Dass.
The YFC aims to develop an R and D department with the help of the Punjab Sports fraternity. Mentors would impart training by conducting sports activities in a productive manner. The club has been associated with Coventry University, FIFA Football for Hope, Street Football World, UN on Sports for Development and Peace and AFC's Asian Football Development Project.