Why Team India is a sorry picture
The Indian cricket team's dismal performance against England in the first five-match Test series it played since 2002 throws up the question if our players are too bogged down by IPL to practise for serious matches, and if the BCCI will do something about it.
By Rohit Mahajan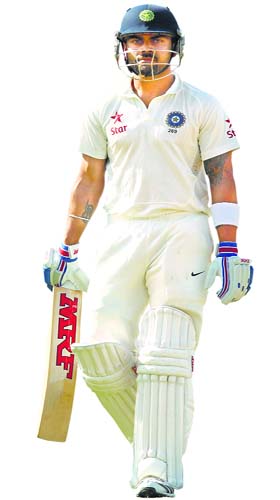 Virat Kohli walks back to the pavilion. AFP
Virat Kohli, his pride injured, his confidence shattered, gazed back at the umpire as if he'd been just woken up from a horrible stupor. He'd just been given out LBW, without attempting a stroke, on the first morning of the final Test. Kohli had begun the series by twice getting out cheaply to the most excellent Stuart Broad, he ended it by twice getting out cheaply to the much less excellent Chris Jordan. But get out cheaply did Kohli, start to end, in the series.
Kohli was going to be India's most potent batsman, India's flagbearer in the series — the first five-match Test series India played since 2002 — against England. He ended up as the flagbearer all right, but he bore the white flag of humiliating surrender. Kohli made 1, 8, 25, 0, 39, 28, 0, 7, 6 and 20 runs in the 10 innings he batted in. This is a sorry series of numbers — India ended up with a horrible series, too, losing the last three Test matches in alarming, wretched manner.
The series started promisingly enough, at Nottingham; curiously, the Indians had been provided a very benign pitch, which could well have been transported from Rajkot or Mumbai, so brown was it. The curator for the Nottingham wicket had left it dry because, as he explained, "we don't want teams bowled out for 180". Murali Vijay struck a century and a half-century, India made 457 and 391 in the two innings. The match ended in a tame draw on the placid wicket. Stuart Broad was left desperately wishing for faster wickets – the lack of 'home advantage' for England was evident. "It's certainly not what England would have asked for and not what Trent Bridge would have hoped for," Broad said.
Things changed for the second Test at Lord's in London — a proper English wicket was provided to help the home seamers. It was a greentop, and England won the toss and elected, naturally, to bowl first. Hell should have visited India then and there — but a curious thing happened. The English bowlers didn't bowl well, bowling far too short to benefit from the helpful wicket; the Indians stuck to the task with grim determination and made a respectable 295. After England got a 24-run lead, India made 342 in their second innings. Tables were turned. Chasing 319 for victory, played appallingly after being secure at 172/4 — they lost their last six wickets for 50 runs, to lose the match by 95 runs.
India, having drawn the first Test and won the second, seemed to be much the stronger team; England captain Alastair Cook, going through a horrible run with the bat, endured calls for him to give up captaincy, but he soldiered on.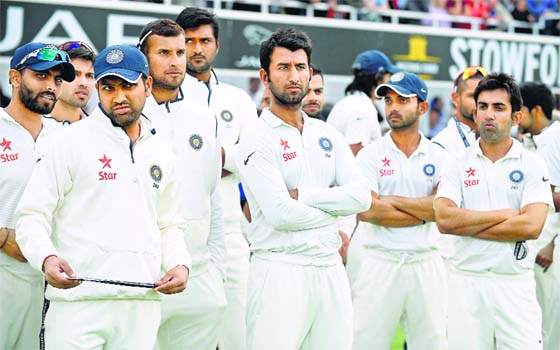 Dejected, India's players look on during the presentations after losing the series against England in London, following spectacular batting collapses. Reuters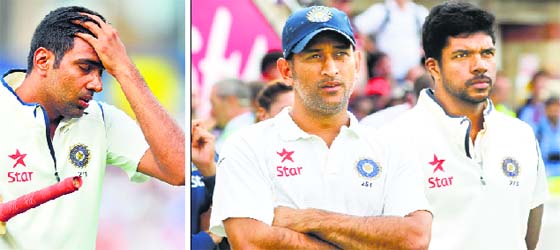 Ravichandran Ashwin walks off after being caught for 13 runs; and (R) captain MS Dhoni admitted his team had simply not been good enough. AFP
England's turnaround
In the third Test at Southampton, the series turned. The track was quite un-Indian, and helped the pacers with bounce.
On the first morning, Pankaj Singh, the tall quick bowler from Rajasthan, got Cook to edge a ball to third slip, where Ravindra Jadeja lay in wait — but Jadeja dropped the elementary catch. Cook made 95, Gary Ballance and Ian Bell piled up centuries, and England declared at 569/7.
When India batted, James Anderson, England's best bowler, took 5/53 and India could manage only 330, that too due to a fine knock of 50 by captain Mahendra Singh Dhoni. England declared their second innings at 205/4, setting India a target of 445 to win the game. It was not an achievable target – India could only have hoped for a draw. But they had only one partnership of over 50, and lost wickets in heaps — 4/40 in the middle, and 4/26 at the end.
Anderson took only two wickets; Moeen Ali, the batsman who was supposed to be able to bowl just a bit, took 6/67.
Southampton marked the turning point in the series — India couldn't catch, India couldn't play pace, India couldn't play spin. Crucially for them, Ishant Sharma, who had bowled India to victory at Lord's, missed it due to an injury.
"Southampton was clearly a turning point for us, to finally get the win. Suddenly after the first day there, there was a bit of confidence back in us as a side," Cook said at the end of the series. "Once we won there, and enjoyed that night, that was the route of how we wanted to play our cricket against these guys."
Jos Buttler, England's impressive new wicketkeeper-batsman, agreed. "That first day at Southampton when we batted all day and Alastair Cook returned to form and Gary Ballance got a hundred, it felt like that was a huge turning point," he said. "It put so much pressure on India, and once we got ahead we never looked back."
The pitches for the final two Tests got progressively more difficult to bat on — India's scores reflected that. It swung at Old Trafford in Manchester, it seamed at The Oval in London. At Old Trafford, after winning the toss and electing to bat first in very difficult batting conditions, India were down to 8/4 before recovering to 152, thanks to Dhoni's 71. After England made 367, India were down to 66/6 before ending up with 161, to lose by an innings and 54 runs.
At The Oval, there was an encore. Another difficult track, India bat first, down to 36/5, then 79/8, before reaching 148, thanks to Dhoni's 82. England made 486, with a terrific century by Joe Root. India were 30/3, 62/6 and 74/8, before being bowled out for 94 — a defeat by an innings and 244 runs. In their last five innings of the series, India were bowled out for 178, 152, 161, 148 and 94.
Blame game
After this, the Indian cricket board (BCCI) officials must have said to each other: 'So let's play the blame game now, shall we?'
They began with the coaching staff.
They did that before the five-match One-day series against England — the timing was far from ideal for a large-scale change the BCCI enacted. The bowling coach Joe Dawes and fielding coach Trevor Penny were sent on compulsory leave, and three Indians were supplied to fill the breach — Sanjay Bangar, Bharat Arun and M Sridhar. The first is known more for being an IPL coach, but he was a very good domestic cricketer as well, and has coached India A; the last two have more solid credentials as they've worked with junior India teams.
Coach Duncan Fletcher kept his post, but he's lost two trusted helpers for now. Of greater import is the appointment of a man to keep a tab on the coach. Ravi Shastri is now the 'director' of the Indian team. Shastri, the slick talker, was supposed to have a great cricketing mind in his playing days but captained India in only one Test match; after retirement, he's become the voice of the BCCI, though ostensibly he's an independent media commentator. His loyalty, understandably, lies with the men in power in the BCCI — he famously likened Lalit Modi to the biblical 'Moses' when Modi was supremely powerful.
Perhaps it was necessary to keep a closer watch on Fletcher and Co., and perhaps Shastri, a paid mouthpiece of the BCCI, was the ideal man to do it. However, it's clear that a very thorough examination of the troubles of Indian cricket needs to be made. If that is done in an honest manner, it will likely emerge that excessive amounts of Twenty20 cricket is not doing the techniques of Indian players any good.
When Fletcher was hired by the BCCI, immediately after the win in the 50-over World Cup, there was hope that he'd be able to make a significant contribution, as he'd done with England. In 1999, England were down in the dumps — they hired Fletcher, the former Zimbabwe captain, as coach. Fletcher found great success with England — he hated the media, was a good planner, was excellent in one-to-one interactions with players on their techniques.
He made one very important contribution — the introduction of the central contract system under his watch in 2000 helped him gain greater control of the England players. The idea was that the players should play less cricket at the domestic level, so they'd be fully rested and prepared when required to play for England. The central contract system helped Fletcher make sure that his top players were not busy round the year, and had the time to work on their technique for different challenges. Fletcher turned the players from county cricketers to England cricketers.
Not in India
But Fletcher wasn't able to do that with India. Actually, the reverse is happening — from Indian cricketers, the players are turning into club cricketers with, say, the Mumbai or the Chennai IPL team. It's the same old battle between Club and Country. The Clubs pay much more for a flimsier version of the game, and Country is suffering in Test cricket.
Fletcher, unless his views have changed from his England coaching days, would think that the Indians are playing too much irrelevant Twenty20 and ODI cricket. He'd want to limit those numbers, so the Indians could play Tests properly. He hasn't been able to do that at all.
Perhaps Fletcher didn't try, for he knew that the BCCI wouldn't care a hoot for his opinion. Perhaps he tried and was thwarted. The result is that Indian players are bullies at home, lambs abroad. That's because they don't have the time to work on their techniques to prepare for challenges outside India.
Dhoni has cried himself hoarse as he discussed this point throughout the series. "We are working on technical aspects of all our batsmen, but it is not very easy to change that," he said after the loss in the final Test. "They need a bit more time to do that, one has to spend a bit of time with that particular technique. I have been working on something from November and it was only close to Manchester that I actually could implement it in a game."
"I was comfortable doing it in practice sessions, but didn't have the confidence to do it in a game," he added. "So you don't know how much time it takes."
And time is a commodity the BCCI cannot buy or manufacture. They'd love to do it, but they can't have 400 days in a year. So a cricketer must labour on, like a billionaire beast of burden.
Tiring series
By the end of this series, the Indian players seemed crushed in mind and body. "The last time we played a five-Test series was in 2002, when I was part of the team," says VVS Laxman, former India batsman. "It requires a different kind of a mindset and endurance, both in terms of technique and mental preparation."
The Indians were gone by the time the fifth Test started. Bhuvneshwar Kumar, India's Man of the Series, was excellent in the first three Tests; however, it was clear by the final Test that he was thoroughly tired. His pace had dropped to the high 70s mph. "I guess I was like that in my last year in international cricket," Kapil Dev said, only semi-jocularly.
"A five-Test series tests your resources so much," Ashley Giles, the former England spinner, said. "If you can keep everyone fit and firing, then you're OK. But losing Ishant Sharma after Lord's was a big thing… So they had to change their bowling attack."
"Bhuvneshwar performed really well through the series, but you can't expect him to maintain that for five Test matches, he's such an inexperienced player," he added. "England are used to longer series, so even after the disappointment of Lord's, they picked themselves up."
India normally play three-match series at home — increasingly, they've been playing two-match series. "The last two Test series consisted two matches and not many of them have played five-match series," Dhoni said. Physically, the Indians were tired after the grind in England.
Mentally, the Indians were in a worse condition. They didn't know which way the deceptive Anderson would swing the ball; they had no clue about Broad's outswingers; they didn't know whether Ali would send the ball straight or turn it in. Even Cheteshwar Pujara and Rahane, two men with the best techniques in the team, were making glaring errors — leaving huge gaps between bat and pad, or attempting a stupid and aggressive shot just before the lunch break; the catchers in the slips were dropping the simplest chances.
After the loss, the BCCI officials have talked about accountability, but what about their own accountability?
The Indians played five Tests in a matter of 40 days — why was such a hectic schedule approved by the BCCI? Why was Gautam Gambhir selected to play for India despite no great performance after being dropped 18 months ago? Why was poor Ishwar Pandey in the squad if he was not going to ever get a chance?
There will be no answers — the BCCI doesn't like giving answers. The action on the coaches, appointment of Shastri, thus seems no more than a red herring — to give the illusion that accountability is at work. Substantive changes need to be made, but the BCCI may not make them due to its own financial considerations — or those of its members.


How to get the bat swinging
Limit the number of irrelevant matches the Indian team members play, to give them time to prepare for difficult tours
More exposure to emerging players through India A tours to countries like Australia, England, New Zealand and South Africa
End concept of two-Test series, organise only three to five Test series
Allow and encourage Indian batsmen to play in foreign conditions, like in the English county cricket circuit
In domestic cricket, mostly the batsmen are captains, so they opt for flat tracks on their home grounds. There's a need to have more challenging batting tracks
There is a real concern that Indian players, paid fabulously by the IPL, may lose interest in Test cricket. Ideally, Test cricket must pay more than a substandard club tournament like the IPL