College collects donation
Jammu, September 19
Volunteers of NSS and NCC cadets of Government Degree College (GDC), Paloura, collected donations from students and staff of the college and residents of the city for providing relief to the flood victims.
When a temple provided refuge to newborns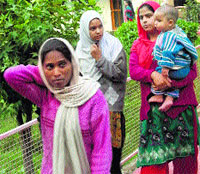 Jammu, September 19
When the Jhelum ravaged Srinagar city on September 7, the ancient Zyesta Devi temple became a refuge to thousands of people, including 20 newborn babies and their mothers, some of whom had gone through caesarean section. These women were rescued by the Army from GB Pant Hospital, which was engulfed by the rising water of the Jhelum.



Flood-hit women on the temple premises
Fruit industry in Valley suffers Rs 2,000-cr loss
Jammu, September 19
The fruit industry, one of the biggest industries in the state, has suffered a great loss during the recent floods. The loss is expected to be around Rs 2,000 crore and may increase as the Department of Horticulture has started assessment of loss.
Basmati crop on 10,000 acres hit in Jammu
Jammu, September 19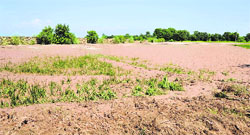 The recent floods have damaged more than 10,000 acres in the Jammu region producing basmati. The floods have washed away land demarcations, which has created confusion among farmers.


A basmati field in Jammu washed away by flash floods triggered by incessant rain. A Tribune Photo
Bill Gates announces $7 lakh relief

Jammu, September 19
Microsoft co-founder and Bill and Melinda Gates Foundation co-chairperson Bill Gates on Friday announced $ 7,00,000 for flood-affected Jammu and Kashmir. Gates is on a visit to India. He announced the relief during a meeting with Jitendra Singh, Minister of State in the Prime Minister's Office.
Bill Gates
Stalemate persists as Jammu-based staff refuse to resume duty at Srinagar
Jammu, September 19
The fear-stricken Jammu-based employees remained adamant against assuming their duties in the summer capital at this juncture, even as the civil secretariat in Srinagar re-opened today.
PDP hits out at Omar govt over relief efforts
Srinagar, September 19
The Peoples Democratic Party (PDP) today said the claims made by the state government about the relief efforts were "confined to announcements" only and urged it to put its act together even at this late stage.
Stagnant water leaves Nowgam rly station stinking
Nowgam (Srinagar), Sept 19
While the Railways has resumed partial service in the Kashmir valley, the Nowgam railway station, one of the finest stations of the Indian Railways in Kashmir, is stinking.
After the floods, cleaning homes a nightmare for Srinagar residents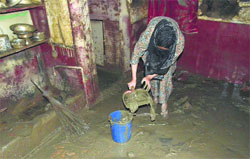 Srinagar, September 19
Imran, a young labourer from Bihar, is in big demand these days. While most of his counterparts left the Valley during the floods, he decided to stay back.



A woman cleans her house covered with slush after the floodwater receded in Srinagar on Friday. Tribune Photo: Yawar Kabli
Death toll in Valley 77, Srinagar district reports 39
Srinagar, September 19
For the first time since the floods wreaked havoc in the Kashmir, the government on Friday put the number of deaths at 77 with the highest toll of 39 in Srinagar, 38 in eight other districts and none in Baramulla district.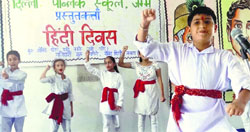 DPS celebrates Hindi Week
Jammu, September 19
The primary and pre-primary wing of Delhi Public School (DPS), Jammu, celebrated "Hindi Week" with great fanfare and enthusiasm. It was an attempt to promote and propagate the use of the national language and to explore the talents of students.
Students of Delhi Public School celebrate Hindi Week in Jammu on Friday. A Tribune photo
Hindi Fortnight celebrations begin at Sanskrit Sansthan
Jammu, September 19
Hindi Fortnight celebrations started at Rashtriya Sanskrit Sansthan, Shri Ranbir Campus, Kot Bhalwal.
Army, BSF stop Pak from raising 'hostile structures' along LoC
Jammu, September 19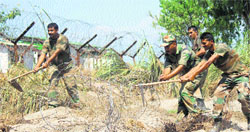 The Army and the BSF have prevented Pakistan from raising hostile structures on the pretext of checking floods on their side of the Line of Control (LoC) and international border.



Army personnel repair a fence along the LoC in the Jammu region. Tribune Photo: Inderjeet Singh
HC starts functioning from Gupkar
Srinagar, September 19
The Jammu and Kashmir High Court has started functioning from a makeshift arrangement at Gupkar here, this was stated by the Chief Justice MM Kumar on Friday.
Govt for biomedical engineers' help
Srinagar, September 19
The state government has written to the Union Health Ministry seeking help of biomedical engineers to restore patient care in flood-affected hospitals of the city.
NDMA Secy meets Guv
Jammu, September 19
Satya Mohanty, Secretary, National Disaster Management Authority (NDMA), called on Governor NN Vohra at Raj Bhawan in Srinagar.
Course of defence correspondents concludes
Jammu, September 19
At least 31 journalists from across India, both print and electronic, today interacted with the GOC, 16 Corps, Lt Gen KH Singh at Nagrota.
SBI resumes operations
Jammu, September 19
The State Bank of India (SBI) has resumed its operations in Kashmir valley.
Lecturer may face sack, legal action
Rajouri, September 19
The Chief Education Officer (CEO) of Rajouri district has sought a detailed report from the principal of the Government Higher Secondary School, Chingus, in a reported incident of beating up of class XI student Gurdeep Singh of Narian village by ad hoc lecturer Rahil Parvez on Wednesday. The lecturer later fled the school.
24 injured in Rajouri road accident
Rajouri, September 19
As many as 22 passengers on board a matador were injured when the vehicle rolled down a 30-foot deep gorge near Nagrota village here last evening.