Jeweller's murder
Accused sent to day's remand
Jalandhar, September 30
In the murder case of the 35-year-old jeweller, who was hacked to death in broad daylight near Damoria Bridge here by three persons, two of the accused were today produced in court, which sent them to one-day police remand. The police took the police remand of the accused to know the whereabouts of the accused who is at large.
Sexual abuse cases in playschools
Parents raise concern over safety of kids
Jalandhar, September 30
The recent two incidents reported in New Delhi pertaining to the sexual abuse of girl children, aged less than two, inside their playschools has raised the anxiety and concern of parents who are sending their toddlers to various playschools in the city.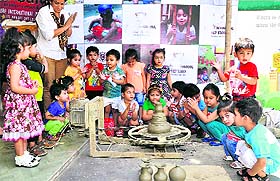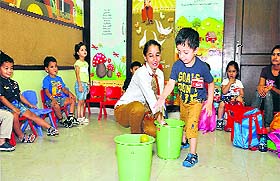 A playschool in Jalandhar. A Tribune photograph
Truck tyres stuck in manhole for 24 hrs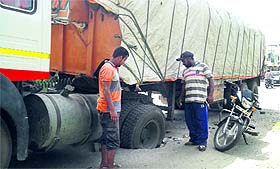 Jalandhar, September 30
In a bizarre incident, a huge truck that had, perhaps, come to supply cement at the Civil Hospital got stuck on road in the Shaheed Udham Singh Nagar locality for over 24 hours. The truck, weighing 40 tonnes, usually meant for ferrying products to warehouses and godowns, led to the suppressing of a manhole cover.

Tyres of a huge cement-laiden truck were stuck in an open manhole near the ESI hospital in Jalandhar on Tuesday. Photo: Sarabjit Singh
Swachh Bharat Abhiyaan
DC asks depts to submit cleanliness plan
Jalandhar, September 30
The Municipal Corporation, Jalandhar, had made a symbolic launch of the Swachh Bharat Abhiyaan three days back and the Education Department had announced the launch of its Sohna School Project as part of the same programme. But now, various social and educational groups too have started volunteering and doing their bit to make the surroundings clean.



MC staff take part in the Swachh Bharat programme in Jalandhar on Tuesday. A Tribune Photograph
Use Burton Park ground for sale of crackers: DCP
Jalandhar, September 30
Taking precautionary measures ahead of the festive season, the city police has issued orders regarding the sale and purchase of firecrackers. As per the orders, specific location for sale and storage of fire crackers has been designated by the police.
FROM SCHOOLS, COLLEGES
Seminar on use of advanced maths in biz management
A UGC-sponsored one-day national seminar on 'Application of Advanced Mathematics to Business Management and Financial Sectors and Emerging Areas of Research' was organised by the mathematics department, PCM SD College for Women, Jalandhar, in collaboration with the ISIAM.
Revenue Department facing shortfall in collection
Jalandhar, September 30
Even as the district administration has brought down the revenue targets for the current financial year to just Rs 275 crore from Rs 320 crore last year in view of the less collection of stamp duty and registration fee, the Revenue Department is still witnessing a shortfall of collection from all revenue tehsils in the district.
Over 200 students donate blood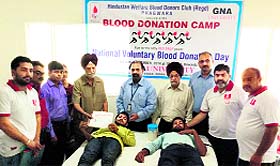 Jalandhar, September 30
GNA University conducted a blood donation camp in association with the Hindustan Welfare Blood Donors Club on its campus. The camp was inaugurated by Gursaran Singh, Chancellor, GNA University, along with Dr Tejwant Singh, Registrar, Sunil Sarad, General Manager (Corporate Affairs), and Bhupinder Singh, HR Head.

Students donate blood at GNA University in Phagwara. Photo: Ashok Kaura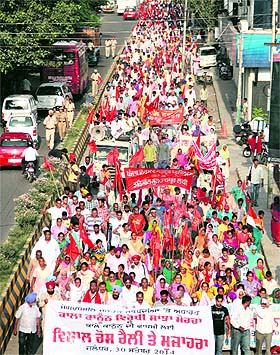 Sea of humanity:

A large number of activists of around 40 organisations protest in favour of their demands at BMC Chowk in Jalandhar on Tuesday. Photo: Sarabjit singh