Explosion reduces house in village to ashes
Jalandhar, October 4


A sudden explosion in a house at Randhawa Masanda village rendered the villagers shocked and horrified last night.

A view of the house which was gutted in fire due to the explosion of an LPG cylinder at Randhawa Masanda village in Jalandhar. A Tribune Photograph

ADCP (Crime) forms team to crack unsolved cases
Jalandhar, October 4
The newly appointed Additional Deputy Commissioner of Police, Crime, J Elanchezhian, has prepared a list of heinous crimes reported in the city which were lying untraced for long. ADCP has also roped in Crime Investigation Agency (CIA) to get lead in all the unsolved cases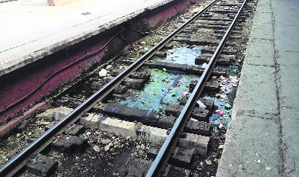 'Swachh Bharat' campaign goes off-track
JALANDHAR, OCTOBER 4
The Jalandhar Tribune team on day 3 of the much hyped 'Swacch bharat campaign' visited the city railway station and found that the drive went completely off-track.


A dirty railway track at the Jalandhar railway station. A Tribune Photograph

NRI accuses spouse, in-laws of dowry harassment
Jalandhar, October 4
An Italy-based NRI woman has alleged torture at the hands of her husband and in-laws. To get justice, she has filed a complaint to the Principal Secretary, Home Department, Punjab.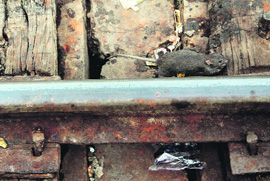 Rodents dig up danger at railway station
Jalandhar, October 4
A major tragedy is waiting to happen at the city railway station as the five railway tracks, platforms and the footbridge have been dug out dangerously by rodents who feed freely on the leftover food items and litter thrown by passengers at the station.

Rodents feed freely on the leftover food items and litter thrown by passengers at the railway station. Photo: Sarabjit Singh

School notes
Workshop for teachers
Manav Sehyog School , Jalandhar, organised a two-day workshop on "Life skills, attitude and value education". The mentor was Usha Anand, educational psychologist and CBSE master trainer. The workshop was attended by all the staff members along with Rajni Sharma, the principal of the school.
Improve roads in the city
Jalandhar is among the bigger cities of Punjab but its condition appears as if it has faced either a devastating flood or has been bombarded. Its roads are full of potholes and it becomes difficult to travel on a four-wheeler or two-wheeler. On rainy days, it is better not to venture outside as it is not regarded as safe. Here, the roads are not rebuilt but patched and even the patchwork comes off when a heavy vehicle crosses over it.
Happy Days School win cricket tourney
Jalandhar, October 4
Happy Model School from Madhya Pradesh won the 15th All-India (U-19) Bhai Gobind Singh Pasricha Memorial Cricket Tournament defeating MGN Public School on Saturday. The match was scheduled for 20 overs. MGN Public School, Adarsh Nagar, won the toss and elected to bat first.
Seminar on crisis of regional languages
Jalandhar, October 4
A seminar on the crisis of regional languages will be held at the Desh Bhagat Yadgaar Hall, Jalandhar, in association with the Kendri Punjabi Lekhak Sabha, Punjabi Bhasha Akademi, Jalandhar, and the Punjabi Akademi of Social Sciences, Language and Culture here on Sunday. The one-day seminar with be held on the topic 'The crisis of regional languages in India'.
International Teacher's Day observed
Phagwara, October 4
International Teacher's Day was organised at GDR Convent School here today. Peons and sweepers of the school were honoured on the occasion. The function was organized by the students. The aim of the programme was to respect those who served day and night to keep the place clean. Students presented skits, poems and dance performances to emphasise the importance of "Swachch Bharat, Swachch Vidyalaya".
18-year-old found dead
Jalandhar, October 4
A youth was found dead under mysterious condition at Nakodar. His body was found on road near Shankar village. It seems that he had consumed some poisonous substance, but the exact cause of consuming the substance was yet to be known. The deceased was identified as Ahmed (18), a resident of Shankar village. Deceased's kin said Ahmed was a daily wage labourer. "Today morning, when Ahmed's brother was heading towards village, he noticed body of Ahmed lying on the road. He immediately rushed the victim to civil hospital where doctors declared him brought dead. Deceased's kin said Ahmed seemed to have consumed some poisonous substance. However, no suicide note was recovered from the spot. Sources said deceased's kin had not filed any complaint. TNS
NGO by the children, for the children
Jalandhar, October 4
Call them child prodigies! Two children, aged 12 and 16 years, have come up with an NGO Vikaas that aims at helping and supporting the underprivileged children. Sanchit (12) and Mauli (16) today sought the support of social bodies and the city's industrialists to help them provide stationery and other items for the poor children of various government schools. They said they were also visiting the Missionaries of Charity at Green Model Town and spending time with the orphans and the specially-abled children. The children urged society to join them in the cause. TNS
Sahbi resigns from Congress party
Phagwara, October 4
Satbir Singh Sahbi, former District Congress Committee vice-president, today resigned from the primary membership of the Congress party. In a press release issued here today, Sahbi said he will now participate only in social and religious activities as he was feeling suffocated in politics. OC