Artists brighten up Diwali gifts, relieve humdrum look through innovations
Neha Saini
Tribune News service
Amritsar, October 17
As the festival of festivals approaches, the rush for the choicest Diwali gifts has got the markets packed and sellers are busy. Diwali gifts, representing not just the joy and celebration of the festival, are a reflection of an individual's social stature. The fact that people opt for the best trends has prompted some of the artists in the city to make the most of their creativity.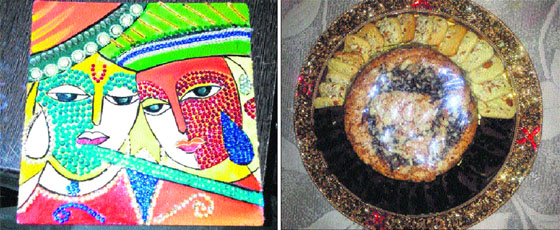 Bharti Malhotra has made art work from fibre and mirrors as special Diwali Gifts; and (right) Designer dry cakes and cookies have replaced sweets as Diwali savouries. Tribune photographs
Moving beyond the sweets and dry fruit routine, Diwali gifts have got innovative with art and creativity written in bold letters. City-based artists, who otherwise have limited visibility in art galleries, are making the most of it. Elegant candles, hand-made wraps and envelopes, oil paintings and creative Diwali staples like 'diyas' and lamps made from fibre and silver are classy and chic gifting options.
Artist Nidhi Gulati, who has put up a Diwali exhibition of her art work, is working on a collection of hand- made specifics like candles, 'diyas', gift wraps and envelopes. She has also sold elaborate paintings as special Diwali gifts and says the trend is good news for artists. "More and more people are opting for customised and hand-made gifts as Diwali gifts are considered special. The amount of love, detailing and thoughtfulness gone into making a hand-made creative art piece represents everything a Diwali gift needs to," says the artist. The art pieces, though, are made available at affordable prices "so that everyone could buy them. Also, as an artist, one might not consider Diwali sales as an achievement, but it does provide a creative option in the market."
Depending on the kind, one might spend anything between Rs 1,000-15,000 per gift. Silver art ware, too, is a popular pick for Diwali. Embellished with pearls and semi-precious stones, it makes a classy, elegant and hi-end gifting option. "Silver is also considered auspicious on Diwali and so it becomes a perfect gifting option," says Sujata, one of the artists in the city. The price falls between Rs 500 and Rs 5,000 per piece. Since silver is a Diwali favourite, there are some expensive and exclusive options like silver 'diyas', lamps, Lord Ganesha and Goddess Lakshmi idols and religious portraits.
Hoshiarpur-based artist Jaspal Singh specifically paints customised Diwali greetings for his artist friends in Amritsar. "Very few people value art this way. There are some who buy art works like paintings or some handicraft for gifting but the trend cannot compete with the other lavish gifts. One has to have the taste for it," he says. Agrees Bharti Malhotra, another city-based artist, whose private gallery turns into a creative gift shop during Diwali. "Most popular gift options remain traditional 'diyas' and lamps, but we try to innovate with the material being used for them to make them exclusive." Like the fibre-based soft toys she has made, with candies and chocolates filled inside. "It will definitely make the children happy," she says.
Well, sweets might have earned some bad reputation, thanks to the adulteration concerns, but designer cakes and candies fill in the gap tastefully. Creativity baked to perfection, these small, round delicacies with dollops of innovative icing, festive designs and a topping of colourful sugar "sprinkles" are indeed selling like hot cakes this season, especially with corporate-style gift hampers.
From customised cupcakes to chocolate-shaped 'diyas' and candles, exotic variants are in demand. "Dry cakes are best sellers and some innovations like fondant cakes and cookies, too, get due attention with the gifting crowd," shares Arundeep Singh, city-based baker and owner of Cakelicious.