Tributes paid to martyrs on Accession Day
Jammu, October 26
With a call for full integration of Jammu and Kashmir with India and for educating the youth about the significance of Accession Day, various social groups and student organisations today celebrated Accession Day and paid tributes to the people who died defending the state against Pakistan-supported tribal hordes in 1947.
Flood despair: Saffron produce may be 60 per cent less this year
Anantnag, October 26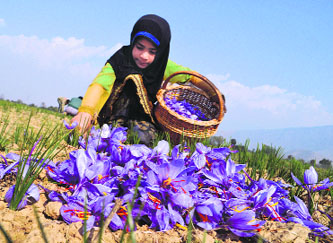 Saffron growers in south Kashmir's Pampore town fear a low yield this season as hundreds of hectares of land under saffron cultivation was inundated by the recent floods and some of the land was left untended during the harvest season. The saffron growers had to change the seed, under the National Saffron Mission, but were unable to carry out the process.

A girl collects saffron flowers from a field in Pampore on Sunday. Tribune photo: Amin War

Varsity to revive marketing course
Jammu, October 26
The University of Jammu has decided to revive its Post-Graduate Diploma in Marketing and Sales course. It also endorsed the modifications in the eligibility/admission criteria to different post-graduate courses run through the distance mode.
Poultry sector in Pulwama suffers heavy losses
Pulwama, October 26
Pulwama district in south Kashmir has suffered heavy losses in the poultry sector as most of the farms were located in the flood plains of the Jhelum that were either washed away or collapsed in the recent floods.
Samiti for weeding out old records in Navodaya Vidyalayas
Jammu, October 26
In order to streamline record management in all Jawahar Navodaya Vidyalayas (JNVs) across the state, the Navodaya Vidyalaya Samiti (NVS) has asked the vidyalayas' managements to chalk out a programme to weed out old records. The samiti maintained that, during the drive, all files/registers/documents and other records lying for three years and above may be examined, reviewed and its lifespan decided.
Deluge damages Kashmir valley's heritage sites
Srinagar, October 26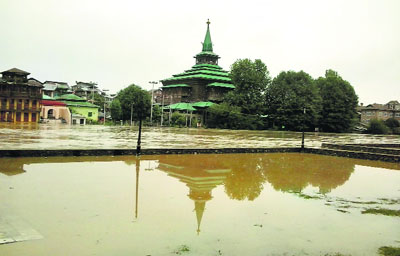 The recent deluge that devastated the entire city has caused huge damages to historic sites, including architecture of centuries-old four shrines in the Valley. The shrine of Shah-e-Hamdan or Khanqah-e-Moula is one of the oldest Muslim shrines in Srinagar.

The shrine of Mir Syed Ali Hamdan in Srinagar. Tribune photo: Yawar Kabli

Pvt schools to go for mass promotions till Class VII
Srinagar, October 26
Private Schools in the Valley are on a warpath with the state government as they announced today that they will go for mass promotions of students till Class VII. The decision has been taken by the private schools' body after consultations with the Kashmir Economic Alliance, Kashmir Bar Association, Kashmir Teachers' Forum and Employees' Joint Action Committee.
Govt failed to put flood-affected areas back on track: PDP
Srinagar, October 26
Peoples Democratic Party president Mehbooba Mufti on Sunday said the ruling National Conference government had "miserably failed" on every fronts to put the flood-affected areas of the state back on track.
Students wield brooms to clean flood-hit city
Srinagar, October 26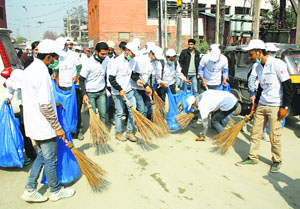 A group of students in the city took up brooms to clean various schools and colleges at Lal Chowk, Srinagar, after floods that had caused massive destruction in Srinagar. Inspired by Prime Minister Narendra Modi's Swachh Bharat Abhiyan, the students said volunteering for cleanliness could prove to be an effective tool for reviving the education sector in the Valley.

Students clean the city centre during a cleanliness drive in Srinagar on Sunday. Tribune photo: Yawar Kabli

Pulwama residents worried about deletion of names from records
Pulwama, October 26
Residents from various villages in Pulwama district alleged that their names have been deleted from the Consumer Affairs and Public Distribution (CAPD) records and their ration cards were declared invalid by storekeepers. The residents from Sangarwani, Below and Khaigam villages said nearly 350 ration cards were declared invalid by storekeepers and declined the monthly supplies.
Hindi play brings govt office to life
Jammu, October 26
Natrang presented 'Sarkari Daftar Ka Ek Din', a new play in Hindi in its weekly theatre series. The play has been written by Laxmikant Vaishnav and directed by Neeraj Kant. The play presented a government office (sarkari daftar) and highlighted its negative points.
Parties get into poll mode, opt for hoardings, posters to woo voters
Jammu, October 26
With the announcement of Assembly polls in Jammu and Kashmir, all mainstream political parties have geared up to woo voters in the state. Parties are going in for large hoardings and banners on roadsides or have pasted posters on autorickshaws to reach out to the electorate. Newspapers are also being used to slip in pamphlets of various political parties and their candidates.
PDP reconstitutes youth wing ahead of elections
Srinagar, October 26
A day after the announcement of the Assembly elections, the Peoples Democratic Party (PDP) reconstituted its youth wing with an aim to reach out to the young population of the state.
BOPEE to reduce number of questions in entrance test
Srinagar, October 26
The Common Entrance Test (CET) in the state, conducted for admission to medical, engineering and agricultural colleges and varsities in the state every year, has undergone some major changes, which will be implemented next year.



Reaping benefit: A woman harvest paddy crop at a border village in RS Pura.
Tribune Photo: Inderjeet Singh

Youth Cong leader likely to join BJP
Udhampur, October 26
With RS Pathania, a senior youth Congress leader from Ramnagar constituency of Udhampur, refusing to head the party's district unit, speculation is rife that he may join the BJP ahead of the upcoming Assembly polls.
ECB official to train city cricketers
Jammu, October 26
Rodney Jones, a close associate of the England & Wales Cricket Board (ECB) and currently Chairman of Whitchurch Cricket Club and Shropshire Cricket Board Coaches Association, UK, arrived in Jammu on a short visit mainly aimed at interacting with young cricket aspirants from Jammu at the Yuvraj Singh Cricket Academy located at the KC Sports Club.
Missing youths in Pulwama, Shopian feared to have joined militant ranks
Pulwama, October 26
Many missing youths in Pulwama and Shopian districts of south Kashmir are feared to have joined militant outfits. Sources said around 22 youths had gone missing from various parts of Pulwama and Shopian districts and were suspected to have joined militant groups.
LeT module busted, 8 held
Srinagar, October 26
The J&K Police and the Army today claimed to have busted a recruitment module of the Laskhar-e-Toiba (LeT) in the Sopore area of Baramulla district by arresting eight members of the militant outfit.
Rs 5 crore needed for restoration of flood-hit Jammu-Pathankot highway, says NHAI
Jammu, October 26
The National Highways Authority of India (NHAI) today said it would take about Rs 5 crore to restore the Jammu-Pathankot national highway which was badly affected by the last month rain and flashfloods.
Muslim New Year begins
Srinagar, October 26
The New Year (1436 AH) of the Muslim calendar started today with the beginning of the Muharram month. Even as the Muslims traditionally do not celebrate the onset of the New Year, members of the Shia community mourn the martyrdom of Imam Hussain and his family and companions during Muharram.
Women store firewood for winter
Kupwara, October 26 Early chill has forced people, especially women living in villages, to look for firewood in forests. Firewood is used by people in north Kashmir for cooking and keeping themselves warm during the winter. "Early chill this year is an indication of a harsh winter ahead. Every year, we stock firewood and use it for cooking and warming ourselves during the winter," said Zareefa Begum from Hirri village of Kupwara.
1984 riots victim fasts for speedy justice
Jammu, October 26
Demanding justice in the 1984 anti-Sikh riots case, riot victim Gurdyal Singh Bali undertook a hunger strike on Sunday in front of the Press Club here. "Ten inquiry commissions and more than 30 years on, not a single accused has been punished for the 1984 anti-Sikh genocide that rocked the country after Prime Minister Indira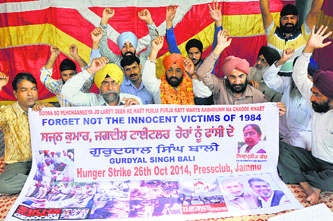 Gandhi's assassination," said Gurdyal Singh. He said that various commissions had been constituted from time to time, but disbanded each time or their recommendations thrown into dustbins as most were of the view that some political leaders were guilty of the killings and needed to be punished. He appealed to Prime Minister Narendra Modi to personally intervene in the case. TNS

Riot victim Gurdyal Singh Bali on a hunger strike in Jammu on Sunday. Tribune photo: Inderjeet Singh

Volleyball trials from Nov 8
Jammu, October 26
The Volleyball Association of J&K will conduct trials to select the state team for the 17th Youth National Volleyball Championship for boys and girls to be held at Rampur (Uttar Pradesh) from December 9 to 14. The trials will be held at 2.30 pm from November 8 to 10 at MA Stadium Sports Complex. All the affiliated units/district volleyball associations have been directed to send their spikers for the trials. The players born on or after January 1, 1995 will be eligible to participate in the event. They must bring their original date of birth certificate with photographs affixed issued by the head of their educational institution or medical certificate issued by a hospital approved by the Government of India (district hospital, Udhampur) or Municipality Certificate or Corporation Certificate. TNS
Relief sought in cold storage fire case
Jammu, October 26
The Chamber of Commerce and Industry (CCI) has expressed concern over the fire which broke out at a cold storage and ice factory at Narwal Mandi in which goods worth several crores of rupees of Jammu traders were gutted. Chamber president Rakesh Gupta has urged the government to announce a relief package for the traders whose goods have been destroyed due to fire. Meanwhile, a delegation of the office-bearers of the CCI which included Arun Gupta, secretary general, and Rahul Mahajan, secretary, met the Divisional Commissioner, Jammu, and requested him on behalf of the traders to constitute a committee to assess the losses in the incident. TNS
Army holds football tournament
Doda, October 26
The football tournament organised by the Rashtriya Rifles in association with the GR Azad Sports Club at Government Degree College, Bhaderwah, grounds concluded yesterday. The 11-day-long tournament was aimed at making youngsters aware about the ill effects of drugs and motivate them towards sports activities. A total of eight teams from different clubs of Bhaderwah participated in the event. The matches were played on knockout basis. The GR Azad Club beat the Masood Football Club 6-5 in the final to lift the trophy. OC