New ISI chief takes charge in Pakistan
Islamabad: Lt Gen Rizwan Akhtar has taken over as the head of Pakistan's Inter-Services Intelligence (ISI), succeeding Lt Gen Zaheerul Islam (retd). "Lt Gen Akhtar has taken over as the next director general of ISI," a military official confirmed the change at ISI headquarters, commonly known as Aabpara.
'84 riots: Sikhs protest outside UN
New York, November 8
Hundreds of Sikhs protested outside the United Nations headquarters here demanding justice in the 1984 anti-Sikh riots case even as a report on the killings and human rights abuses against the community was presented to the world body. (Details on World page)


Sukhbir plans to make Ranjit Sagar a tourist hub
Pathankot/Chandigarh, November 8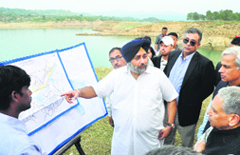 In days of tough financial situation in Punjab, Deputy Chief Minister Sukhbir Singh Badal is clearly a man who means business.

From left: Punjab Deputy CM Sukhbir Badal explains the plan to Ashish Gawari (Lalit group), Mohit Gujral (DLF) and DK Berry (Taj group).

Budgam firing a mistake: Army
November 8, 2014
Modi set to expand Council of Ministers on Sunday
November 7, 2014
FM promises easy land acquisition
November 6, 2014
Govt paves way for Delhi polls
November 5, 2014
Toll mounts to 61; Pak put on high alert
November 4, 2014
Terror strikes Pak at Wagah; 55 dead
November 3, 2014
Identify, punish '84 riot guilty, says Badal
November 2, 2014

Fadnavis CM as Uddhav looks on
November 1, 2014

Kin of anti-Sikh riot victims to get Rs 5 lakh compensation
October 31, 2014

Govt allows 100% FDI in construction
October 30, 2014