BJP activists distribute sweets, burst crackers
Mandi, November 9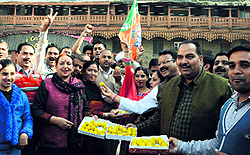 The local unit of the BJP distributed sweets and burst crackers after party vice-president JP Nadda, who hails from the state, was today inducted into the Union Cabinet. It was the maiden Cabinet expansion of the Modi-led NDA government. Seraj MLA and former state president Jairam Thakur along with party office-bearers and workers joined the celebrations.

BJP leaders and workers celebrate in Mandi as JP Nadda became Cabinet minister on Sunday. Photo: Jai Kumar

Kasauli builders violate norms, put lives at risk
Solan, November 9
Builders in the Kasauli area are increasingly using narrow village roads to carry construction material, risking the lives of the drivers and damaging the roads.
Marriage of Salman Khan's sister with Sukh Ram's grandson
CM, ministers to attend wedding in Hyderabad
Mandi, November 9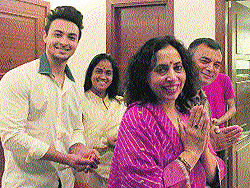 Chief Minister Virbhadra Singh and his Cabinet colleagues will attend the wedding of Bollywood actor Salman Khan's younger sister Arpita Khan. Arpita is all set to marry her long-time boyfriend Aayush Sharma, son of local MLA and Rural Development and Animal Husbandry Minister Anil Sharma and grandson of former Telecommunications Minister Sukh Ram.


Salman Khan's sister Arpita Khan (second from left) with Aayush Sharma and his parents Anil Sharma and Sunita Sharma. Photo: Jai Kumar

Virbhadra Singh opens Sombhadra Mahotsav
Una, November 9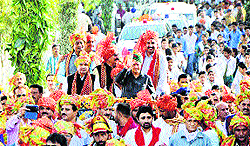 Chief Minister Virbhadra Singh today inaugurated the three-day state level Sombhadra Mahotsav on his arrival in Una. He led a procession from the Circuit House in an open jeep. The procession included well-decorated camels and horses, while traditional musical instruments such as tammaks and drums lent an air of festivity to the atmosphere.
CM Virbhadra Singh leads a procession during the Sombhadra Mahotsav in Una on Sunday. Photo: Rajesh Sharma

VIGNETTES
The fire god on the rampage in Shimla
Why does it happen that when the fire god gobbles one of the heritage buildings of Shimla, I feel a part of my body missing? Does it happen to other lovers of Shimla? I believe, YES.
Invest in infra projects in state, CM tells entrepreneurs
Shimla, November 9
Chief Minister Virbhadra Singh told investors in Gujarat that Himachal Pradesh had taken a lead in development and urged them to contribute in developing infrastructure besides setting up units in the state.
Anurag favours youth knowledge banks
Una, November 9
Hamirpur MP Anurag Thakur today said he would soon initiate a project of 'Youth Knowledge Banks' in all the 17 Assembly segments of his constituency.
Start work on projects in Una: Satti
Una, November 9
The BJP has demanded that the state government should begin the implementation of pending projects in Una and Kutlehar, the two Assembly segments represented by BJP MLAs in Una district. He said the foundation stones of some projects were already laid during the BJP regime.
CPM seeks package for state
Mandi, November 9
The Communist Party of India-Marxist (CPM) has sought a special package for the state to tide over the financial crisis.
House to take up monkey menace issue
Shimla, November 9
Forest Minister Thakur Singh Bharmouri has assured that the state government will bring in a resolution in the next Vidhan Sabha session seeking permission to lift ban on the export of monkeys.
'Himalayan apple man' to explore orchards in Italy, England
Shimla, November 9
Popularly known as the "Himalayan apple man" among farmers in England, Laxman Thakur, a progressive orchardist from Nandpur, will explore latest high-density orchards and rootstocks in Italy and England.
Law Department nod sought to rejig old apple orchards
Shimla, November 9
If all goes well, the state government as well as Pipfruit New Zealand may soon ink a multilateral deal on specific apple replant diseases (SARD), development of small apple nurseries, investigation and improvement of apple fruit yield.
Rise in number of flats in Solan takes a toll on ecology
Solan, November 9
Numerous commercial projects in Solan district appear to be adding to the ecological imbalance as a large number of trees are being felled for these projects.
Kangra temple trust allocates funds for road construction
Kangra, November 9
The Bajjreshwari Temple Trust has allocated funds for getting the road, connecting the temple, reconstructed. The road had been in a dilapidated condition for the last six years.
Una selected for rural livelihood mission
Una, November 9
Under the Centrally sponsored National Rural Livelihood Mission (NRLM), aimed at poverty alleviation of rural families, the Una district has begun its grassroots level activities of forming self-help groups (SHGs).
Awareness camp for slum dwellers held
Mandi, November 9
The Red Cross Society organised an awareness camp for residents of a slum cluster here yesterday.
'Make Red Cross activities mass movement'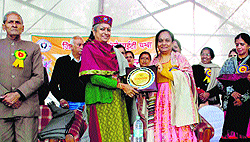 Dalhousie, November 9
MLA Asha Kumari today stressed the need for enrolling more people as Red Cross members to take up more good work in society. She lauded the efforts of the district Red Cross Society in helping in all healthcare activities and exhorting people to make it a mass movement.

Deputy Commissioner M Sudha Devi honours MLA Asha Kumari with a memento in Dalhousie on Sunday

Be serious in dealing with disasters: VC
Kangra, November 9
The stakeholder workshop on "Earthquake Resistant Measures and Disaster Management" under the three-day national workshop on "Status of Natural Hazards in Himachal Pradesh" was organised by the School of Earth and Environmental Sciences of Central University of Himachal Pradesh (CUHP) here today.
HPU non-teaching staff go on the warpath
Shimla, November 9
The non-teaching employees of Himachal Pradesh University (HPU) are on the warpath these days.
BJP for Central university in Palampur
Palampur, November 9
Senior BJP leaders Praveen Sharma, Bipan Parmar and district BJP president Vinay Sharma, urged the Union Government to set up Central University in Palampur.
Colleges opened, but without faculty, infrastructure
Dharamsala, November 9
Two new colleges opened by the present government in Kangra district continue to face infrastructure and staff shortage problem.
'Students' enrolment in higher education sees minimal rise'
Hamirpur, November 9
International seminar on 'Striving for Excellence in Institutions of Higher Education' was inaugurated at the Trisha College of Education here yesterday.
Youth beaten to death in Barotiwala
Solan, November 9
A youth, Vijay Kumar, of Dasoramajra village in the Barotiwala industrial area was beaten to death by two other youths Yogesh and Madan at Jharmajri while he was returning home after closing his shop here last night.
Man dies as bus, van collide
Shimla, November 9
A person was killed and two others were seriously injured when the pick-up van they were travelling in collided head-on with a private bus coming from the opposite direction near Signapore on the Shimla-Rampur road, 85 km from here.
Cricket stadium still a distant dream for Nurpur
Nurpur, November 9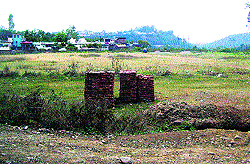 A dream project of former minister and Congress stalwart late Sat Mahajan, who represented Nurpur in the state Assembly, a cricket stadium is still a distant dream for the town. Its foundation stone was laid by the then Chief Minister Virbhadra Singh on January 16, 1990, with an estimated cost of Rs 14.84 lakh.

The remnants of the foundation stone of the Chogan Ground in Nurpur. Photo by writer