Treat for armchair travellers
ENJOY a free ride every Saturday at 10.30 p.m. on Doordarshan's Metro Channel with a new travel show containing a potrpourri of experiences ranging from the rain forests of Eastern Himalayas to the heights of Kanchendzonga, from the ethnic tribes of Arunachal Pradesh to the wilderness of Sikkim's Yumthang Valley.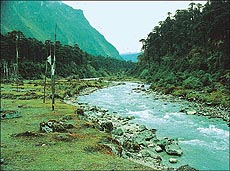 Wanderlust India explores locales, life-styles, flora, fauna, tribal culture and a lot more. The 26-episode serial looks at various ways of 'doing' different parts of India — car safaris, trekking, back packing and camping. The first eight episodes are devoted to the North-East.
Armchair travellers can look forward to the interactions that the anchor has with local people, participation in tribal weddings, and story - telling sessions around camp-fires. Each episode ends with a graphic information corner thus enabling the prospective travellers to plan their own trip.
Says producer Arijeet Gupta, "Viewers will be able to see India, feel India and know India in the Explore India millennium year". Certainly a new flavour in DD Metro's programming.
Mink's terms of endearment
It's quite some years since Mink had her first genuine taste of acting. "I think I was a precocious little girl, that's what they liked about me," she says about Dev Anand's Pyar Ka Taraana where she played a 13-year-old.
Today, Mink is known more for her dancing than her acting. Watch her in Jaspinder Narula's video, Kuch kuch dil mein and you know she has promise. She's also done dance numbers in Doli sajake rakhna; Sat rang ke sapne and Hum aap ke dil mein rehte hain.
But the lissom lass is not happy with what she's being offered. She says, "I am an actress and I want to prove it" Mink's already made her intention known to Bollywood and is waiting for the right offers to come pouring in.
However, when it comes to television there's a dilemma in Mink's mind. Though she is getting offers she would rather wait for the right role on the silver screen.
"Television is something I can consider any time," says Mink, who is now searching for a role which she hopes will have her working with her idol — Aamir Khan. "He's going to be around for a long, long time". From the look of things, so will Mink!
No laughing matter
He's looking for sobriety in life. Afer having been a comic for almost a decade, Jatin Kanakia is hoping that some producer will take him seriously.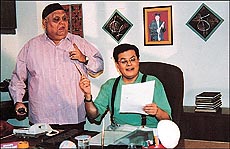 The star of serials like Maal Hai To Taal Hai on Star Plus, Tere Ghar Ke Samne and Shrimaan Shrimati on DD Metro, Hum Sab Ek Hain on Sony and Do Aur Do Paanch and Jeena Isi Ka Naam Hai on Zee wants to sober down.
Says Jatin, "I've been typecast. I want to break the shackles. I don't want to be remembered only as a comedian". He realises that having been a comic for so long it'll be difficult for serial makers to take him seriously, but Jatin is ready to wait.
He is hoping that his theatre experience will see him through. Ironically, on stage Jatin is known for serious roles which he has been doing with aplomb for over 25 years now.
Balle balle Brahambhatt
When he entered showbiz he realised that if he were just to live by his looks he wouldn't go very far. So he took the next best decision and started to sing. Though the family's Indian neighbours in London told his mother 'Amma dekh tera munda vigda jaya', Bali Brahambhatt knew his future was in music.
What followed was Patel Rap and Cha Party. With his next album Aeho Kudi Lainee Hain he had Punjab dancing on his finger tips. In 1992 Bali moved to Mumbai and was offered two albums Dil Mera Tu Luteya and Dabba Batli, modest successes but not enough reasons for him to chuck up a high paying London job for Bollywood.
The doubts were soon to be dispelled when he sang Amma Dekh.... Since then Bali has had no reason to turn back and 'dekh'. Today the rapper is lording over the music scene with albums like Ishq Da Soota, Gabbar Remix and now, Kammal Hi Kamaal whose video is on high rotation on music channels.
Of course, it would interest people to know that Bali is a Gujarati and has had little to do with Punjabi either as a child in Kenya, or as a young man in London.
Singh song
It's an idea that has clicked. Six years ago when his proposal of a song-based show was rejected, the young man who had conceived it was so dejected that he quit his job of an editor at DD and began approaching the then mushrooming independent channels.
Gajendra Singh struck gold at Zee TV which agreed to telecast Antakshri which hit the airwaves in September 1993. The rest, as they say, is television history. Heartened by its success, Singh launched another song-based show, TVS Sa Re Ga Ma, which too has completed 200 episodes and is still going strong.
But now Gajendra Singh may have a lot more to sing and dance about. Come October and his Runjan a fusion of classical and modern dance will go on air. It will be followed by a social serial titled Ahaas showcasing the problems of urban youth.
"We gave a new social twist to Antakshri. We've had special shows for the handicapped and for the visually impaired. We'll do the same for Runjan." It's linking up his shows to social causes which has made Singh stand apart from a crowd of TV directors.
Rescuing animals
Following a talented group of veterinarians from the Royal Society for the Prevention of Cruelty to Animals (RSPCA) in Australia, host Tracey Grimshaw takes Animal Planet viewers along for a glimpse into the frenzied world of animal doctors.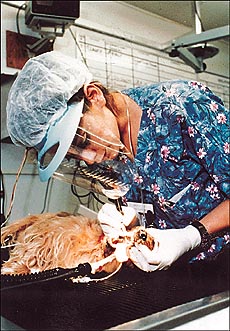 The expertise and dedication of the RSPCA team is evident as Grimshaw bears witness to everything from the rescue of a beached Antarctic seal stranded some 3200 kilometres from its home and a rescue team blasting through a half metre thick concrete wall to retrieve a cat, to a doctor's difficult job of trying to ease the anguish of a dog owner faced with the possibility of putting his beloved companion to sleep.
Don't miss Animal Doctor. The fascinating series airs on Animal Planet on Tuesdays in July, from 19.00 to 19.30. It follows the triumphant and tragic work of these special veterinarians who deal with as diverse problems as a crocodile with a missing foot, a puppy with a hole in his skull, a terrified cat stuck on a balcony and more.
— Mukesh Khosla