A new twist to happy-ever-after tale
By Ervell E. Menezes
THE trouble with films is that you never know what they'll turn out to be. When the Robert Wise-Julie Andrews combination came out with that super success The Sound of Music in the 1960s they thought they could do no wrong. And yet their next film together Star bombed at the box-office.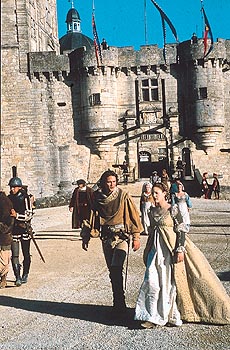 In the same way we've had Nora Ephron, Tom Hanks and Meg Ryan in that delightful romantic comedy Sleepless in Seattle. But the same combination isn't as successful in You've Got Mail. May be they are trying too hard. Granted the subject is modern, about surfing the net and finding love, cyber love if you please. Cute. Both Joe Fox (Tom Hanks) and Kathleen Kelly (Meg Ryan) are bookshop owners in New York. But they meet each other in a computer chat room (without seeing each other, naturally). It isn't love at first byte but it comes slowly but surely by exchanging confidences. What they really do not know is that they are competitors and that is the point of conflict that has to be resolved.
The screenplay by Nora and Delia Ephron is long-winded and the last quarter of the film could easily have been reduced. The 120-minute entertainer could easily have been trimmed to 90 minutes. Director Ephron too appears to be obsessed by the earlier film and she prolongs the agony unduly. It is obvious that the two will shed their current partners Patricia Eden (Parker Posey), an hyperactive book editor, and Frank Navasky (Greg Kinear), an erudite newspaper columnist . But does it have to take so long?
Whatever freshness there is about the story is killed and the action tends to go on endlessly. There are good cameos by Dabney Coleman (hardly recognisable as the Nine to Five boss and Greg Kinear of As Good As it Gets fame and both Tom Hanks and Meg Ryan are as good as ever. But that last half-hour robs the film of much of its charm.
Babe: Pig in the City is a sequel of that delightful film Babe about the pig who became a sheep-dog. As I've said before, Hollywood can't resist sequels, so they take Babe to the city and it's a whole different scenario. But for one thing farmer Hoggett (James Cromwell) meets with an accident and so is off the scene most of the time, his place being taken by his wife Esme (Magda Szubanski), the roly-poly one but there's no problem about that.
There's too much of focus on the various animals and though director George Miller and the animal trainer get full marks for their achievement, plot and story-wise the sequel is weak. There are some cute lines and a few clever gags but they are drowned in so much of slapstick and predictability that one feels sorry that a good subject has been flogged almost to death.
In that respect Ever After is a sweet film and in the current anything-is-possible genre one can take the good old fashioned fairy tale. The one beginning with "Once upon a time..." and ending with "and they lived happily ever after." That's what Ever After is all about and what's more it is a new twist to the age-old Cinderella story which is supposed to have over 500 different versions.
Andy Tennant's Ever After, thanks to women's lib and the current Hollywood mood has a heroine who is confident and capable of solving her own problems. Not the damsel in distress we were familiar with in the old Cinderella stories. Of course she finds (even if she never looked for him ) Prince Charming but doesn't hesitate to tell him a few harsh truths.
The story begins with Jeanne Moreau talking about the Cinderella story to the Brothers Grimm. Danielle (Drew Barrymore) is theheroine mistreated (to put it mildly) by her step-mother Baroness Rodmilla (Angelica Huston, who is as wicked as Cruella alias Glenn Close in 101 Dalmatians so is her daughter Marguerite (Megan Dodds) who can throw tantrums at the drop of a hat. Her sister Jacqueline (Melanie Lynsky) is better. But it is Prince Henry (Dougray Scott) that the Baroness covets for the hand of the thoroughly spoilt Marguerite.
Expectedly, Danielle is made to slave in the house and be totally subservient to Baroness' daughters but the Prince has to meet and fall in love with her. The sets are lavish and the court pageantry quite dazzling. May be there's a bit of a flaw when the Prince rejects the heroine along the line but by and large director Andy Tennant does an excellent job with Drew Barrymore showing that she can very well hold a film together and Angelica Huston being the ideal step-mother, thoroughly repulsive but straight-faced. In fact the part may well have been written with her in mind. Worth watching.



This feature was published on July 4, 1999