The birds with deadly feet
By Nutan Shukla
ANIMALS use their feet to deal with different situations, and in some species they are used for killing. Birds of prey have deadly feet. They catch and kill their prey, not in the bill, but with powerful, clawed toes or talons. The feet can accommodate to different size prey — overlapping talons crushing a small animal, and a spreading foot grasping large prey. In some cases the foot has become so specialised that the hunter is limited to the animals it can take.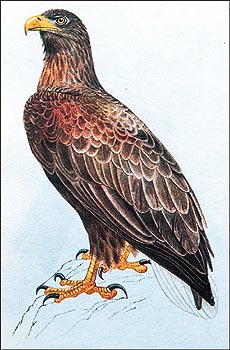 Sea eagles and fish eagles have rough spicules on the bottom of their toes to help keep a hold of slippery fish. Snake eagles have stout legs and short toes adapted for catching slim, writhing snakes. They break the snake's vulnerable backbone on first impact.
Large eagles, like golden and Verreaux eagles, have large, strong feet with a long, hind toe and sharp talons, an adaptation for grabbing and killing large mammals such as hares and hyrax. Verreaux eagles feed almost exclusively on hyrax, which they pluck from cliff-sides or tree tops while the unfortunate victims are sunbathing. The grasp is so strong, it is said that a person would be unable to loosen the grip of even a single toe.
The harpy eagle has the most powerful reptorial feet. The adult female bird has an ankle one inch thick, to which is attached a foot spanning 9-10 inches. Each toe is tipped with dagger-like talons of about 2 inches long. With such a weapon, the harpy is capable of catching and dispatching large mammals, such as pigs and antelopes, and can kill a small, frail-bodied monkey with one squeeze.
One bird of prey, the secretary bird, does not have the same grasping claws of its relatives for it spends most of its time on the ground. It requires legs and feet for walking rather than catching. It does, however, occasionally kill with its feet. For feeling its normal prey of insects and rodents which it picks off with its beak, the bird tackles larger objects, such as snakes, by stamping on them.
The cat family also has killer claws, but unlike those of the eagle, they are retractable. The claws themselves tend to be large, curved and sharp, like scimitars, and they enable the cat to grab and hold on to the prey. Each claw is retracted inside a fleshy sheath in the paw. This protects the tip and ensures that it remains sharp. At the moment of prey capture, muscles protract the claws and they are ready for action. A cat's paws are also adapted for a stealthy approach with soft pads on the underside. The cheetah, the fastest animal on earth, has harder pads with a tyre-like tread for grip and semi-retractable claws that it uses like spiked running shoes.
Of the invertebrates, the starfish have interesting feet. They have tube feet, and there are lots of them. Along the underside of each starfish arm there are rows of tube feet, each connected to its neighbour by a water-filled tube. Water is pumped in and out of the feet to make them work. The starfish is able to progress slowly across the seabed or rock face using its hundreds of sucker feet, but the system comes into its own when it stumbles upon its prey.
Starfish, being slow, tend to be successful in hunting bi-valved shellfish. Many, like mussels and clams, are unable to escape, whilst scallops are able to clap their shells together and take off under jet propulsion. The only defence put up by a mussel, though, is to pull its two shells tightly shut and wait for the danger to pass. The starfish has a way to get around that. It straddles the shellfish, clamping its row of suckers on the both shells. Suction is aided by a secretion on the suction pads, and the starfish is able to pull the shells apart. As long as there is a small gap, it can avert its thin-walled stomach from the mouth in the middle of the central disc of its body and push it inside the shell.