European stuff catching on
By Harkiran Sodhi
TRADITIONALLY used as a typical breakfast in France and some other parts of Europe, brioches and croissants are relatively new entries into the Indian food market. Brioches are small yeast breads with a typical topknot. These can be eaten in their simple form while warmed with butter and fruit preserves or hollowed out and used as a case to stuff with savoury food like mushrooms, chicken etc.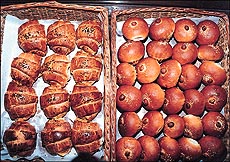 Croissants are crescent shaped rolls, which constitute breakfast for most of the people in France and the continent. Classic croissants are made with a yeast milk dough that has been rolled, spread with butter and folded over several times. Croissants are very light and flaky with a buttery taste. Croissants are served warm and can be either eaten plain or then with jam, or filled with an assortment of savoury fillings as well.
Brioche Makes — 12 Ingre-dients: 15 gms of fresh yeast 4 tablespoons of warm water 500 gms of flour pinch of salt 2 tablespoons sugar 3 eggs lightly beaten 175 ml of lukewarm milk and 105 gms of butter which has been slightly warmed and softened with beaten egg for the glaze
Method Dissolve the yeast in water. Sift the flour and salt into a large mixing bowl. Take out 60 gm of the flour and mix it into the dissolved yeast till it forms a soft dough. Shape the dough into a ball and cut it across the top. Place the ball in a bowl of warm water and leave it for 5-10 minutes till it rises. When we say rises we mean it should double up in size, and it will rise to the surface when it is ready.
Meanwhile, make a well in the centre of the remaining flour and add in sugar, beaten eggs and milk and stir them together till they are well mixed. Now mix in the ball with the yeast mixed into it, which should have risen and doubled in size into this mixture. Beat this mixture thoroughly by hand till it is well mixed and add butter.
Place the dough in a lightly greased bowl and sprinkle it with flour. Cover it well with plastic wrap and place it in the refrigerator for about 6-8 hours. Remove it from the refrigerator and knead the dough well, placing it on a floured board. Divide the dough into small pieces, roughly the size of an egg. Take one of these balls and cut off 1/3 of the ball, roll out the remainder of the piece into a ball shape and place it into specific brioche moulds or then into a deep fluted mould. Roll out the cut-off piece into a small top with a little tail (almost tadpole shaped). Cut a cross onto the top of the brioche and open it a little and put the tadpole-shaped piece onto this securely. Roll and fill out all the dough balls in a similar manner and leave them in their cases for 15 minutes in a warm place to rise. Brush the tops of the brioches with the beaten egg and bake in a preheated oven at 220°C or 425°F for about 15 minutes.
Once these brioches are baked, they can be cut carefully open from a side, the contents hollowed out and these can then be filled in with a variety of fillings and served as delicious appetisers or fillers. Mushrooms cooked with sautéed onions, shredded chicken in a cheese sauce, or even green peas cooked in butter make tasty stuffing options.
Croissants are best if bought fresh and stuffed with stuffing of your choice and served soon. If you fill in the croissants and keep them, they tend to lose their flavour and texture as well. Slit a croissant from the side and then stuff it. These taste best if they are popped back into the oven for 5-8 minutes before they are served.