Kashmir: The paradise that still glows
It is strange to think that Kashmir, with all its militancy and political upheavals, is still one of the important states of India which offers many pilgrimage centres to Hindus who value or venerate their heritage. It is also curious that most of Kashmir's cities are named after Hindu deities or sacred words. Examples are Srinagar, Anantnag, Sheshnag, Marthand, Amarnath and so on. But apart from these shrines, Kashmir itself remains beautiful and unsullied, writes Vimla Patil
STANDING on the brink of bankruptcy and economic disaster, the janta of Kashmir has made a 180° turnaround in its attitude towards India and decided at last that Kashmir's future lies in the people's acceptance of the fact that Kashmir is an integral part of India and that Kashmiris are Indians first and last. Especially after the bus journey from Amritsar to Lahore of Prime Minister Atal Behari Vajpayee and many other prominent celebrities, Kashmiris are looking at their future with some assurance and a new hope. Says Gulam Mohammed Wangnoo, Chairman of Hill Tours, one of the topmost tour and package holidays operators: "Tourism was and continues to be the backbone of Kashmir's economy". Because of the heavenly beauty of the landscape and the ambience of the state, there are no major industries here. This is also because Indian industrialists are not allowed to set up factories or build industries here by law. Handicrafts and tourism are the only major earners for Kashmiris by history. Over the past few years, all this trouble and unrest with militants infiltrating into the valley have scared away lakhs of holiday makers who used to love Kashmir and its beautiful, heavenly landscapes. Now, the roads lie destroyed; the houses in all the towns have been bombed or burnt; every family in Kashmir has lost at least one member; and education, health care, transport and food supplies have come almost to a standstill.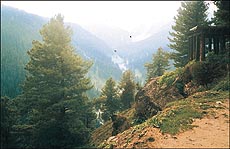 "With the Prime Minister's recent venturesome bus journey, people in the Kashmir valley and India have gained a new confidence. Without much advertising or publicity, we earlier asked the state government to help us to attract tourists to Kashmir again. We participated in tourism fairs and seminars and made our presence felt in every forum."
Wangnoo came to Mumbai and met local tour operators during February. The result was that slowly and steadily, the rush of tourists began to arrive in Srinagar and Jammu. This year, during the summer, over three lakh people have enjoyed holidays in Srinagar, Gulmarg, Pahalgam, Sonmarg and other resorts. The flower and fruit boats are plying the weed-riddled waters of the Nagin and Dal lakes once again. The markets are full of vegetables, handicrafts, carpets, shawls and other tourist products. The Kashmiris seem eager to please the tourists and are talking about their allegiance to India. They are guaranteeing safety for tourists in Pahalgam, Sonmarg, Gulmarg and other usual destinations though some of these areas were earlier infested with militants. The Hindu shrines in and around Srinagar are guarded by Kashmiri police and the Army but the number of pilgrims have increased steadily. The Adi Sankaracharya hill with its historic temple of Shiva on the top is set amidst a reserved forest which is lush and alive with bird cries. The Hari Pahad fort, which has the Sharada Peeth established by Adi Sankaracharya, is still closed to the public. The Marthand Sun temple on the way to Pahalgam is celebrating its mela and people come here from all over to offer obeisance to their dead ancestors. The temple precincts are clean and well laid out and the gurdwara nearby rings out the sacred sound of the Guru Granth Sahib. The Khir Bhawani temple nearby is also a centre of pilgrimage and the yatra to Amarnath is becoming increasingly popular among devotees.
It is strange to think that Kashmir, with all its militancy and political upheavals, is still one of the important states of India which offers many pilgrimage centres to Hindus who value or venerate their heritage. It is also curious that most of Kashmir's cities are named after Hindu deities or sacred words. Examples are Srinagar, Anantnag, Sheshnag, Marthand, Amarnath and so on. But apart from these shrines, Kashmir itself remains beautiful and unsullied. In spite of the bad condition of the roads and houses, the huge, luxurious houseboats still offer hospitality of a unique kind. The sunrise and sunset beyond the snow-clad peaks of the Himalayas are incomparable sights, and the lakes, even with their reeds and moss, are serene and placid. There is no noise, no ugly structures silhouetting the sky and no urban hustle and bustle or pollution. For the tourist who looks for an energising climate, tranquillity and exquisite beauty of nature, Kashmir still remains the best destination. A holiday here gives quaint glimpses into the local lifestyle. Though the shops are full of goods, the boats cater to the needs of the tourists by rowing up to the houseboats with flowers, eatables, gems and everything else that might attract buyers. Even when there is no sale, the boatmen are happy to sit around and chat up with the tourists with stories of their deprivation and poverty because of the past years of unrest. Kashmir's precious heritage of handicrafts is being resurrected and Gulam Mohammed Kanehama, the master shawl weaver of the region, has been commissioned by the Central Government to set up a unit of weavers who will, under his guidance, create pashmina and jamawar shawls to enchant the whole world.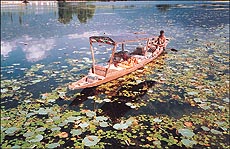 "Till now," says Wangnoo, "wrong and misleading publicity affected our business and brought our state to its knees. Though there has been militancy, it is on the borders, hundreds of kilometres away from Srinagar. The Kashmiris want business from India. We welcome tourists and promise them a royal welcome. This year our maximum clientele has come from Mumbai, Ahmedabad, Surat, Jamnagar and other western cities of India. Thousands who came to the Vaishno Devi Shrine in Katra near Jammu have come further to Srinagar for a holiday. We have had to put up tents to accommodate the rush. Earlier because of the fear generated by media reports, the crowds went to Himachal Pradesh. Now, we hope all goes well for Kashmir once again. The Kargil encounters have once again caused the Srinagar airport to be closed briefly but hopefully the highway and the roads will be safe and business will pick up soon as the Kargil sector quietens down."
Safdar Baig, Deputy Minister for Revenue, Kashmir, has further interesting statements to make: "Kashmiris have realised their folly," he says. "We now want to encourage our Kashmiri Pandit brethren to return to their homes. Though they are justifiably scared and probably well settled in the cities of their new residence, they will surely be attracted to their ancestral homes. Slowly, as their fear diminishes, they will return and find us welcoming and warm. After all, we lived with them in peace and harmony before and will do so again. We want peace and Pakistan should stop meddling in our affairs and leave Kashmir in peace to progress and prosper. Of course we have had militancy but this is because of many factors not the least of which is poverty and neglect from the government. We were falling between two stools and were neither with India nor with Pakistan. Neither the US nor Pakistan helped us to earn our livelihood. We were isolated and dejected. Now, there are signs of good times. The moment our economy improves and there is peace, these factors will vanish automatically."
The factors Baig mentions are varied indeed, Kashmiris say that for the first time, during the BJP rule of one year, they have had honest BSF officers who are serious about uprooting militancy. Earlier, they say, some officers were being bribed by militants and between them and the militants, the informers were killed or annihilated quietly. "Do you think the Army can flush out militancy without the co-operation of the local people? Definitely not," says one business man. "Now there is more confidence and trust between the Army, the BSF and the citizens. Kashmiris themselves have seen that the BJP's selection of officers is accurate and clean. The citizens themselves have helped the Army to uproot militancy systematically. Even in the Kargil encounters' Kashmiri citizens have helped the Army to push back the infiltrators. Earlier, young men in Kashmir foolishly joined hands with the militants because of the money given to them and to save themselves from abject poverty and disenchantment with the government."
"Hum log Pakistan ke bahkave me aa gaye" say many people. "We have now realised our mistakes and feel that progress and prosperity is the first religion and must have priority. Our children have missed education; our people have had no food and our state has reached a state of dilapidation. We must do everything within our power to amend these circumstances. How can the rest of India have an annual growth rate of 7 per cent and Kashmiris starve? We also want progress and prosperity. As far as article 370 is concerned, we feel that if we can have homes and property in the rest of India, people of other states should also be able to own property here, provided construction is done according to the laws of preserving the environment."
Despite these turnaround conversations, even today, Kashmir has seven lakh army men deployed everywhere. Hindu shrines like Vaishno Devi near Katra, Raghunath Mandir in Jammu, Shankaracharya Shiva temple in Srinagar, Marthand Sun temple in Matan, Sharada Peeth in Srinagar, Amarnath near Pahalgam, Khir Bhavani and others are heavily guarded by security guards and each person going to any of them is checked thoroughly. The roads are lined with army watchpads and gunmen stand ready everywhere. The militiamen live in dingy huts with peepholes.
Notwithstanding the bombed down buildings and destroyed roads, the tourists are swarming into Kashmir this year and the locals are happy that the resonance of money is heard once again in their coffers. The children are back in school uniforms and women are seen shopping with abandon, without burquas except in a small minority of cases. The marketplaces are buzzing with activity and there are people everywhere. The houseboat and resort owners are hard put to accommodate the tourists in comfort. Despite Kargil and the media's moment-to-moment reports, good days are here for Kashmir once again.