Mann hits the heart
By Madhur Mittal
"LISTEN to your heart", extolls the film's promo blurb. Emphatically. Okay... but, like, what's the big deal, huh? Are producers Ashok Thakeria and Indra Kumar (also the film's director) trying to put across a social message to the general public to watch out and, consequently, ward off cardiovascular hassles?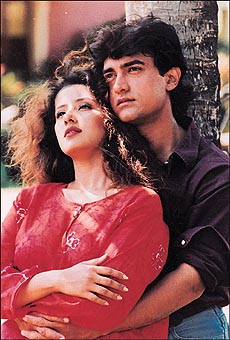 Maruti International's Mann is a different ball...er, I mean, heart... game altogether. And don't let the banner mislead you guys into thinking that the Zen and Esteem fellers at Maruti Udyog have switched to movies from cars' production! Mann happens to be the new(est) release of ace actor Aamir Khan who teams up romantically with Manisha Koirala for a story that is "guaranteed" to touch your hearts — especially with the lilting music of Sanjeev-Darshan, captured and unveiled by TIPS. Now, shall we move on, hey?
Yes, after superhits like, Dil, Beta and Raja, Mann is likely to be another melodious blockbuster. It is the story of two, total strangers who have just nothing in common. And they find themselves embarked on a journey together. "And in no time, they fall in love, right?" This is probably what you all were gonna pitch in with, if my guess gray cells are still intact (frankly, sometimes, with Bollywood buzzing all over me all of the time, I start having serious doubts!).
Anyway, you're not really on target. Of course, the guy and the gal do become friends, but due to their entangled relationships, they hesitate to express their true feelings. See, there's this catch to Mann. Even when the two decide to anchor their lives together, fate wills otherwise! The would-be lovers' minds and hearts are torn into different diktats. But they go ahead and listen to their hearts nevertheless, come what may ...
I say, does it sound as if you've heard all this before, huh? What does your Mann say?
"Who's there?"
Now it's no secret that Neelam Kothari — "the Honey from Hong Kong — has all but called it quits as far as movies or marriage is concerned. She's shaped up rather sensuously and is often spotted at the city's, fashion shows, antique auctions, art exhibitions et al — usually unescorted. Of course, it's another matter that she soon finds herself surrounded by fans and admirers, and the curious kind are keen to be just near "a real, live filmstar"!
Neelam obviously seems to enjoy herself thoroughly at all such nonchalant public appearances. Maybe, because she hardly ever leaves unescorted!!!
Is Sunil serious?
Sunil "The Hulk" Shetty apparently wasn't joking when he said that he may quit doing movies before hitting the millennium. He already has his finger(s) in a variety of pies... the kind where all he has to do is put in his thumb and pull out the plums!
After all, the idea is to use one's starry status and popularity to rake in the megabucks, right? Well, in that respect, our macho man has no problems at all (I should be so lucky, Dear Lord!) So, if the film industry is kinda restricted and recessive as of now, why not divert and devote one's enterprise and energy to more insta lucrative personal project, eh?
Moreover, Shetty's better half, Mana, also happens to be the more commercially calculating half, you see! Thanks to her business instincts, she's been able to get hubby dear to look (far) beyond his movies and muscles. And how! Just goes to prove that adage: Behind every rich, successful man, there is a — Mana!
Rumour has it...
...that Suman Ranganathan is seriously involved with a hunk of a blonde Swede; but don't get me wrong it's not a woman, it's a man!
...that Rishi Kapoor is working on the scripting of a new RK banner offering, this time, bringing together Akshay Kumar, Sushmita Sen, Karina Kapoor and Abhishek Bachchan!
...that Raveena Tandon wants to ditch and/or delay her films with Govinda and, instead, is "simply dying" to do some movies with all stud model-actor Milind Soman!
...that Chunkey Pandey's beautiful wife, Bhavana, is expecting again!