Food for thought
Is it a travel show or is it a food show? The answer: It's a food show on the move. Zaike Ka Safar on Zee Wednesday 12 noon, has been churning out appetising cuisine-related travelogues of destinations like Sri Lanka, Kerala, Gujarat, Madhya Pradesh, Himachal and Rajasthan.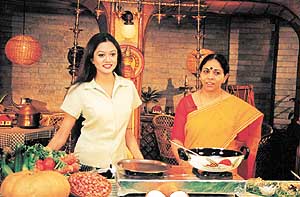 Now the show travels to Rishikesh in the Garhwal Himalayas. From the famous Laxman Jhula and ancient Bharat Mandir to the finger-licking thalis of Chotiwala Restaurant, it covers all aspects of this religious town.
Together with the tastes and smells of eating joints, it also brings typical home recipes from a Garhwali household presented by Chef Pankaj Mehra of Hotel Oberoi which will give an authentic air to show.
Three girls and a father
Once bitten thrice shy. That in a nutshell is what Daddy Samjha Karo on SAB TV is all about. The story of widower Prem, father of three teenage daughters, who's been to hell and back for a woman.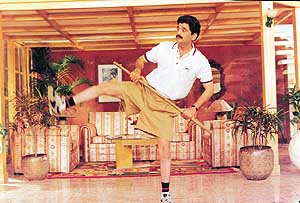 In his younger days he had eloped with a girl but was apprehended by the police and had to cool his heels in a jail for a year. Since then, he is convinced that love spells trouble and misery.
Prem dots on his daughters but boys are a strict no-no. To add to their troubles is a bua who keeps a strict eye on them. The girls hit upon a brilliant idea. If they can get their father romantically involved he may get off their backs.
They put in a classified ad and that's when the fun really begins. One madcap situation follows another. Hilarious stuff if you forgive the indifferent performances.
Saga of courage
This is a poignant tale of human relationships revolving around the life of a 65-year-old successful industrialist Govardhan and his wife Amba who have three good-for-nothing sons.
None of the sons want to lend a helping hand in the business but their respective wives want all the money accruing from it. That proves to be the bone of contention in Kyon Ke Saas Bhi Kabhi Bahu Thi Mondays 10.30 p.m. on Star Plus.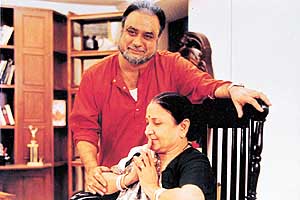 Govardhan suffers a paralytic stroke, which shatters his wife Amba. She starts feeling neglected and disheartened by her three daughters-in-law and regrets her lack of education.
Then Mihir, her eldest grandson, gets married to an educated girl who vows to educate Amba. Empowered, the old woman takes charge of her husband's business setting the pace for the serial. There's instant anger, anguish and acrimony as the money dries up and the sons have either to work or go somewhere else. Will Amba succeed in her plan? Find out for yourself in the serial which will keep you glued to your TV sets.
Into the forbidden land
Tibet is the highest land on earth — its lowest plains are nearly 4,000 metres above sea level — and one of the most isolated. A harsh environment of rugged mountains.
Rocky-river valleys, sweeping pasturelands and expansive skies, it has been left essentially untamed by thousands of years of geological upheavals and the passage of great civilisations.
Wheels of Life, Winds of Change on the National Geographic Channel July 16, 6.30 p.m. is a journey from Mount Kailash — also known as Tise, the axis of the universe in western Tibet — to the once-forbidden city of Lhasa.
An evocative documentary which explores aspects of Tibetan life, culture and landscape seldom before captured on film.
Wheels of Life, Winds of Change High Road To Tibet.
— Mukesh Khosla