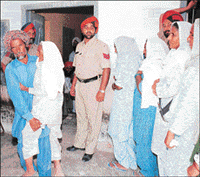 Ninetyfive-year-old Rajji being carried to a polling booth by a relative for casting her vote at Fatehgarh village in Sunam on Friday.
— Tribune photo by Pankaj Sharma

Sunam police books MLA, SHO
CHANDIGARH, Sept 29 — Dr Brajendra Singh, Chief Electoral Officer, Punjab, said here today that the Sunam police had registered a case against one MLA, Mr Manmohan Singh Sathiala, and one SHO, Mr Nirapjit Singh, in connection with the alleged beating of Mr Rajinder Deepa, Congress party activist and son-in-law of Mrs Parmeshwari Devi, Congress party candidate for the Sunam byelection.
THE TRIBUNE MAGAZINES
On Mondays


On Sundays

On Saturdays

Sushma likely to get berth
Cabinet expansion today even as Rao quits
NEW DELHI, Sept 29 — Prime Minister Atal Behari Vajpayee will undertake the long awaited expansion-cum-reshuffle of his Union Council of Ministers here tomorrow. President K.R. Narayanan will administer the oath of office and secrecy in Rashtrapati Bhavan at 5 p.m.
Padmanabhan takes over as Army chief today
NEW DELHI, Sept 29 — Lt-Gen S. Padmanabhan will take over as the Chief of Army Staff from Gen V.P. Malik tomorrow. He will be the fourth artillery officer to occupy the Indian Army's highest office.
Crucial SGPC executive meeting on Oct 6
AMRITSAR, Sept 29 — The crucial SGPC executive meeting scheduled for October 3 has been postponed to October 6 as counting of votes for the Sunam byelection will be held then and the outcome is bound to effect the decisions of the executive committee.
EARLIER STORIES
(links open in a new window)
Putin's Pak visit raises eyebrows
September 29, 2000
Inter-state ban on sale of petro products goes
September 28, 2000
19 militants killed in encounters
September 27, 2000
17 rockets fired in Rajouri
September 26, 2000
States asked to share oil price burden
September 25, 2000
States asked to share oil price burden
September 25, 2000
Oil price hike in next 48 hours
September 24, 2000
All set for oil price hike
September 23, 2000
Advani drubs West Bengal on violence
September 22, 2000
10 Pak troops killed
September 21, 2000
Floods play havoc in West Bengal
September 20, 2000