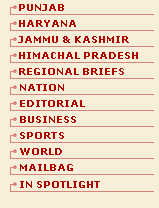 Tuesday, December 26, 2000, Chandigarh, India
Major update at 3 am (IST)
Major breakthrough in Red Fort shootout
One killed, another held
NEW DELHI, Dec 26 — In a major breakthrough in the five-day-old shootout inside the Red Fort, the Delhi police arrested one militant of the Lashkar-e-Toiba while it shot dead another after an encounter in the wee hours today in South Delhi.
---
11 killed in suicide attack
Bid to storm Army headquarters in Srinagar
SRINAGAR, Dec 25 — In yet another suicide bomb attack at least 11 persons, including five Army men, were killed and 23 injured near the main gate of the 15 Corps Headquarters at the high-security Batwara this afternoon, official sources said.
CAST YOUR VOTE
Do you think that Prime Minister A.B. Vajpayee's remarks on Ayodhya would increase communal tensions?