THE TRIBUNE MAGAZINES
On Mondays

On Sundays
On Saturdays
Maoists kill 40 cops in Nepal
Birganj (Nepal), July 7
In yet another chain of violence in the Himalayan kingdom of Nepal, the banned ultra left organisation Maoists' extremists killed at least 40 policemen of Nepal and injured another five in different incidents taking place in three different districts of the country.
TN to probe police excesses
Chennai, July 7
In an apparent response to the Centre's "warning" on the arrest episode of former Chief Minister M. Karunanidhi and two Union ministers, the Tamil Nadu Government today ordered a one-man commission of inquiry to probe the alleged police excesses during the arrests.
Companies to be heard: Shourie
Decision unfortunate: Hindujas
New Delhi, July 7
A day after disqualification of the bids of Hindujas and Videocon for Indian Airlines and Air India privatisation, the Disinvestment Minister, Mr Arun Shourie, said they would be given an opportunity for hearing before final orders were passed.
In Spectrum today
IN PASSING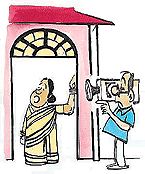 Please come out, dear. This time they are here to shoot an interview with you!

by Sandeep Joshi
Man kills four members of family
Rohtak, July 7
Jit Ram, who was under depression allegedly stabbed to death his wife Meena (32), son Rohit (13), daughter Poona (5) and father-in-law Ram Chander Balmiki (55) in the wee-hours in the Para Mohalla locality here today.

3,500 militants active in Valley
DIG for policy of no talks with kidnappers
Srinagar July 7
He has been in the thick for almost a decade now on account of his giving a tough time to militants in the Jammu and Kashmir area.



VC's notice upsets minister
Ludhiana, July 7
The decision of the Punjab Agricultural University Vice-Chancellor, Dr K. S. Aulakh, to issue a show cause notice to a professor of the university for getting his candidature recommended from an Akali minister for getting appointed to a coveted post of PAU is set to snowball into a major controversy. The case is also becoming an embarrassment for the Chief Minister Parkash Singh Badal, as it exposes the political recommendations made for a post.
3 Army men killed in ambush
July 7, 2001
PSGPC 'must be on summit agenda'
July 6, 2001
Karunanidhi freed on 'humane grounds'
July 5, 2001
Centre warns Jaya govt
July 4, 2001
Karunanidhi not to seek bail
July 3, 2001
Tamil Nadu Governor resigns
July 2, 2001
Karunanidhi held in pre-dawn swoop
July 1, 2001
Flexibility, but no compromise on basics
June 30, 2001
Chohan's remarks unwarranted
June 29, 2001
Punjab caught on sticky wicket
June 28, 2001