THE TRIBUNE MAGAZINES
On Mondays

On Sundays
On Saturdays
India expresses shock over attacks
New Delhi, September 11
India tonight expressed shock and horror over the terrorist attacks in New York and Washington even as it tightened security in the US embassy here and other US missions across the country.
Vigil on US installations up
New Delhi, September 11
The Vajpayee government tonight sounded a general alert across the country and asked all state police authorities to enhance security in all American installations and other vital locations in the wake of series of devastating bomb attacks in New York and Washington.
IN PASSING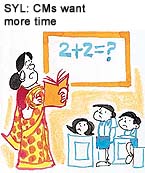 If a mason builds a canal in 5 years, how much time will 2 CMs take for the same task?

by Sandeep Joshi
SP MLAs quit en masse in UP
Lucknow, September 11
In an apparent attempt to force early elections in Uttar Pradesh, all 102 MLAs of the main opposition Samajwadi Party (SP) today decided to resign en masse from the state Assembly, even as the Chief Minister, Mr Rajnath Singh, dismissed the move as a "pressure tactic" and ruled out an early dissolution of the House.
Oust-Badal call by Congress
Malout, September 11
The central and state Congress leadership at the "garib kisan mahapanchayat" rally here today while pledging to set up the rule of "Punjabis" in the state urged people to oust the Parkash Singh Badal-led government to protect the interests of all sections of society.



Bill Clinton's fears come true
New Delhi, September 11
Eight years after the then US President Bill Clinton declared, "There is no place to hide, nobody can hide in any place in this country, nobody can hide in any place in this world from the terrible consequences," suspected Islamic fundamentalists have struck a lethal blow in the heart of the world's sole superpower.

Global slump to have limited impact
September 11, 2001

Six troops killed in IED blast
September 10, 2001

BSF officer among 6 killed
September 9, 2001

Badal empowers farmers
September 8, 2001

Army convoy targeted, 6 killed
September 7, 2001

Advani for legal armour to cops fighting terrorists
September 6, 2001

SC rejects Jaya's plea on stay
September 5, 2001

Lashkar raids Doda Police Lines, SI killed
September 4, 2001

Don't saffronise education, warn
non-BJP states
September 3, 2001

Six new faces in ministry
September 2, 2001