SAD not to contest posts of Speaker, Dy Speaker
Chandigarh, March 21
The Shiromani Akali Dal headed by Mr Parkash Singh Badal will not contest the election of the Speaker and the Deputy Speaker of the Punjab Vidhan Sabha. The election of the Speaker is scheduled to be held at 10 a.m. tomorrow.
In Arts Tribune today

THE TRIBUNE MAGAZINES
On Mondays

On Sundays
On Saturdays

IN PASSING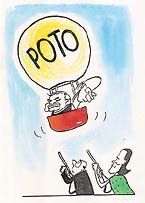 by Sandeep Joshi
The Punjab Chief Minister, Capt Amarinder Singh, arrives at the Punjab Vidhan Sabha on Thursday (left). The Leader of the Opposition, Mr Parkash Singh Badal, shakes hands with the pro-tem Speaker, Dr Kewal Krishan, after being administered oath as MLA.
— Tribune photos Pankaj Sharma
SP sure of majority in House
Renews plea to UP Governor
New Delhi, March 21
Undeterred by the imposition of President's rule in Uttar Pradesh, the Samajwadi Party today made a renewed call to Governor Vishnu Kant Shastri to invite the party to form government in the state as per the "democratic norms", saying that it had the requisite support to prove majority in the Assembly.



Sekhon's village peeved at his ouster
Issewal (Ludhiana), March 21
Issewal village on the outskirts of the city has always personified patriotism. Small village homes have given birth to scores of gallantry award winners who have sacrificed their lives for the nation. Today, the villagers here are a disappointed lot. Their son has been humiliated and made to suffer for what they call "prevalent norms of the day".
Ceiling on RBI Relief Bonds goes
March 21, 2002

Sekhon forced to retire
March 20, 2002

PM vows fair poll in J&K
March 19, 2002

Godhra carnage mastermind held
March 18, 2002

Flareup claims 5 lives in Gujarat
March 17, 2002

Shila daan at akhara
March 16, 2002

SC clarifies Ayodhya order
March 15, 2002

SC orders status quo in Ayodhya
March 14, 2002

Major climbdown by VHP
March 13, 2002

No puja till SC verdict: PM
March 12, 2002