THE TRIBUNE MAGAZINES
On Mondays

On Sundays
On Saturdays

IN PASSING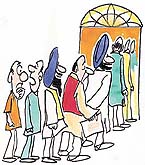 We are all former Punjab Ministers standing here to get anticipatory bail!

by Sandeep Joshi
Presidential poll: Cong awaits PM's word
New Delhi, May 16
The Congress today indicated that it was still waiting for Prime Minister Atal Behari Vajpayee to consult the party over choice of the next President. The Congress, which wanted a second term for President K.R. Narayanan, had not made any official announcement so far about the party's support in the presidential poll.
Ashwani Kumar is Congress nominee for RS from Punjab


Chandigarh, May 16
The President of the All-India Congress Committee, Mrs Sonia Gandhi, tonight nominated Mr Ashwani Kumar, a Supreme Court advocate, rooted in the Majha belt, as the party nominee for the lone Rajya Sabha seat from Punjab, byelection which will be held on May 30.
Mayawati faces vote of confidence today
Lucknow, May 16
A day before the prestigious show of strength in the Uttar Pradesh state Assembly, the two major allies — the BJP and the BSP — are engaged in dinner diplomacy to keep their flock together. The state President of the BJP, Mr Kalraj Mishra, is holding a dinner for BJP legislators in which its allies including the Rashtriya Lok Dal (RLD) and the Janata Dal (U) are also invited.

No arrest to force loan recovery
Punjab takes pro-farmer stance
Chandigarh, May 16
In an endeavour to dispel the Opposition propaganda that the "Congress is an anti-farmer political outfit", the Chief Minister, Capt Amarinder Singh, has directed that no farmer should be harassed or arrested for the recovery of both short-term and long-term loans.
Badal sought UPSC berth for Sidhu
May 16, 2002

Militants massacre 23 kin of Army men
May 15, 2002

India to expose Pak mischief
May 14, 2002


12 killed in UP rail accident
May 13, 2002


NDA leaves it to Vajpayee
May 12, 2002

Police overhaul in Ahmedabad
May 11, 2002

Jaguar crashes at Ambala
May 10, 2002

'Right to information cannot be curtailed'
May 9, 2002

Jaswant scoffs at foreign prescription
May 8, 2002

Satyameva Jayate, assert advocates
May 7, 2002