THE TRIBUNE MAGAZINES
On Mondays

On Sundays
On Saturdays

IN PASSING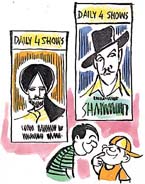 I am deeply impressed by the sacrifice of Ajay Devgan and Bobby Deol for their country !

by Sandeep Joshi

Congress bracing up for contest
Cases against BKU men dropped
Haryana Government invites Nain for talks
Chandigarh, June 8
The Haryana Government has reportedly agreed to abide by the Bharatiya Kisan Union's demand to withdraw the cases filed against its leaders. A highly placed source told TNS that the government had decided to discharge the BKU leaders from the cases filed against them from 1992 onward.

INLD to activate party activists to counter BKU stir
NCR page

Challan against Sidhu in arms case
Brother, mother summoned
Chandigarh, June 8
The UT police today filed a challan against the suspended PPSC Chairman Ravinder Pal Singh Sidhu, under the Arms Act case registered against him in a local court.
BBMB faces criminal case
Shimla, June 8
The state Environment Protection and Pollution Control Board has filed a criminal case against the Bhakra Beas Management Board which is continuing to discharge silt-laden water from its reservoirs in the Balh valley destroying fertile lands of farmers.


PPA to train Afghan Police
Chandigarh, June 8
The Maharaja Ranjit Singh Punjab Police Academy will add yet another feather to its cap in July or August this year when it starts training the Afghan Police on its Phillaur campus. The Bureau of Police Research and Development, of the Union Ministry of Home Affairs, has reportedly approached the Punjab Police Academy to ascertain whether it could train a select band of police officers and instructors from Afghanistan.
India to wait & watch
June 8, 2002


Battered staffer returns home
June 7, 2002


India ready for joint patrolling on LoC: PM
June 6, 2002


India rejects third-party mediation
June 5, 2002

Petrol to cost Rs 2.50 more
June 4, 2002


PM to talk with Putin and Zemin, but not Musharraf
June 3, 2002


13 Pak troops killed
June 2, 2002


61 pc of Kashmiris want to remain with India
June 1, 2002


Heavy shelling by Pak
May 31, 2002


Stop terrorism, says UK
May 30, 2002