THE TRIBUNE MAGAZINES
On Mondays

On Sundays
On Saturdays

IN PASSING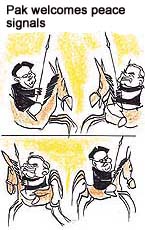 by Sandeep Joshi
Repoll ordered in 18 booths
Chandigarh, June 10
Taking cognisance of reports of booth capturing and technical mistakes, the State Election Commissioner, Mr C.L. Bains, has ordered the repoll pertaining to Zila Parishad and Block Samiti elections in 18 polling booths.
BKU adamant on agitation
No information yet on withdrawal of cases: Nain
Chandigarh, June 10
Even as the Haryana Government has stated to have withdrawn the cases against Bharatiya Kishan Union leaders, Mr Ghasiram Nain, President of the BKU in Haryana, refused to withdraw the agitation saying that he was yet to be officially intimated about the the state government's step.
Cong rapped for stand on BKU stir
New Delhi, June 10
The Indian National Lok Dal today accused the Haryana Congress of misguiding farmers and hijacking their agitation in Jind, saying that the state government was prepared to talk to agitating farmers any time.
TRIBUNE FOLLOW-UP
33 SAD men held at Bhikhiwind
Valtoha (Amritsar), June 10
The sensational multiple murders of Shiromani Akali Dal leader Gurdial Singh and five others last month took a new turn today with the arrest of about 33 persons by the Valtoha police here at about 1 p.m. while they were holding a political rally at the residence of the deceased SAD leader, Gurdial Singh.
Geelani arrested under POTA
June 10, 2002


UAV goes missing
June 9, 2002


India to wait & watch
June 8, 2002


Battered staffer returns home
June 7, 2002


India ready for joint patrolling on LoC: PM
June 6, 2002


India rejects third-party mediation
June 5, 2002

Petrol to cost Rs 2.50 more
June 4, 2002


PM to talk with Putin and Zemin, but not Musharraf
June 3, 2002


13 Pak troops killed
June 2, 2002


61 pc of Kashmiris want to remain with India
June 1, 2002