THE TRIBUNE MAGAZINES
On alternate Mondays

On Sundays
On Saturdays

IN PASSING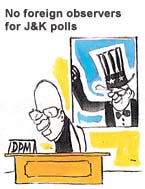 Big brother is watching you!
by Sandeep Joshi
Amarinder leaves for UK, USA
None named to officiate in CM's absence


Chandigarh, August 2
The Punjab Chief Minister, Capt Amarinder Singh, accompanied by nine others, including the Finance Minister and two MLAs , three bureaucrats and three policemen left for his foreign visit today without naming anyone to officiate in his place during his nine-day absence.
Vancouver gurdwara heritage site
Chandigarh, August 2
The first Sikh temple built in Abbotsford in British Columbia 91 years ago has been accorded the status of a national heritage site by the Government of Canada.


Prime Minister Jean Chretien is greeted as he takes part in a heritage designation ceremony at a gurdwara in Abbotsford, British Columbia, on Wednesday, as Natural Resources Minister Herb Dhaliwal (left) looks on.
— AP/PTI photo
Sukhbir's notice to DGP Pandey
Chandigarh, August 2
Mr Sukhbir Singh Badal, former Union Minister of State and son of former Punjab Chief Minister Parkash Singh Badal, has sent a notice to two senior officers of the Vigilance Bureau, Mr A.P. Pandey, Additional DGP; and Mr B.K. Uppal, DIG, threatening them with launching legal proceedings against them for defaming him.


Manmohan blames it on crisis of governance


Chandigarh, August 2
A former Finance Minister of India, Dr Manmohan Singh, today attributed the current economic slowdown in the country to the "crisis of governance."
Advani says J&K internal matter
August 2, 2002

Mamata gives NDA 12 days
August 1, 2002

4-phase poll likely in J&K
July 31, 2002

Pak pumping in terror
July 30, 2002

No troop withdrawal till J&K poll
July 29, 2002

Krishan Kant dead
July 28, 2002

Ultras plan attacks in J&K
July 27, 2002

Kalam sworn in as President
July 26, 2002

Centre unveils package for drought-hit
July 25, 2002

No Central rule in Gujarat: Advani
July 24, 2002

Gujarat issue rocks LS, RS
July 23, 2002

Centre to impose Governor's rule in J&K
July 22, 2002

BJP asks Cong to clear stand on Gujarat poll
July 21, 2002