THE TRIBUNE MAGAZINES
On alternate Mondays

On Sundays
On Saturdays

IN PASSING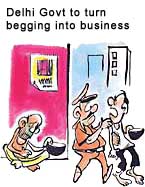 Sir, I was begging to fund Delhi government welfare schemes!
by Sandeep Joshi
Omar to contest from father's constituency
Srinagar, August 30
The ruling National Conference, which released its list of candidates for the second phase of elections here today, has dropped the Chief Minister, Dr Farooq Abdullah, from the contestants list in the ensuing Assembly elections. His son and the Minister of State for External Affairs, Mr Omar Abdullah, has been nominated for Ganderbal constituency represented by Dr Farooq Abdullah.
Major, NC leader killed in J&K
Srinagar, August 30
An Army Major and a local National Conference leader were killed and two soldiers injured in militant attacks in Jammu and Kashmir last night, official sources said today. The Army Major was killed and two soldiers were wounded during a clash between security forces and militants at Nowshera in the frontier district of Kupwara.

HC rejects Koirala's plea
Mumbai, August 30
Decks were today cleared for the release of film "Choti Si Love Story" with Mumbai High Court rejecting the plea of actress Manisha Koirala to delete "objectionable" scenes in which her duplicate had been used.


HC slams back-door entry
Asks Punjab to stop regularisation of ad hoc staff
Chandigarh, August 30
Slamming the back door on ad hoc workers seeking entry in different fields as regular employees by exerting pressure and pulling strings, Mr Justice Jawahar Lal Gupta and Mr Justice S.S. Grewal of the Punjab and Haryana High Court have asked the Punjab government to "seriously consider" the desirability of not regularising the ad hoc appointments.
No time-limit to stop infiltration: Pervez
August 30, 2002
SC stays decision on petrol stations
August 29, 2002
Work restored to 3 HC judges
August 28, 2002
SC notices to Centre, EC, states & parties
August 27, 2002
President okays poll Ordinance
August 26, 2002
Cabinet returns poll Ordinance to Kalam
August 25, 2002
India gives clear message to Armitage
August 24, 2002

First-phase J&K poll notified
August 23, 2002

SAARC agrees on combating terror
August 22, 2002

SC gets presidential reference on Gujarat
August 21, 2002

J&K poll on schedule
August 20, 2002

EC's order referred to President
August 19, 2002