THE TRIBUNE MAGAZINES
On alternate Mondays

On Sundays
On Saturdays

IN PASSING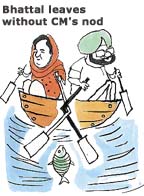 by Sandeep Joshi
US, UK planes raid Iraqi base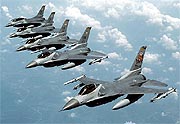 London, September 6
Britain confirmed today an air raid by US and British warplanes on an Iraqi air defence base, but refused to confirm reports that some 100 planes took part.


World page: USA, UK turn heat on Iraq
Vajpayee to focus on terror in New York


New Delhi, September 6
Prime Minister Atal Behari Vajpayee will urge the international community in his address to the United Nations General Assembly on September 13 to launch a "comprehensive war" against terrorism.
Sainiks come to Manisha's rescue

Mumbai, September 6
Violent protests by Shiv Sena activists forced cancellation of the shows of the controversial film "Ek Chhoti Si Love Story" in most cinema halls here, but its screening at Navi Mumbai and Ulhasnagar, and Delhi was held smoothly marking the movie's commercial release today despite the Bombay HC stay.



Manisha stays away from NCW meeting


Distress sale of paddy in Ludhiana, Amritsar
Chandigarh, September 6
The delay in announcement of the minimum support price and the date from which the procurement of paddy by official agencies would start notwithstanding, farmers bringing paddy to various grain markets in Punjab are being forced to resort to distress sale of their produce.
No free power for farmers
September 6, 2002

India beat Pak 3-2 in hockey
September 5, 2002

Jacob likely to replace Bhandari in Gujarat
September 4, 2002

SC stands by EC order
September 3, 2002

APHC defers decision
September 2, 2002

Bail-out package for UTI
September 1, 2002

Plot to kill Gujarat CM
August 31, 2002

No time-limit to stop infiltration: Pervez
August 30, 2002

SC stays decision on petrol stations
August 29, 2002

Work restored to 3 HC judges
August 28, 2002

SC notices to Centre, EC, states & parties
August 27, 2002