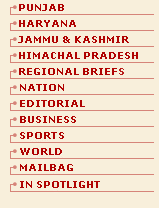 AGRICULTURE

EDUCATION

HEALTH

SCIENCE

CAREER GUIDE

SPORTS

HER WORLD

TRIBUNE CLASSIFIEDS


BRIDES WANTED

GROOMS WANTED

OTHERS

HOW TO PLACE ADVTS

Monday, September 9, 2002, Chandigarh, India
Updated at 3:00 am (IST)

Modi kicks off gaurav yatra
Blames Cong for maligning Gujarat's image
Phagwel, (Kheda), September 8
Chief Minister Narendra Modi today kissed a sword and kicked off his much-publicised and thrice-postponed Gujarat gaurav yatra here today, slamming the Congress for "creating obstacles and maligning the image of the state the world over."


In video (28k, 56k)




Gujarat Chief Minister Narendra Modi (centre) flanked by BJP General Secretary and Vice-President Rajnath Singh and Ramdas Agrawal, respectively, flashes the victory sign during a march in Faghval village, 75 km south of Ahmedabad, on Sunday.
— Reuters photo
Violence mars civic bodies poll
Clashes between supporters of rival candidates, allegations and counter-allegations by the ruling party and opposition parties about rigging, bogus voting and sale of votes, besides a police lathi charge to disperse SAD and BJP workers in Rayya, marked the civic bodies poll in Punjab today.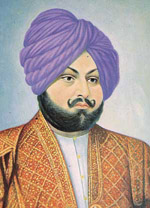 The Tribune pays, with millions of readers and admirers, homage to the founder, Sardar Dyal Singh Majithia, who passed into eternity on this day 104 years ago. ( A special article on Edit page)

CAST YOUR VOTE
Do you support Manisha Koirala's stand on Ek Chhoti Si Love Story?